Red Bull Racing dominated Formula 1 in 2022. Max Verstappen led his team to sheer domination last year as he won 15 races within a single season. A record for the most wins by a driver. Although, 2023 can be a challenging year for the team as it faces stiff competition from rivals Mercedes and Ferrari. Thus, fans are waiting for Red Bull's car launch for the upcoming season. Consequently, high interest lies in what the car would look like this year.
Hence, Red Bull's Twitter account played on this hype. As the team tweeted a picture of a digital F1 car model. The car appears to be a model based on the previous set of regulations of the sport due to its design cues. Although, interestingly, the car is completely white with one iconic Bull on the engine cover, a classic feature on Red Bull's F1 machinery. Subsequently, the team wrote, "2023 a blank canvas." Possibly a hint at its new livery.
Previously, the Austrian team has run the same matte livery since 2016. Team Principal, Christian Horner has even called the team's paint job a 'modern classic' in the past. Consequently, this makes this tweet even more surprising. In F1, it is often said that a car that looks good usually drives quickly too. As such, it seems that Red Bull will be banking on this factor yet again this season, although the car's actual performance will be more of a deciding factor.
Also Read: "It's Mr Bean Sulayem" – Fans in splits over a clip of FIA President Mohammed Ben Sulayem crashing an F1 car during a drag race
Fans curious about Red Bull's livery teaser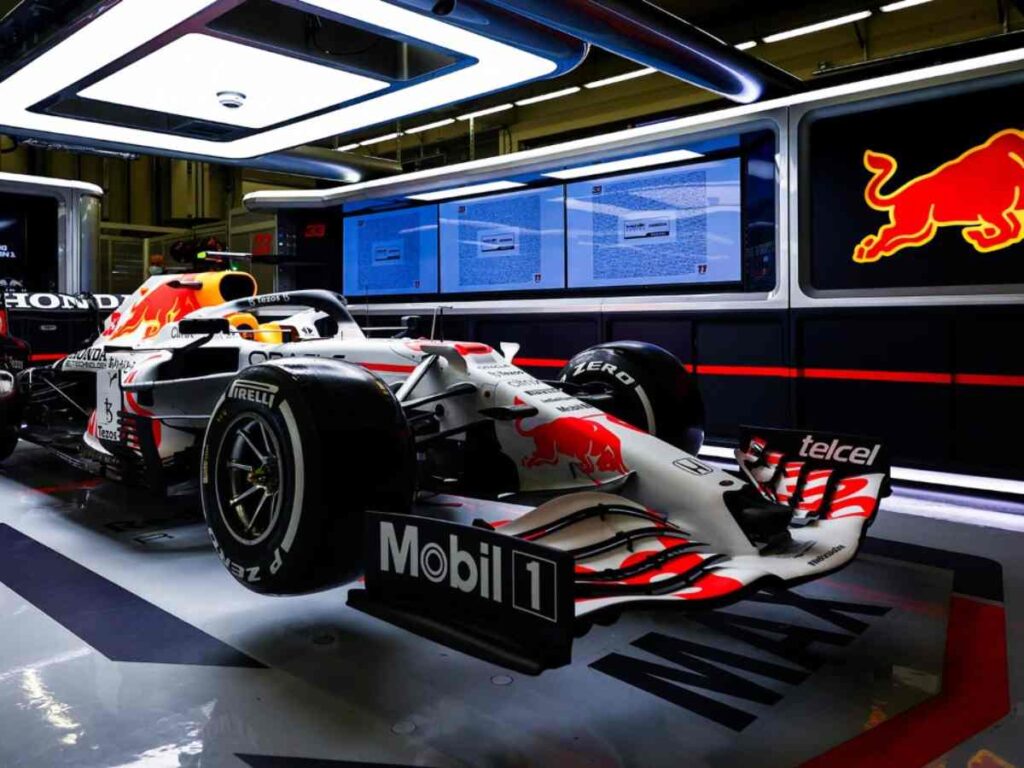 F1 fans were caught off-guard by Red Bull's tweet. Many users became hyped for the Austrian team's car launch on February 3. One fan expressed their eagerness and wrote, "Waiting impatiently for the car launch." While another user told the team to not take the Cost Cap to such an extent by saving money on paint. The fan said, "don't take the cost cap too seriously wtf is this." A reference to the team's failure to comply with the F1 Cost Cap in 2022.
One fan mentioned how the team shifted to a new livery in line with the lesser weight of the new F1 cars. The fan said, "Sugar free Red Bull Livery now that the car's a bit lighter." On the other hand, another user stated how Red Bull might actually use the livery in the picture in 2023 itself. The user replied, "Plot twist: this is their 2023 livery." Certainly an interesting take on this topic.
Thus, it seems that Red Bull has made fans anticipate its 2023 car unveil. Usually, the F1 community has accepted the present RB design and does not speculate on new liveries after the Austrian team ran special colors during shakedown in 2017 and 2018. Although many fans look for a return to the 2021 Honda tribute livery as well. However, it seems that fans will have to wait till February 3 when Red Bull finally reveals its colors for this season.
Read More: When Ayrton Senna's obliteration of the F1 grid was viewed by rivals on printed sheets during sessions
Read More: The Formula 1 Drivers with the most Grand Prix wins in wet weather