Formula 1 is a spectacle. Every race weekend, millions of fans from various countries tune in to watch 20 of the fastest cars go round and round. Consequently, F1 is always innovating its broadcast for the viewers. Over the years, new graphics have changed the landscape in the sport, which dwells well with the introduction of F1 TV. Although, there has been one particular innovation that has stood out. The 'Driver's Eye.'
The Helmet Cam or the 'Driver's Eye.' This camera was first seen during the 2021 Belgian Grand Prix. When Fernando Alonso drove his Alpine through Eau Rouge, giving the fans a wonderful perspective via his Bell branded helmet. Since then, drivers have used this camera on a few instances. However, for 2023, Formula 1 looks set to introduce this device for all the drivers and helmet manufacturers.
As reported by Giuliano Duchessa on Twitter, Formula 1 has reached an agreement with Racing Force Group. An organization that is an industry leader in Motorsport safety. The two parties have agreed upon a deal for Racing Force Group to supply this Helmet Cam to all drivers and helmet suppliers. The 'Driver's Eye' is an FIA-approved micro camera which has a diameter of 8 millimeters and weighs 1.43 grams.
Also Read: The Formula 1 Drivers with the most Grand Prix wins in wet weather
The Driver's Eye is no longer a monopoly of Bell Helmets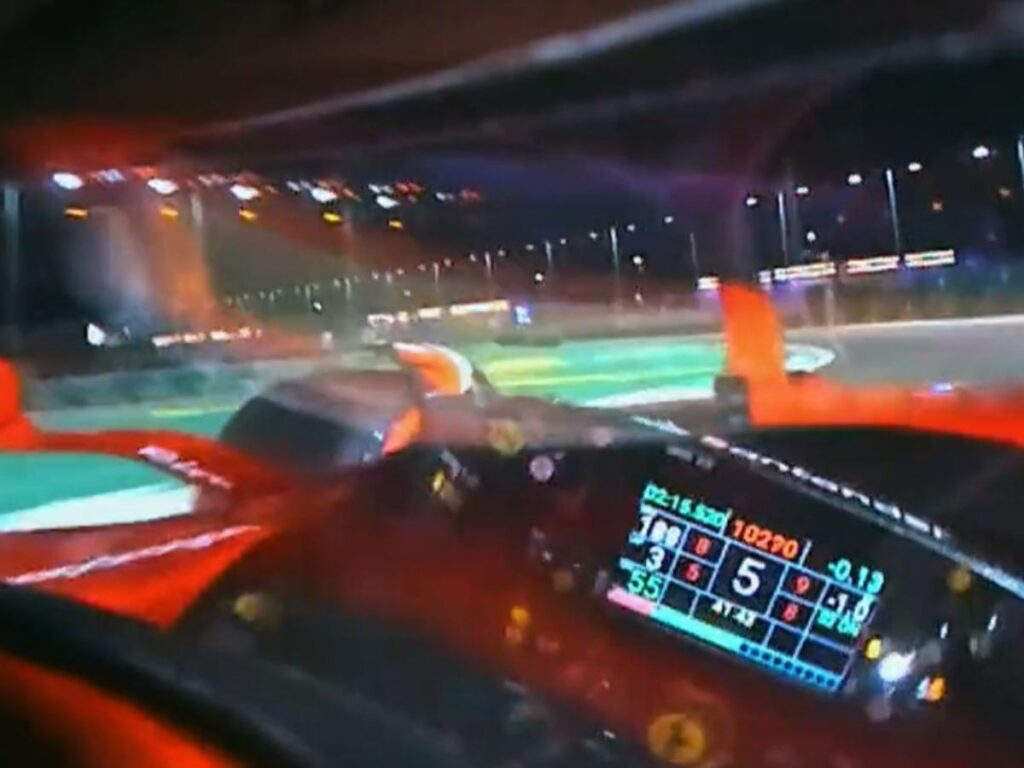 Previously, the Driver's Eye or Helmet was used solely by Bell helmets. Bell helmets is owned by Racing Force Group, thus it was no surprise that the company tried to monopolize this technological breakthrough. This would have forced drivers to consider switching to Bell from rival brands. Drivers such as Lando Norris and Charles Leclerc use Bell helmets. As teams would try to get such a stunning perspective of an F1 car to use for marketing purposes.
Hence, Formula 1 urged Racing Force Group to allow for all helmet suppliers to use the 'Driver's Eye'. Of course, in a free market, companies are entitled to exploit their innovations commercially. Thus, F1 had to sign a deal with the company in order to foresee this change. As such, the company is assumed to have earned a lucrative sum from Formula 1. As it made its innovation available to its rivals.
Formula 1 may have spent some bucks on getting Racing Force Group on the table. But that sum is more than justified. Although no official information is currently available, The 'Driver's Eye' brings in a whole new way for the fans to watch these extraordinary machines. The Helmet Cam gives a true picture of what a driver sees while racing in an F1 car. Be it through the tight streets of Monaco or as mentioned previously, Fernando Alonso's drive at Spa Francorchamps.
Consequently, the 2023 F1 season will be a true delight for fans. Fans can expect multiple drivers to try out the 'Driver's Eye' on track this year. This in turn can have enormous potential for teams and the sport to make for some interesting broadcast footage. Thus, the entire paddock would be looking forward to see how many drivers actually use the Helmet Cam in the upcoming season.
Read More: The list of the highest average grid positions in Formula 1 provides a new picture to the sport
Read More: Dissecting the weight of Formula 1 cars over the past 15 years