During the Japanese GP at Suzuka, Mercedes faced a challenging decision that drew scrutiny, particularly from Lewis Hamilton. The team proposed creating a "DRS train" with Hamilton by utilizing DRS. This strategy involved Hamilton passing George Russell, allowing Russell to use DRS to gain an advantage and hopefully pull away from Carlos Sainz behind.
However, the plan didn't unfold as expected. Hamilton agreed to back off and help George Russell by providing him the DRS advantage. But, the situation took an unexpected turn as Carlos Sainz managed to overtake Russell despite Hamilton helping his teammate. The Spaniard was closing in on Hamilton, but with only 2 laps left, the Briton barely made it ahead. 
In response, Lewis Hamilton expressed his disagreement with the DRS strategy, going so far as to call it "senseless." In his view, Mercedes should have been content with their final positions, fifth and seventh. Hamilton said, "I don't think that was a good idea at all… and it made no sense." 
Mercedes, in the aftermath, found themselves under the spotlight, compelled to clarify their late-race DRS decision at Suzuka. Speaking to Autosport.com, the Mercedes' trackside engineering director, Andrew Shovlin, clarified the team's perspective, stating, "Maybe it could have worked out better, but the thing is we were trying to protect against Lewis losing that position as well, as he was the one most likely to finish ahead of Carlos."
Discover: Carlos Sainz 'started laughing' when Lewis Hamilton and George Russell recreated his Singapore DRS maneuver at Suzuka
Mercedes aimed to finish at least ahead of one of the Ferraris
Following the race, Hamilton argued that striving for a DRS advantage did not align with the practicalities they faced on the track. However, Shovlin explained, "When we decided to switch them, it was more when we saw how quick Carlos was coming in behind them, and that Lewis in the middle could have been at risk who was old tyres as well."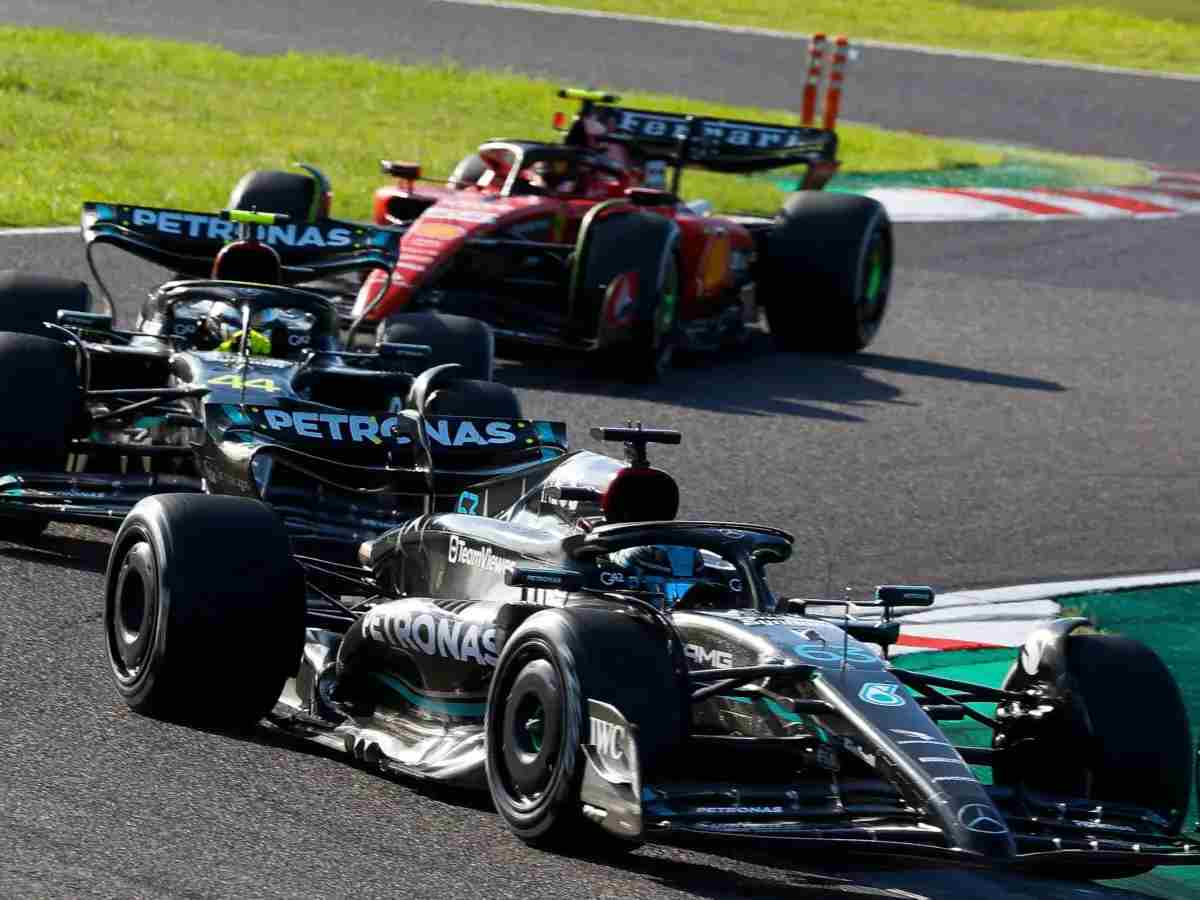 Mercedes' strategic choices hinged primarily on recognizing their inability to challenge the McLaren cars for a podium finish. Instead, they aimed to secure positions ahead of the Ferrari cars, even if it meant ensuring at least one of their drivers finished ahead of the Scuderia. While they achieved this objective, it was not without potential risks.
As the dust settled at Suzuka, Ferrari closed the gap on Mercedes in the championship standings, now sitting only 20 points behind the German team. Looking ahead, Formula 1 heads to Qatar for the next weekend's race, a venue where Mercedes tasted victory in their previous outing. It will be exciting to watch how the battle for the runner-up spot fares. 
In case you missed it: