Mercedes AMG Petronas was the ninth Formula One team to launch its challenger for the 2023 season. The event was successful and well-received by the fans. The show's star was obviously the W14, once the cover was taken off, the black beauty was revealed to the world. It caused quite a stir as the team went all black. A portion of the top of the car was covered in black paint, and the rest was exposed carbon fiber. 
The 2023 Mercedes ride looks mean, like a beast. Fans loved the livery and deemed it the best out of all. However, as appealing as it might be, there is a reason for the team going all black. With hardly any paint, F1 teams aim to reduce the car's weight, which will help them gain more speed.
The Formula One cars in 2023 have all exposed carbon fiber to improve their performance, but none can match the Mercedes. There are other important details missed amidst the excitement of their all-black livery. Mercedes moved their cockpit way forward. It is a 230 mm shift. 
Related: "Wildest crossover" Fans react as football legend Zinedine Zidane joins Alpine as their new ambassador
Mercedes is going all in to gain an advantage over the other teams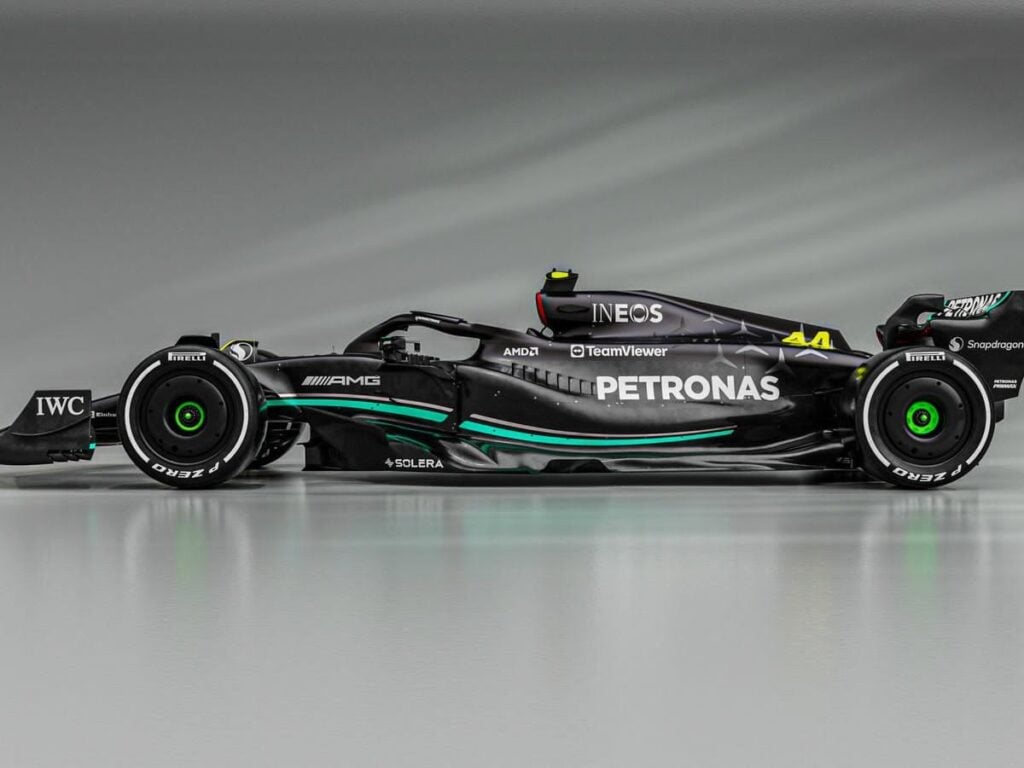 Considering the weight of the driver and the car, the speed can be calculated substantially. Lewis Hamilton weighs about 75 kg with the suit and helmet. Together the car's weight will be approximately 798 kg. Moving the driver's seat in the car changes the weight distribution by approximately 0.06 percent in a forward shift. This is quite a lot in F1.
This can alter the performance of the car by a large margin. Thus, the distinction between W13 & W14 can be noticed. The front wheels of the W14 are also moved closer to the nose of the car. The speculation is that they did it for an aero advantage. If they have more floor space, it might result in more downforce.
The team has clearly been working hard, and the car seems smaller now, this is good news for Sir Lewis Hamilton and George Russell, not to forget for the Mercedes fans. During the W14 launch, Hamilton looked at the car happily and said it looked like "We mean business".  Well, the wait is almost over, it won't be long before fans get the opportunity to witness W14's full potential. After a difficult year, it is no surprise Mercedes will go all in to get back in the title fight.
In case you missed it: