Ferrari's long-standing prowess as the oldest and most successful F1 team in the history of the sport is currently in shambles. In the recent past, they have only gathered a handful of Grand Prix victories, and their podium wins are outnumbered by the instances where either their strategies have been proven to be wrong, or their engine failures have compelled their two recruits to bow out of the competition. At the beginning of last year's season, things did look optimistic for a few races but eventually, Ferrari had to settle for the second place in the Championship behind Red Bull.
The Ferrari F1-75 was a good car that could have brought the team their first Championship win in 15 years. But the team lost out to the near-impeccable tactics of Red Bull. After the upsetting finish to 2022, Mattia Binotto stepped down from his role as the Scuderia Team Principal, and Frederic Vasseur took his place–but the situation of the Maranello outfit has not improved as per their current rankings.
Thanks to Aston Martin's brilliant upsurge in scores, Ferrari has had a descent from their top-3 status and are now in the fourth position. As seven races have already taken place this year, and one race cancelled, the Scuderia duo of Charles Leclerc and Carlos Sainz have only amassed 100 points, with 1 podium win. And highlighting these poor results, Ralf Schumacher, brother of Ferrari legend Michael Schumacher, dragged the team's name in his Sky Deutschland column, accusing them of being F1's "most problematic child".
Related: Helmut Marko reveals the SHOCKING reason behind Christian Horner rejecting a move to Ferrari–and it involves Red Bull shelling out 'a few millions'
Ralf Schumacher is baffled at Frederic Vasseur's lack of grip on the current Ferrari situation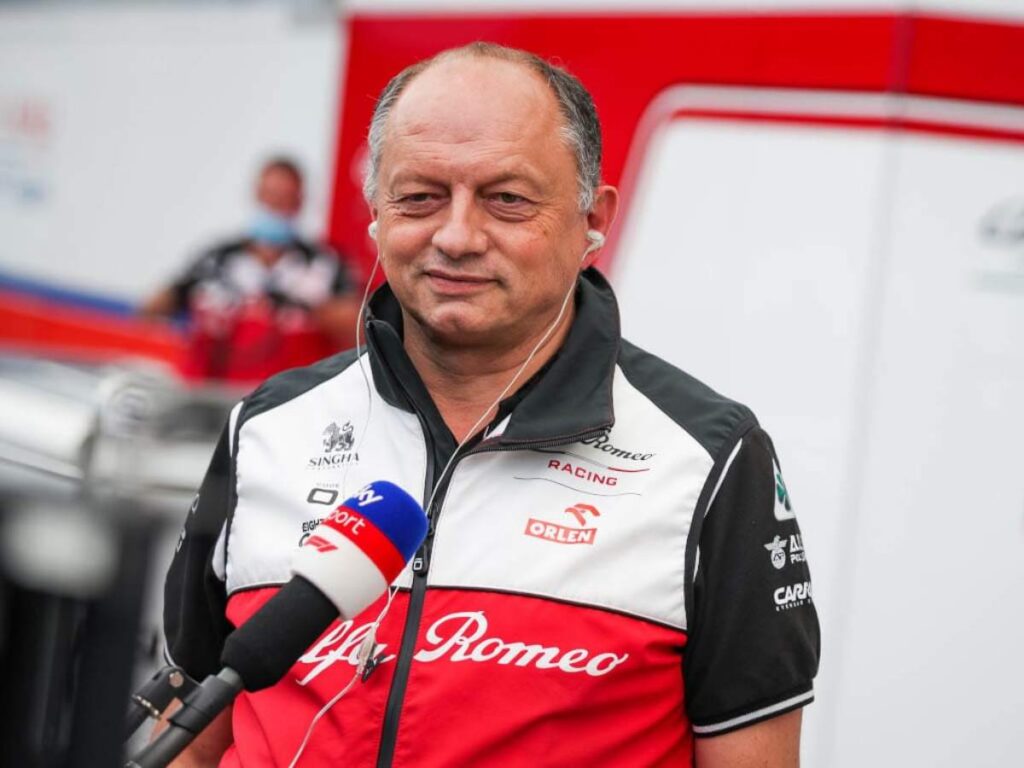 Being the debutant Team Principal to the biggest F1 team that has a massive legacy to live up to, is not easy. And on top of that, Ferrari are currently witnessing disastrous problems that have deteriorated their results–and in Ralf Schumacher's words, the Scuderia Team Principal Fred Vasseur has no idea about these problems.
Ralf Schumacher said, "The head of the team, Frédéric Vasseur, seemed lost. When I asked him how long it would take Ferrari to catch up with the leaders, his answer was: 'first we have to identify the problem, then we can say how long it will take'. They don't really know what the problem is."
Despite Ralf Schumacher's ruthless scrutiny into Ferrari's current situation, the team is making headlines in F1 town for their rumored attempt to acquire Lewis Hamilton for the next season. Currently, there has been no confirmed news but the Maranello outfit has reportedly offered the Briton a $50 Million package should he choose to leave Mercedes for them. Now, it remains to be seen if Lewis takes Ferrari up on their offer or if he goes for an eighth title win with the team that has already given him six Championships.
In case you missed it: