In today's news from the Formula 1 world, Mattia Binotto has confirmed that he has to take the painful decision of walking away from Ferrari, after having served the team.in various posts for the last 28 years. The 57-year-old bowed out amidst several rumors claiming that the executives at the Maranello headquarters were not happy with how Ferrari had handled their 2022 Championship campaign despite having a fast car and a brilliant driver lineup. And now, Charles Leclerc has taken to his Instagram page to share a sweet message for his former Team Principal.
Mattia Binotto has taken up the job of playing the Supremo at Ferrari–the most successful F1 team in the history of the sport–after Maurizio Arrivabene was removed due to lack of good results. The last time Ferrari had won the World Constructors' Championship had been way back in 2008, and since then, the long wait has not been appreciated by the Tifosis.
Now, Mattia Binotto's reign was supposed to bring Ferrari back to its winning ways, but unfortunately, the team only came up short in front of its mighty rivals like Red Bull and Mercedes because of the sheer lack of pace as well as grave strategical errors. Owing to all these, Mattia Binotto was already in a tight place when Ferrari ended the 2022 Championship with having to settle for second place despite being called the initial favorites for the Championship. And ultimately, putting an end to all rumors, he decided to walk out of his team and pass the baton to his undecided successor.
Read More: "They are gonna come for you," F1 Fans react as AlphaTauri comes with 'spooky images' of Pierre Gasly and Yuki Tsunoda on Halloween
Charles Leclerc talked about the "intense years at Ferrari" that he and Mattia Binotto had to live through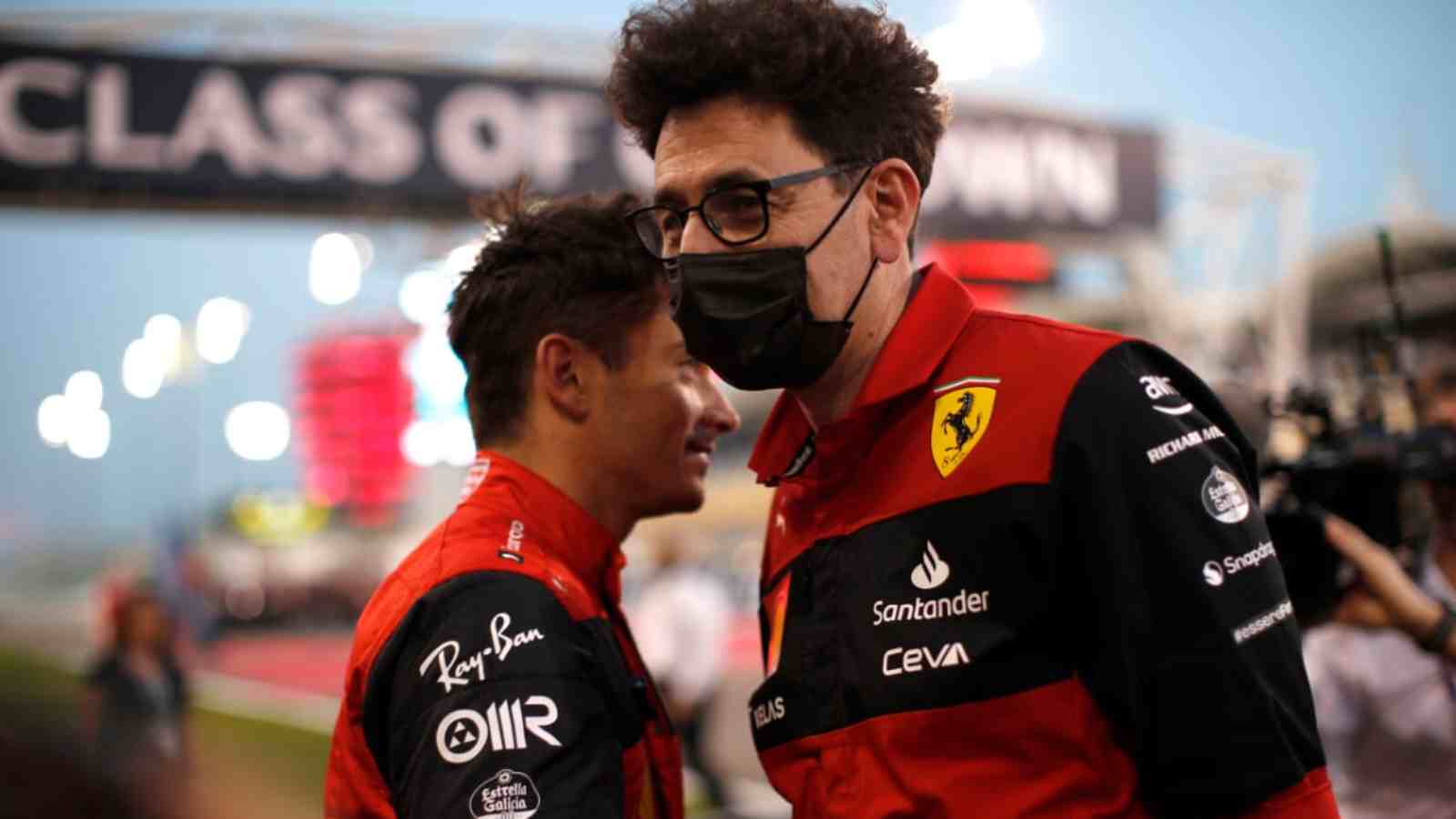 When 2022 had started, Charles Leclerc and Carlos Sainz were looking really promising in the F1-75, and that prompted many F1 commentators and pundits to claim that the Scuderia might finally won their long-awaited Championship this year. But Ferrari failed to keep up with their chief rival Red Bull as several technical problems and collisions caused Sainz to retire from a total of 6 out of the 22 races in the recently-concluded season.
Charles Leclerc had also lost his first place in the World Drivers' Championship to Red Bull's Max Verstappen due to many tactical errors. All this made way for Mattia Binotto to be severely criticized for his handling of the team. And now, ultimately, it has been confirmed that the Italian has resigned from the Maranello team, although it might be a few days before his successor's name is announced.
View this post on Instagram
Speaking on Mattia Binotto's exit from Ferrari, Charles Leclerc sent him a heartfelt note on Instagram. He said, "Thank you for everything, Mattia. We spent four very intense years together, full of great satisfaction and also, inevitably, moments that tested us. My esteem and respect for you have never diminished, and we have always worked with full dedication to achieve the same goals. Good luck for everything."
Now, it only remains to be seen who finally takes up the job at Ferrari as their new Team Principal. Several names have come up already even though it has not even been an entire day since it was announced that Mattia Binotto will not be continuing his duties for the Scuderia in 2023. Amongst them, Alfa Romeo chief Frederick Vasseur seems to be the forerunner.
Read More: WATCH: George Russell spotted with his gorgeous girlfriend courtside enjoying a Miami Heat game
Read More: Sebastian Vettel to not appear on F1 TV shows: "I'm not going to be a TV pundit."