After a five-four victory against Montpellier on Sunday 7th May and a three-one victory against Monaco on Saturday 20th May, the ex-Arsenal player Alexandre Lacazette has now crossed paths with the 2018 World Cup Winner Kylian Mbappe.
After the recent two matches, Olympique Lyonnais's striker Alexandre Lacazette has tied the number of goals with his countryman Kylian Mbappe. Both players have now scored 26 goals in total. And currently, Lacazette is on top of Mbappe's position.
Ligue 1 top goalscorer has the majority of the time been Kylian Mbappe after he joined the league's giant Paris Saint-German. But this time the tables might turn around and Alexandre Lacazette might be the top scorer with two games in hand.
Lacazette became the top scorer on Sunday after Lyon defeated Montpellier. The Frenchman in that match scored four goals and helped his team to win. The scores were the same until Lyon received a penalty in the extra time. And Lacazette took his chance and scored the goal. His last goal helped him to reach the number of goals scored by Mbappe.
From his last match till today's match against Monaco Lacazette has been on the top for more than two weeks now. Despite being 31 he is proving himself and helping his team to finish top five to get a chance of playing in European competition. And for this season he could also win the golden boot if he manages to score in the next two games.
In case you missed: Manchester City challenges against charges put by Premier League, blames Arsenal barrister for the same
Alexandre lacazette's transfer history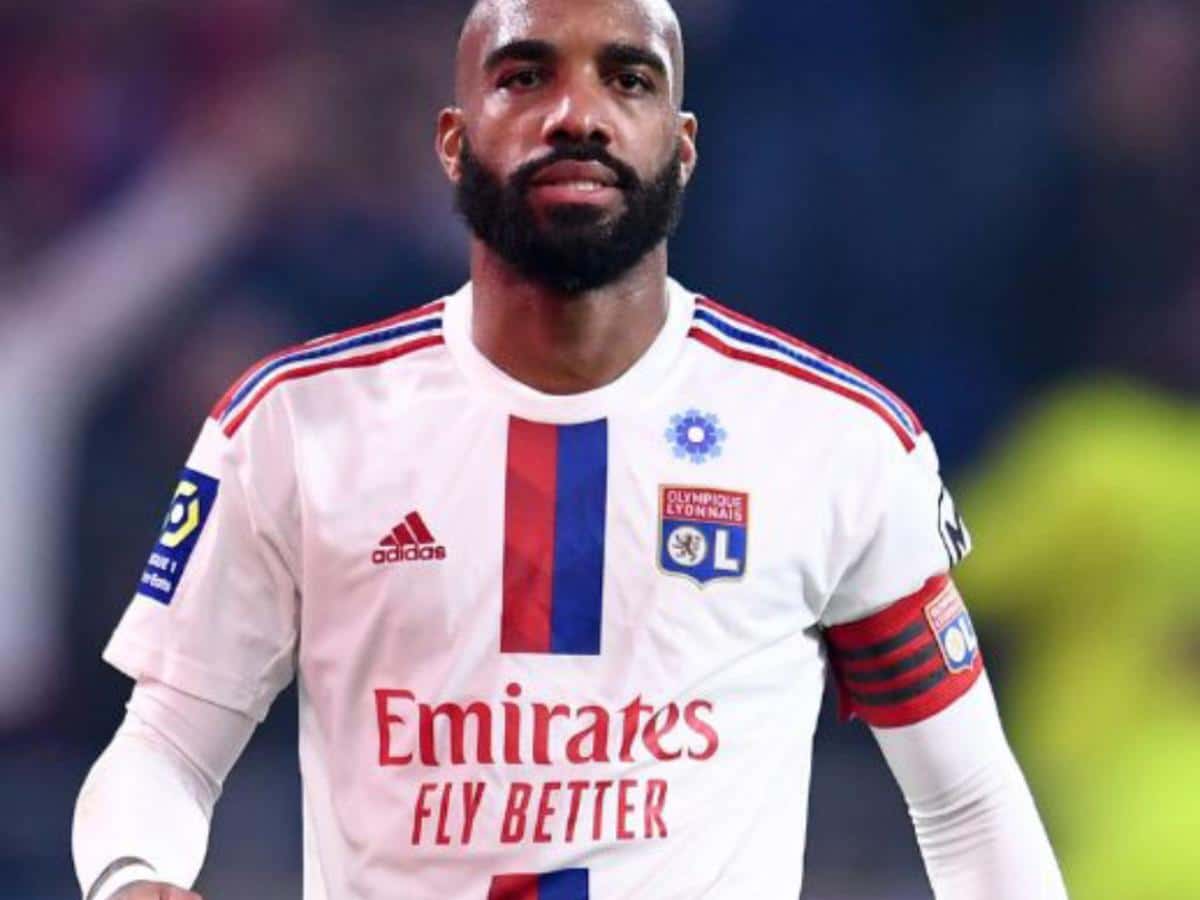 Lacazette started his career with Olympique Lyon. He made his first Ligue 1 debut on May 2010 against Auxerre. He then signed a three-year deal with Lyon and started to get recognition from the fans. The Frenchman won the 2014 Coupe de la Ligue Final against Paris Saint-German with only a goal.
In 2014 he then signed a two-year extension contract with Lyon which helped him to play in Ligue 1 till 2018. The player scored his first-ever trick on 5th October 2014 against Lille. On 29th October 2016, he scored his first 100th goal for Lyon.
In May 2017 the Frenchman signed Arsenal and made his name in the Premier League. He signed a five-year deal with the Gunners and made his first debut against Chelsea in the 2017 FA Community Shield match. He made his Premier League debut against Leicester City on 11th August 2017. Lacazette won his first trophy with Arsenal against Chelsea in the FA Cup Final. On 11th April 2021, he scored his 50th goal for the club.
And on 9th June 2022 he returned to Lyon after signing a three-year deal. On 5th August 2022, he scored his first Ligue1 goal of his second stint with Lyon against Ajaccio. And on 16th August 2022 he scored his 150th goal for the club against Nantes.
Related News: Javier Tebas attacks Real Madrid over remarks comparing La Liga to Premier League, says they 'cry' a lot
Cristiano Ronaldo's sister slams 'garbage media publication' that blamed her mother for possible separation between CR7 and Georgina Rodriguez