Former FC Barcelona defender Gerard Pique opened up about his relationship with former national teammate and Real Madrid legend Sergio Ramos during a candid interview on Tuesday. Gerard Pique recently revealed that his connection with the former Los Blancos captain took an unexpected turn after Jose Mourinho was appointed as Real Madrid's manager back in the 2010-11 season.
The Portuguese veteran replaced Manuel Pellegrini as Real Madrid's manager after Spain's decisive 2010 FIFA World Cup victory. Jose Mourinho was appointed by Los Blancos to put an end to the Catalan domination established by a mighty Barcelona side. Gerard Pique had just won the 2010 FIFA World Cup alongside Sergio Ramos in South Africa. Despite celebrating winning the World Cup together, Mourinho forced the two defenders to grow apart with his robust strategies, claimed Pique.
"Me and Ramos were friends almost all the time until Mourinho arrived at Madrid. Our El Clasicos became very tense," Pique exclaimed. Real Madrid appointed Jose Mourinho to stop FC Barcelona from winning it all once again. Pep Guardiola's side had won the sextuple in the 2011 season, causing tremendous damage to their arch-rivals Real Madrid. The manager infused a vigorous mentality in his squad to catch up with the Blaugrana side, which led to numerous on-field altercations.
According to Deportes Cuatro, Gerard Pique claimed that he and the former Real Madrid captain Sergio Ramos were good friends until Jose Mourinho asked Los Blancos to play "the villain's game". Pep Guardiola and his team often fumed over the tactics presented by the Portuguese manager. Although, Jose Mourinho did stop FC Barcelona from winning the league title in the 2011-12 season. He led Real Madrid to lift their first title since the 2007-08 season. This Madrid side even scored 100 points in 38 games.
In case you missed-"Everything went wrong," PSG's Sergio Ramos reveals actual reason behind leaving Real Madrid
Gerard Pique and Sergio Ramos: One of the most iconic defensive rivalries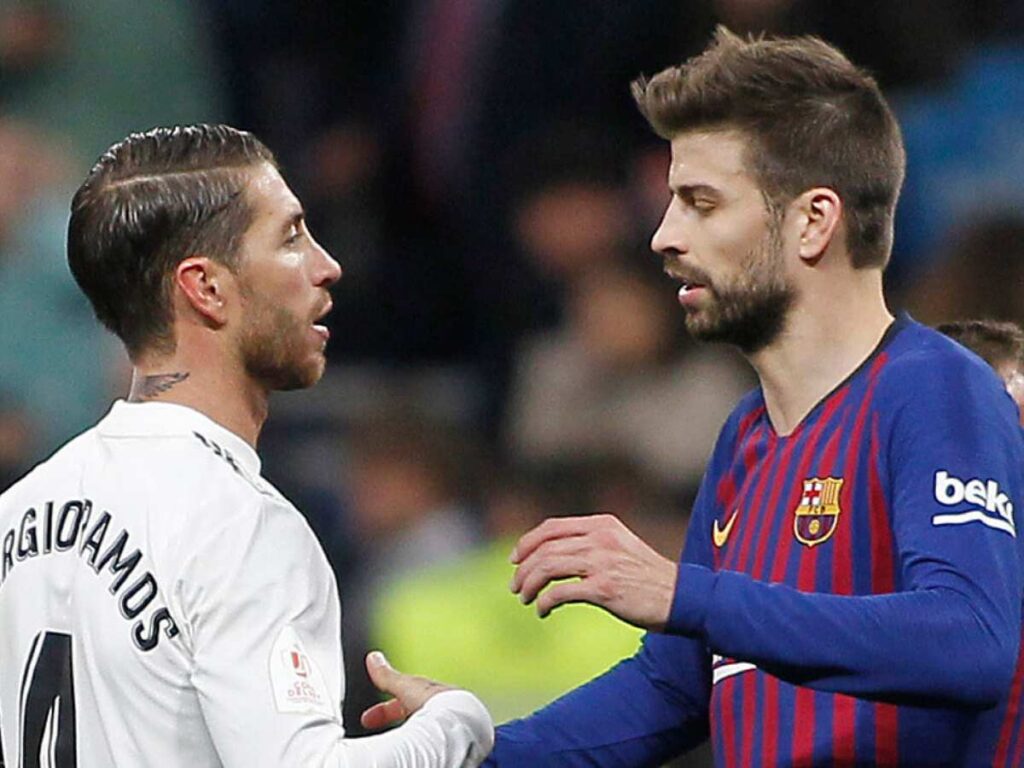 Sergio Ramos and Gerard Pique are undoubtedly two of the greatest defenders of this generation. They played for the same national team but had to turn their back on each other at the club level. Ramos and Pique quite often brawled against each other on the pitch during El Clasico.
The two defenders were also a part of Spain's golden generation who won the 2008 and 2012 Euros, as well as the 2010 FIFA World Cup together. The former FC Barcelona captain has often expressed his love for former national teammate Sergio Ramos. Neither of the two club legends is playing for Spain anymore.
The defensive battle between the two greats ended back when Sergio Ramos decided to join Paris Saint-Germain last season. Gerard Pique also decided to step down from the Catalan defence as he retired from professional football earlier this season.
Related Stories: