LaLiga President Javier Tebas has come out in defence of Real Madrid forward, Vinicius Junior, who was the target of an obscene incident at the hands of Real's cross-city rivals. Tebas threatened to imprison the individuals associated with the act on Thursday.
An image was found circulating on the internet which showed an effigy on the 22-year–old hanging from the neck from a bridge near the club's training facility. It was paired with a banner which read "Madrid hates Real", a statement consistent with a section of Atletico ultras – positioned near the doll. This sparked the conversation among the fans about Vinicius' earlier claims that the federation "continues to do nothing" to remedy the situation. The two teams will lock horns in the Copa Del Rey quarter-final match at the Santiago Bernabeu.
LaLiga and Atletico Madrid have condemned the action vehemently through their social handles. The president of the federation, Javier Tebas has said, "A message to those who take refuge at night to commit hate crimes, we will locate you, we will get convictions, so that you end up in jail, which is where you should be. ENOUGH NOW!!!".
Atletico Madrid has also issued a statement to distance themselves from the ultras group, named Frente Atletico. Calling the whole visual "repugnant and reprehensible,", the club said, "Club Atlético de Madrid communicates that such acts are absolutely repugnant and inadmissible and shame society. Our condemnation of any act that attacks the dignity of persons or institutions is categorical and unreserved."
Vinicius has previously chastised LaLiga, claiming that the league "continues to do nothing" to combat racism, sentiments labelled as "unfortunate" and"unjust" by LaLiga president Javier Tebas. Real Madrid issued a statement as well, which read: "Real Madrid wishes to express its gratitude for the outpouring of solidarity following the heinous, revolting act of racism, xenophobia, and hatred directed towards our player Vinicius. These insults, such as those suffered by our footballer or any other athlete, have no place in our society."
Before the last derby as well, Atletico fans were caught singing "Vinicius, you're a monkey" outside their Wanda Metropolitano stadium in September. Vinicius was racially harassed by Real Valladolid fans earlier this month after being replaced in the second half. A statement was also released on Thursday by the Spanish Football Federation (RFEF). The report said, "[The RFEF] wants to express a message of solidarity for Vinicius, who radicals have personally threatened. Incidents of this nature have no place in our sport."
In case you missed it: Gareth Bale to take part in major golf tournament days after announcing football retirement
"There won't be a Super League": Tebas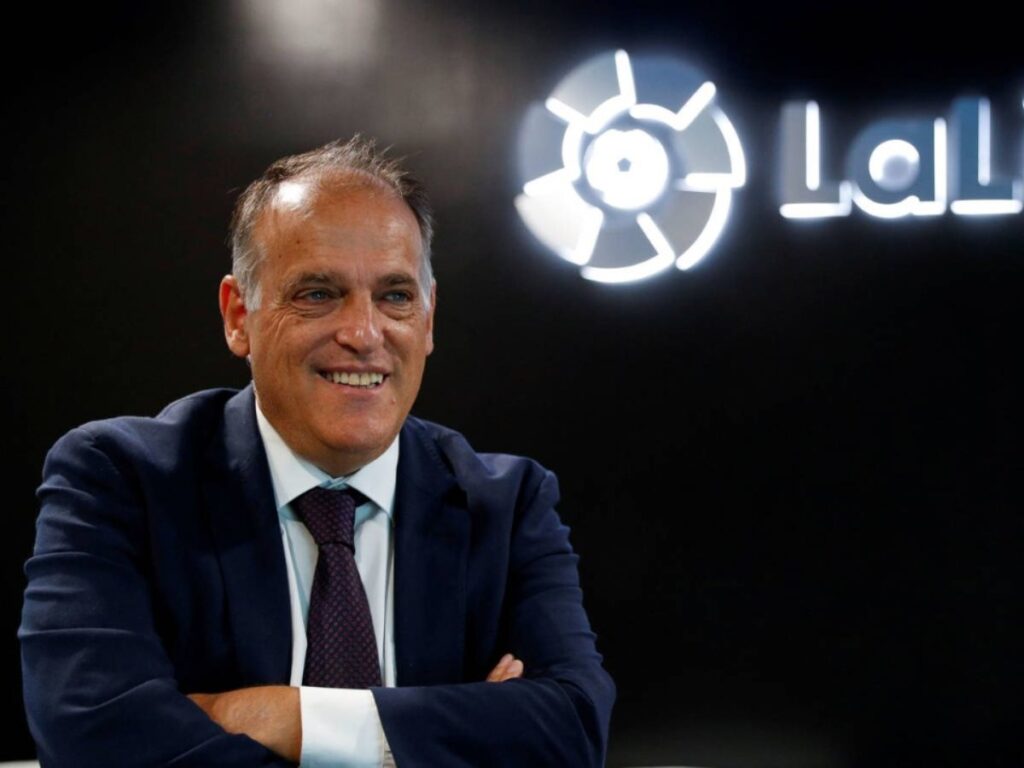 La Liga president Javier Tebas has warned FC Barcelona and Real Madrid that the proposed breakaway Super League will fail. The event was supposed to start in the spring of 2021. Nonetheless, it was cancelled because of resistance from fans of the participating English teams, who felt it would jeopardize the Champions League and local titles. Real Madrid and FC Barcelona, La Liga's top two teams, have attempted to maintain Juventus, an Italian superpower, in the Super League. Barca president Joan Laporta's recent fears that it may happen by 2025 were rejected by his La Liga colleague Javier Tebas when addressing a Global Players event.
"In 2025, there will be no Super League," Tebas threatened. "The European Union has already said that it wishes to keep the present paradigm in Europe, but certain subtleties may alter. An organization will not be formed in the hands of the wealthiest". "Laporta must learn better how to pay television works because it is a big part of his income," Tebas continued, referring to the reduction in La Liga viewership and Laporta's views on the subject. Tebas told Cadena SER that Tebas should "concentrate more on regaining the one-and-a-half million paying customers that broadcast football has lost and spend less time criticizing teams like Barcelona."