Morocco has become the first African nation to book their place in the semi-finals of the FIFA World Cup after securing a 1-0 victory over Portugal. Youssef En-Nesyri scored the only goal of the match with a header late in the first 45 minutes, enough to propel the African team into the last four.
Cristiano Ronaldo's endeavor to capture a World Cup trophy ultimately concluded with a narrow 1-0 defeat as Morocco astoundingly became the initial African country to advance to the semifinals of the tournament. Morocco gained an advantage in the 42nd minute when En-Nesyri rose higher than both goalkeeper Diogo Costa and defender Ruben Dias and connected with the ball, despite having two earlier attempts that flew over the crossbar.
Morocco capitalized on the skill of Boufal and Ziyech to craft an effective approach with a fatigued squad that had just gone through a double overtime match against Spain. The two players helped on the defensive end and then used their quickness to disorient Portugal's defense. Even though they were being more conservative, Morocco had more chances to score in the first half due to Youssef En-Nesyri being their main offensive threat.
Also Read: "If Ronaldo did that, it would get a tad more media attention," Piers Morgan slams Lionel Messi for disrespectful behaviour against Netherlands at 2022 FIFA World Cup
Here are some reactions on Twitter: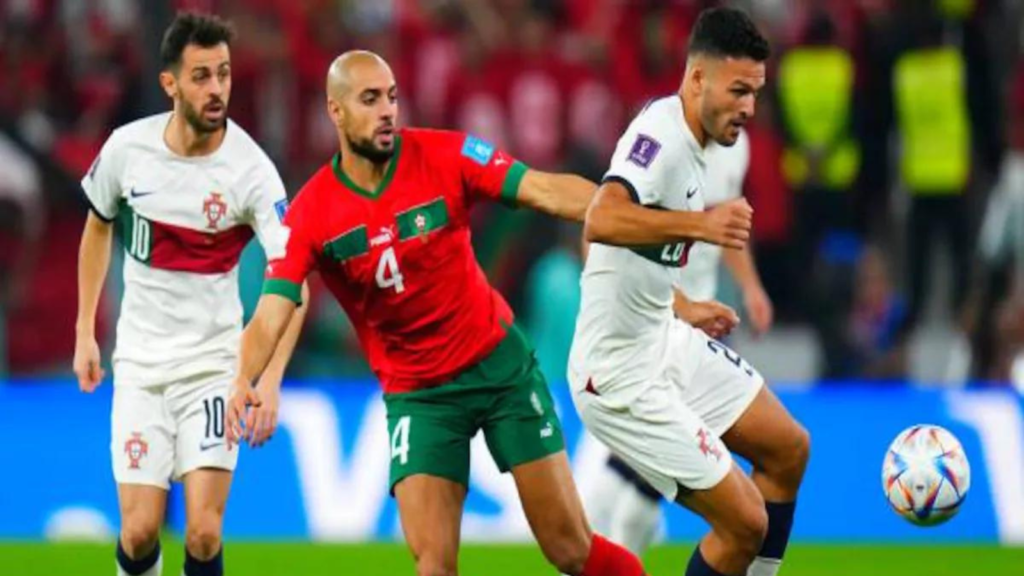 Ziyech, Boufal, and Achraf Hakimi provided an efficient distraction, keeping the full backs busy. After a period of tenacity, En-Nesyri demonstrated superior skill in the middle of the box by heading the cross into the Portuguese goal late in the first half, providing a reward for Morocco's hard work. As previously mentioned, Morocco has only given up one goal during the current FIFA World Cup, and they demonstrated once more how to successfully contend with a powerful team.
Also Read: "If Ronaldo did that, it would get a tad more media attention," Piers Morgan slams Lionel Messi for disrespectful behaviour against Netherlands at 2022 FIFA World Cup