Both Liverpool and Arsenal will compete in the freshly created Dubai Super Cup the following month as they prepare for the Premier League's comeback after the 2022 FIFA World Cup. Between December 8 and December 16, Dubai will organize a four-team contest featuring the Premier League rivals, AC Milan of Italy, and Lyon of Ligue 1. The Reds and the Gunners will contest Milan and Lyon, but not one another.
The championship will begin on December 8 with Arsenal playing Lyon, followed by Liverpool playing the French powerhouses three days afterward. On December 13, Arsenal will play Milan, and three days later, Liverpool will play the reigning Italian champions.
At Dubai's 15,000-seat Al-Maktoum Stadium, all four games will take place. Clubs will receive three points for victories and two points for a tie. Regardless of the final score in the contest, penalties will then be carried out after every game. The victor receives an extra point, which is updated to the league table to dictate who will clinch the championship.
While earning the prize will be of supplementary concern to both Liverpool and Arsenal, Jurgen Klopp and Mikel Arteta will undoubtedly want to take advantage of the opportunity to get their teams in the form before the domestic and European football seasons resume on December 18 following the FIFA World Cup final.
Also Read: "I talk with them all the time"- Cristiano Ronaldo reflects on his newborn's unfortunate demise in the interview with Piers Morgan
Arsenal boss Arteta and Liverpool boss Jurgen Klopp's comments ahead of the Dubai Super Cup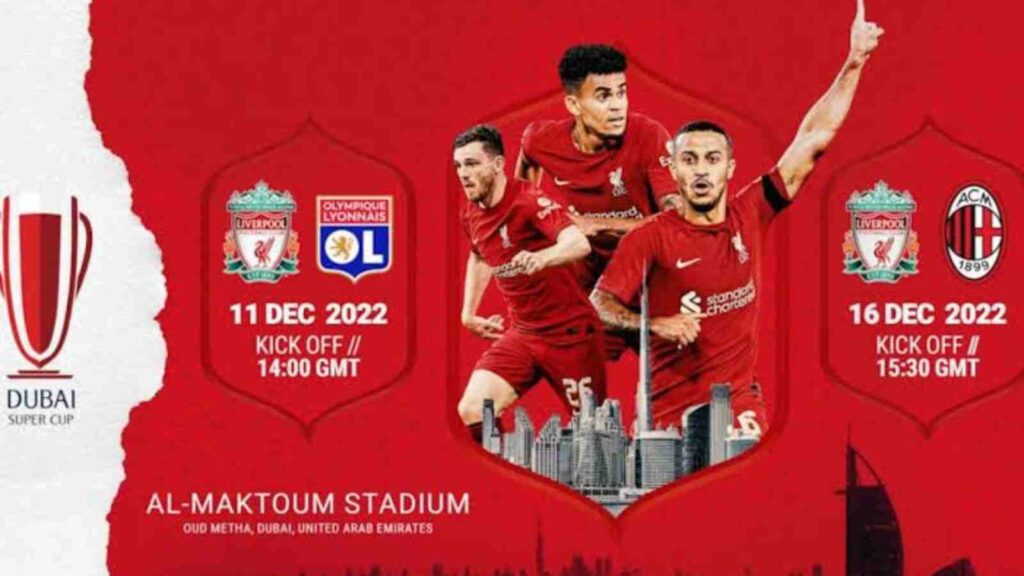 The Reds are sending seven players to the World Cup, and if they are eliminated, they may unite the lineup in Dubai. "We have seven at the World Cup, not a massive number, but important players," said Klopp ahead of Liverpool's home clash against Southampton.
The German will also seek to utilize the opportunity to enhance the endurance of several of Liverpool's injured players, including Joel Matip, Naby Keita, and Luis Diaz who is still mending a knee injury suffered during last month's 3-2 defeat to Arsenal. As the Gunners lead the Premier League standings by five points, Arsenal manager Arteta is inclined to have wished for the season to continue, and he will be praying that none of the 10 Arsenal players currently in Qatar suffer an injury during the next month.
Arteta notified the team website, "We've got a pre-season; not a full pre-season but a really good three weeks of preparation." The lavish training facilities available in Dubai will profit both Liverpool and the Gunners, and the Spaniard is eager to visit.
Read More: France's young sensation Christopher Nkunku is out of the 2022 FIFA World Cup after suffering a knee injury while training at the national camp
Read More: Pop sensation Dua Lipa shuts down rumors about her performing at the 2022 FIFA World Cup quoting 'human rights' as the issue