Argentina entered glory, lifting their third and Lionel Messi's first-ever FIFA World Cup in Qatar. The players and staff had the wildest celebrations possible after the historic moment. Former Argentine striker Sergio Aguero also happened to join the mammoth deafening noise. While celebrating in the dressing room, the former Manchester City star went live on Instagram and made derogatory comments about France's young talent Eduardo Camavinga.
Eduardo Camavinga switched the game upside down after coming on as a substitute for Antoine Griezmann late in the second half. The player fired up the French squad with quick feet and attacking flair. Kylian Mbappe surprised the Argentines, scoring a glorious hat-trick and sending the game to a shootout. Aguero wasn't happy about the impressive outing, and he expressed his frustration post—match. His gesture of calling the young man "Camavinga; the di*kface" was widely criticized as disrespect to a young boy who, with his charm, almost destroyed the Argentine defensive lock.
The former Manchester City player, who retired home from the field for a year due to heart-related problems, filmed himself, a bottle of champagne and beer in his hand, insulting Eduardo Camavinga free of cost. "For Camavinga," he first launched after a few songs. He drank the stuff in his hands, continuing after a couple of seconds with a "Caro de ping" (Dick's head) which did not fail to react, the former Citizen wiping many criticisms.
The hero of the Argentine victory Emiliano Martinez also had some harsh words on French players. The Argentine gatekeeper went to the locker room by taking up a motivating song from Argentinian supporters asking for a minute's silence for Kylian Mbappe, "who is dead".
Also Read : "Better striker overtakes worse striker"- Fans react as Olivier Giroud overtakes Thierry Henry to become France's leading goal scorer
Argentina's win over France in an enthralling 2022 FIFA World Cup Final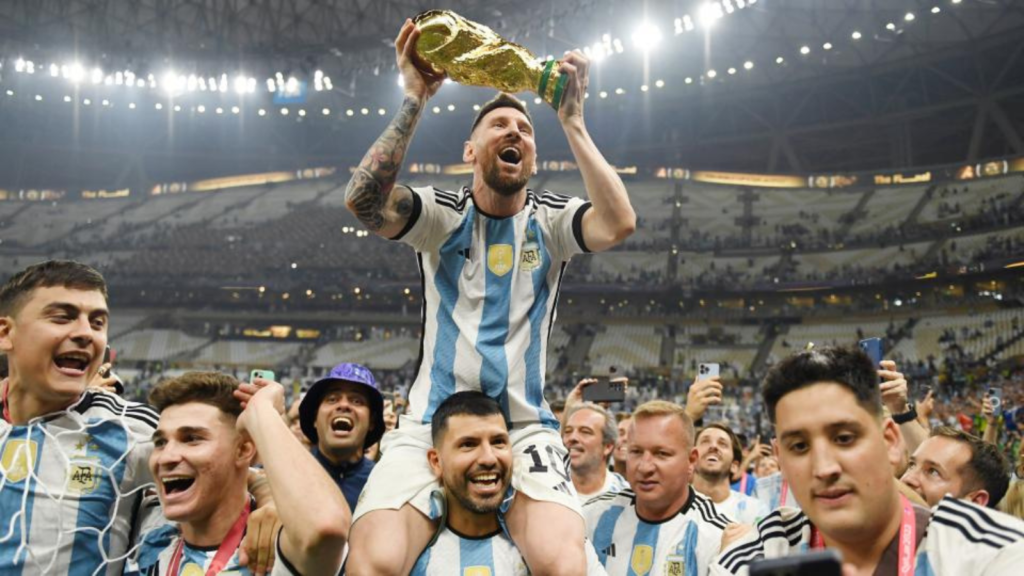 Olivier Giroud and Ousmane Dembele were substituted in the first half only. After failing to show the effect on their most important fixture on the most important day. The Argentine veteran duo of Lionel Messi and Angel Di Maria secured a comfortable two-goal lead in the first half for them.
Mbappe led Argentina's incredible comeback with his hat trick to make it 3-3 after additional time. The match went into penalty shootouts and the great Goalkeeper Emiliano Martinez. The shootout ended in favor of the Argentines as they beat the French 4-2.
The game will be written down in history books as an all-time classic, perhaps the finest World Cup final of all, one of the greatest games in history. In so many ways, it was Messi's game, destined to be his game in the end.
ALSO READ: Eduardo Camavinga's Girlfriend: All you need to know about the famous player's dating life
ALSO READ: "Dont gamble kids", HasanAbi mocks xQc as he loses close to a million dollars on betting over the final match of FIFA World Cup 2022