Blake Lively trolled a fan at a Wrexham game by sending a candid and hilarious message to his girlfriend. The 35-year-old attended a game for the Welsh football team, which is co-owned by husband Ryan Reynolds, over the weekend. While she was walking around the Wrexham FC stadium, she went on to greet a couple of fans, as documented in a video posted to Twitter.
During the game, one fan proceeded to call Lively's name, before he got her attention and asked, "Blake, please say hi to Stephanie! It's my girlfriend." In response, Lively said, "Hi, Stephanie," as she smiled and waved to the camera. She then made a joke to the fan's girlfriend, as she then added, "You should leave him". This was followed by laughter from people in the stands.
Blake Lively even shared her own reaction to this cheeky comment. As she gasped and shouted, "What !". The fan then responded with a playful and disappointed groan, while his peers continued to laugh at the joke.
In the caption of his Twitter post, the fan, who goes by the username @SWXM01, poked fun at Lively's message and expressed how happy his girlfriend was about it. He wrote, "Stephs cried happiness and she's absolutely over the moon. Luckily she hasn't broken up with me!… Thanks again." As of March 27, the tweet had more than 108,000 views, with @SWXM01 responding to Twitter users by continuing to describe the humorous interaction. In one reply, he wrote, "I never thought I'd be violated by a celebrity, but here we are."
He also praised Lively and her husband's sense of humor, as well as Reynolds' decision to buy the football team with his friend, actor Rob McElhenney. The fan then added, "They (and Rob) are unbelievably amazing. The difference it's made to the town is unbelievable. Forever grateful."
This isn't the first time that Lively has trolled some guests at a Wrexham game. More specifically, she made fun of her husband for feeling overwhelmed during Wrexham's FA Cup draw with Sheffield United in January. Sharing a television image of Reynolds at the event, on her Instagram Story, she wrote, "I bought espn+ today. Just to watch my husband experience crippling anxiety live. Worth it."
At AFC stadium on Saturday, Reynolds was also spotted holding his newborn. While alongside his spouse and their three other daughters: James, Betty, and Inez. The Deadpool star's team went on to beat York City 3-0 in the Vanarama National League.
Last month, it was first reported that Lively had given birth to her and Reynolds' fourth child. On February 12, Blake Lively shared a photo of herself on Instagram, in which she could be seen without her baby bump.
In her Instagram post, Blake Lively wrote, "Puppy Bowl Sunday 2023. Been busy." The post showed her standing with Reynolds, who she's been married to since 2012, and his mother Tammy. In the comments under the post, fans, and followers also hinted at the news that Lively had given birth.
In case you missed: "You don't buy anything or you buy everything," Close aid reveals the unique shopping habits of Cristiano Ronaldo's partner Georgina Rodriguez
Wrexham AFC to face Manchester United in a friendly later this year: Reports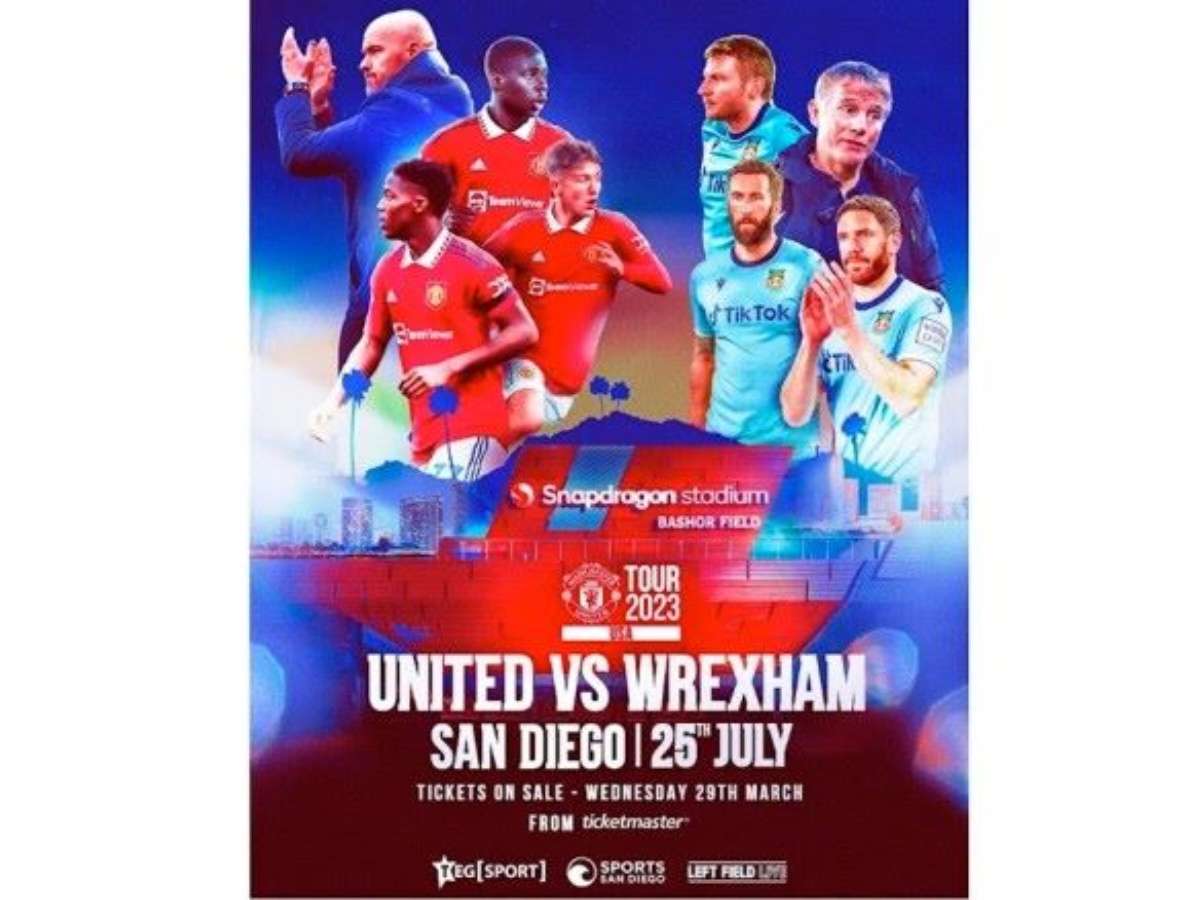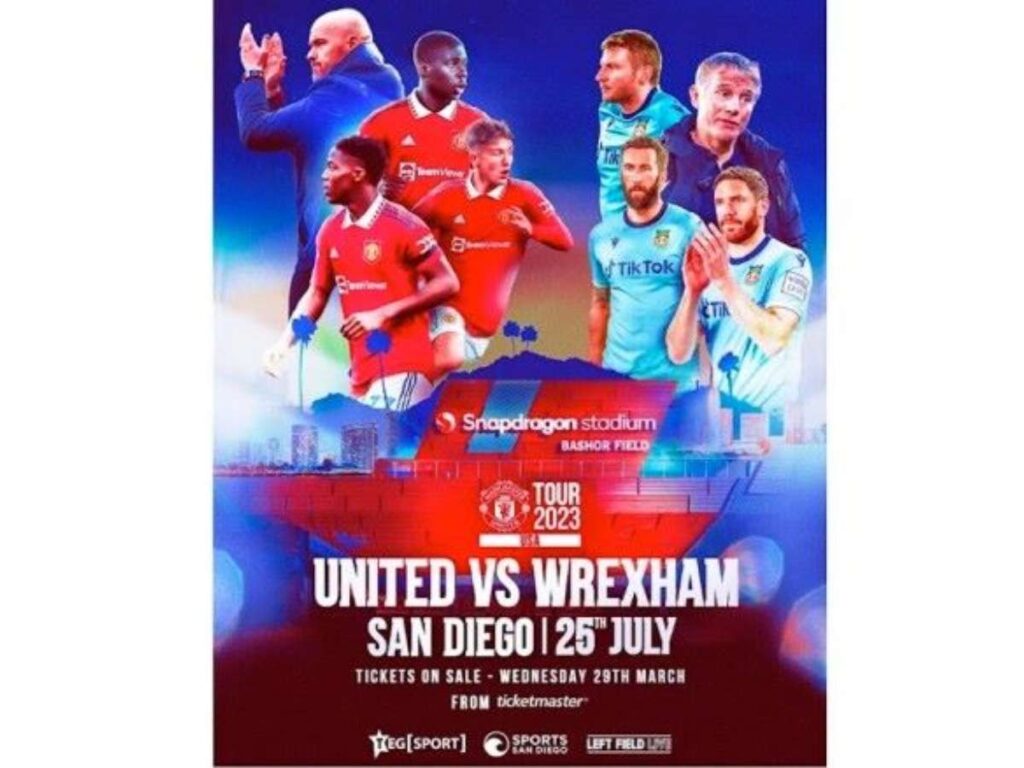 Manchester United and Wrexham announced they will be facing each other in a friendly later this year. This reportedly will happen with the help of a surprising sporting crossover.
Appearing together on a video call, Wrexham's Hollywood co-owners Ryan Reynolds and Rob McElhenney phoned legendary United manager Alex Ferguson to discuss the match. This match will take place at San Diego's Snapdragon Stadium on July 25.
Wrexham has risen to relative fame in the United States since Reynolds and McElhenney bought the Welsh club in November 2020. The story of their takeover and first season in charge is told in the hit documentary 'Welcome to Wrexham.'
In the video call, McElhenney says, "I can't believe we're about to talk with the Sir Alex Ferguson. Arguably the greatest football manager ever. He's won 13 Premier League titles." Reynolds reply McElhenny saying, "I know, I'm super nervous. I hear he is a master intimidator."
The video call reportedly ends without a word from Ferguson. He stared blankly down the camera as Reynolds and McElhenney chattered nervously. McElhenney then said, "That was terrifying". Reynolds replied, he said, "I told you, master intimidator. He lives right up here". Although when asked how the call went with Reynolds and McElhenney, Ferguson replies: "They were on mute. I never heard a thing."
The friendly will be part of United's preseason tour, the first time in five years the club has been to the US, while it will be the first time Wrexham has played in the States in the club's history.
Wrexham manager Phi Parkinson said in a statement, "The match against Manchester United is sure to be a memorable occasion. We enjoy welcoming supporters from the US to the Racecourse Ground. And we're looking forward to being able to play in front of some of these new fans on American soil in the summer."
Related News: Bayern Munich squad was split on Julian Nagelsmann sacking as these key stars wanted him to stay: Reports
"King of that country now," Fans react as Lionel Messi's statue was unveiled at the CONMEBOL Ceremony (firstsportz.com)