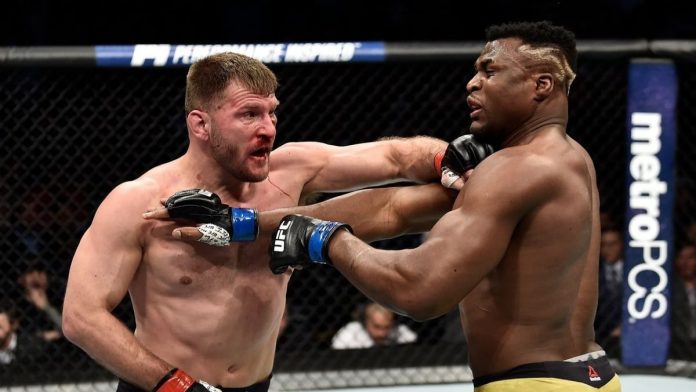 Francis Ngannou vs Stipe Miocic 2 is just a couple of days away. The heavyweight rematch will see Stipe Miocic defending his heavyweight title against the number one ranked contender Francis Ngannou. The pair already met once at UFC 220, back in January 2018. Stipe won the five round fight via. unanimous decision, as a gassed out Francis Ngannou tried his best to land that 'one' decisive punch.
Speaking in an interview with MMA Fighting, Francis Ngannou's coach Eric Nicksick revealed that he has made it a routine to watch the tape of the first fight between Francis Ngannou and Stipe Miocic, further admitting that it has become a valued tradition, before going on to acknowledge the greatness of Stipe Miocic.
'My wife is going to be over that pretty soon, too' – Eric Nicksick
Nicksick was quoted as saying, "Every night. I watch it. It's creepy as can be but I watch it every night. When I was on Fight Island, and the fight got announced, I started watching the tape and I've watched it numerous times prior to that but I just made it a nightly regimen for me. Just as far as mannerisms and watching movements and patterns." [via MMA Fighting]
He further added, "It's definitely overdoing it. It's not healthy. I should turn it off, I will definitely admit but it's just something that it's almost been a valued tradition now. My wife is going to be over that pretty soon, too. I plug it on and watch it quite a bit. I just think it's important to put the time in, especially giving the guy I consider the greatest to ever do it in Stipe Miocic, the respect that he deserves." [via MMA Fighting]
Acknowledging Stipe's greatness, he said, "Unfortunately, you're fighting Stipe Miocic, arguably the greatest to ever do it, he's not going to make it that easy on you. It's not like that at this level." [via MMA Fighting]
Ngannou, further slipped after his loss against Miocic at UFC 220, at the hands of Derrick Lewis. Ever since that loss, he has gone on a marauding win streak of 4, with all the wins coming via. first round knockout. In all, he has become a much improved fight since UFC 220. Fingers crossed for UFC 260!
Also Read : 'I'm gonna be the champ someday, and it's gonna be all worth it' – 'Sugar' Sean O'Malley is destined for greatness
Also Read : Jon Jones is back to number 1 in the pound-for-pound; Conor McGregor breaks into the top 15 once again!