John Daly is one golfer who is known not only for his great golf style, but also for his flamboyant personality. From a diet of coke and cigarettes to his whacky outfits, Daly has left audiences and fellow golfers entertained. Daly's quirky personality has also seen him being married 4 times!
Of the four divorces in his life, Daly's fourth and last one seemed to be the most dramatic. After his struggle with three failed relationships, Daly met his fourth wife, Sherrie Miller. This might have been the worst relationship that John Daly has been in. This is surprising considering that he had already failed through 3 relationships before.
Their relationship started off strong. During the time that Miller gave birth to their son, John Daly II her family was caught in a gambling scandal which plagued them for a long time. It was soon after that a shocking incident came to light and Daly accused his then wife of stabbing him with a steak knife.
Related: Who is John Daly II? Know all about Daly Senior's son
John Daly's bizzarre run in with a steak knife and his wife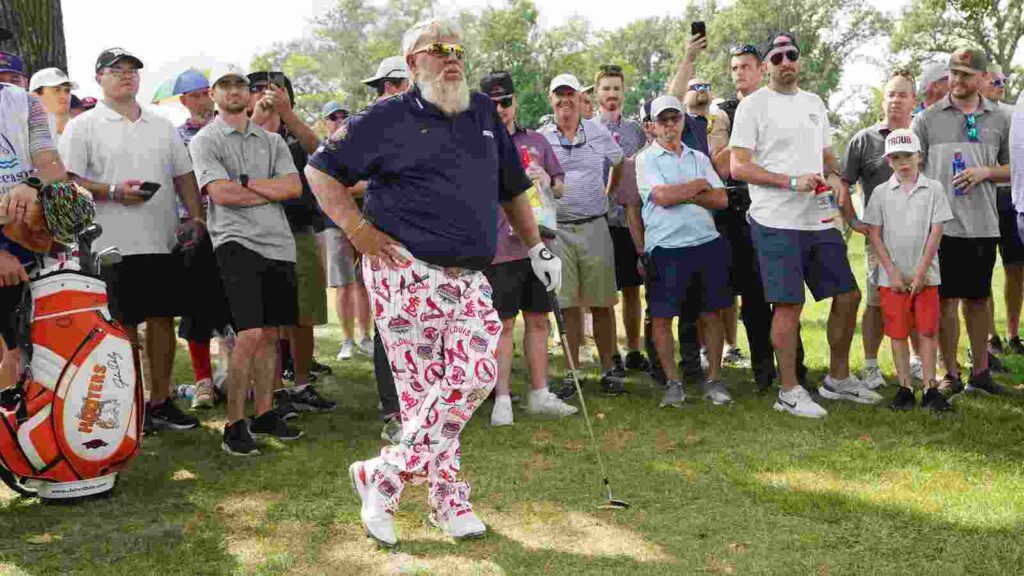 "I filed a complaint with the Shelby County Sheriff's Office. They are investigating, and I'll have no further comment on the matter while they pursue their investigation. My only concern at this point is for the safety of my children and myself," Daly said as he filed a police report. Daly never gave enough evidence for his case again.
He was seen with a red mark on his face, but the allegations did not take fruit later. Eventually the couple filed for a divorce. Miller and Daly's legal woes are still not over. Since then John Daly has definitely moved on, and is engaged for a fifth time.
Daly met his fifth fiancee, Anna Cladakis, in 2007, after separating from Miller. Daly said that he felt even better after he got engaged to Anna. "She's probably the most positive human being I've ever been around," he said. However, Daly does not seem to be in a rush to get married.
Whether marriage number 5 is the one or not we cannot tell. All that we know is John Daly will continue to be a loved golfer on the scene. As long as he is still playing, the audience will definitely have a good time, even if his marriages do not.
In case you missed it:
WATCH: John Daly makes a stylish appearance out of golf for Manscaped's latest commercial
"I'm up and running" – 2x Major Champion John Daly updates fans on successful knee surgery after PNC Championship