In the world of golf, the Ryder Cup stands as a symbol of fierce competition. It brings together the best players from Europe and the United States, creating a spectacle that captivates fans worldwide.
However, politics has recently cast a shadow over this prestigious event, with one of Europe's finest, Sergio Garcia, finding himself sidelined due to tour affiliations. Jon Rahm, a rising star in the golfing world, expressed his disappointment at the situation, emphasizing that the Ryder Cup should focus on assembling the best talent, irrespective of external factors.
When the Europeans suffered a resounding defeat at Whistling Straits two years ago, Jon Rahm and his Spanish compatriot Sergio Garcia emerged as a formidable pair, contributing three of the team's nine points. Their partnership showcased the synergy and skill that epitomize the Ryder Cup. However, as preparations for the tournament in Italy commenced, Team Europe captain Luke Donald informed Garcia that he would not be considered for the team.
This decision stemmed from Garcia's departure from LIV Golf in 2022, alongside other prominent players like Richard Bland, Ian Poulter, Lee Westwood, and Henrik Stenson, who faced backlash for joining the Saudi-backed league.
Related: "We're competing at the highest level," Bryson DeChambeau applauds LIV golfers' triumph at PGA championship 2023
Sergio Garcia sidelined from Ryder Cup politics trumping talent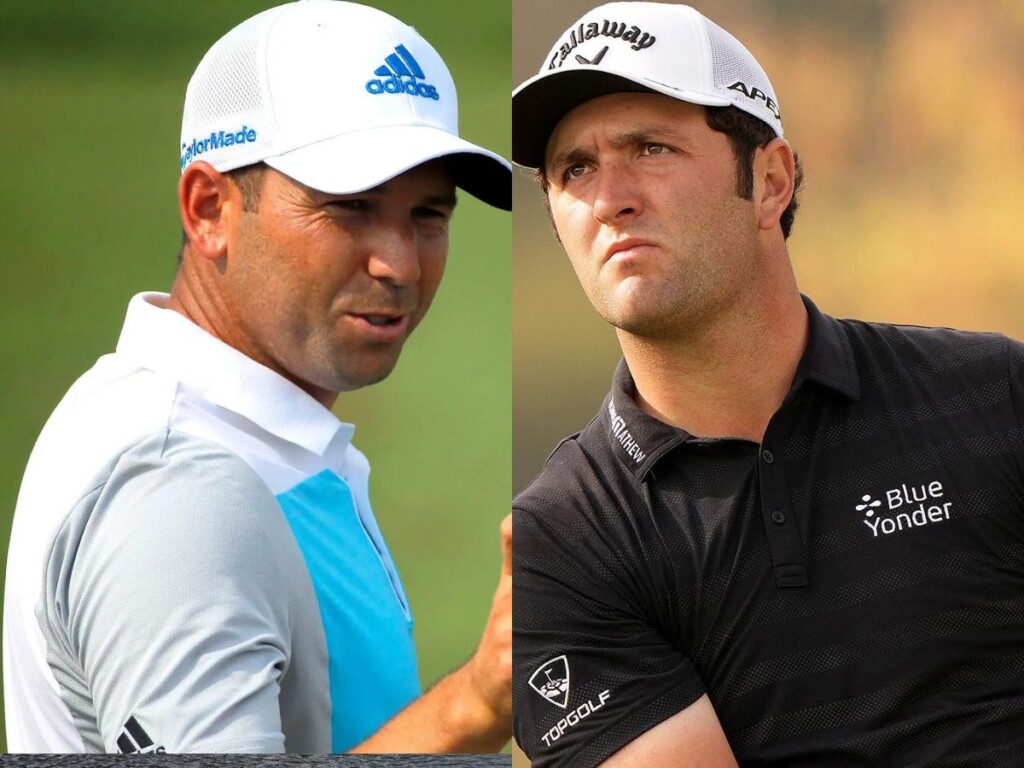 Jon Rahm expressed his heartfelt disappointment at Garcia's omission, lamenting that politics had obstructed their chance to recreate the magic they shared on the fairways of Whistling Straits. To Rahm, the Ryder Cup represents the pinnacle of competition between Europe and the United States, and he firmly believes that the event should showcase the best players from both sides, regardless of their tour affiliations.
Rahm's sentiments were echoed by US captain Zach Johnson, who refrained from discussing the possibility of LIV Golf players joining his team. However, Rahm remained resolute in his belief that Garcia, Europe's all-time leading Ryder Cup points scorer, deserved a place in Rome come September.
The partnership between Rahm and Sergio Garcia at Whistling Straits created ripples of excitement among golf fans. Looking back at the legacy of past Spanish pairings, such as Seve Ballesteros and Jose Maria Olazabal, who amassed an incredible 12 points together, Rahm envisioned a future that included more Ryder Cups alongside his esteemed compatriot.
Garcia's record-breaking 28.5 career points for Europe make his absence from the team all the more disheartening. Despite Garcia's ranking dropping to No. 218 due to LIV Golf's quest for Official World Golf Ranking points, Rahm firmly believes that his talent and experience make him an invaluable asset to Team Europe.
The Ryder Cup has long held a special place in the hearts of golf enthusiasts, and its significance transcends individual players and tour affiliations. The exclusion of Sergio Garcia from the European team due to his involvement with LIV Golf has sparked a discourse on the role of politics in such a prestigious event.
Jon Rahm's disappointment is palpable as he expresses his sadness at the interference of external factors in what he considers a "beautiful" and unparalleled golfing spectacle. As the Ryder Cup approaches, fans and players alike hope that the spirit of the event will prevail, prioritizing the pursuit of greatness and unity over divisive politics.
In case you missed it: