It's always a pleasure to see golf legends Tiger Woods and Jon Rahm casually chatting on the field, sharing notes. Not a while ago, the DP World Tour shared a post of both icons giving tips to each other as they put on invisible school uniforms and study caps.
The veteran player is the GOAT in the sports world and didn't hesitate to learn for the budding golf icon during the event. Woods even seemed heavily invested in learning new tricks and techniques from Rahm, and vice versa.
The reporters and others couldn't help but try to eavesdrop on their conversation, which according to some was just some "nerdy golf talk amongst pros". While marveling at their exchange it was noted how good it was to see two pros helping each other despite the ongoing rivalry.
Also Read| Tiger Woods applauds Rory McIlroy for remarkably balancing hectic schedule amid PGA vs LIV war
Tiger Woods doesn't shy away from learning new techniques from Jon Rahm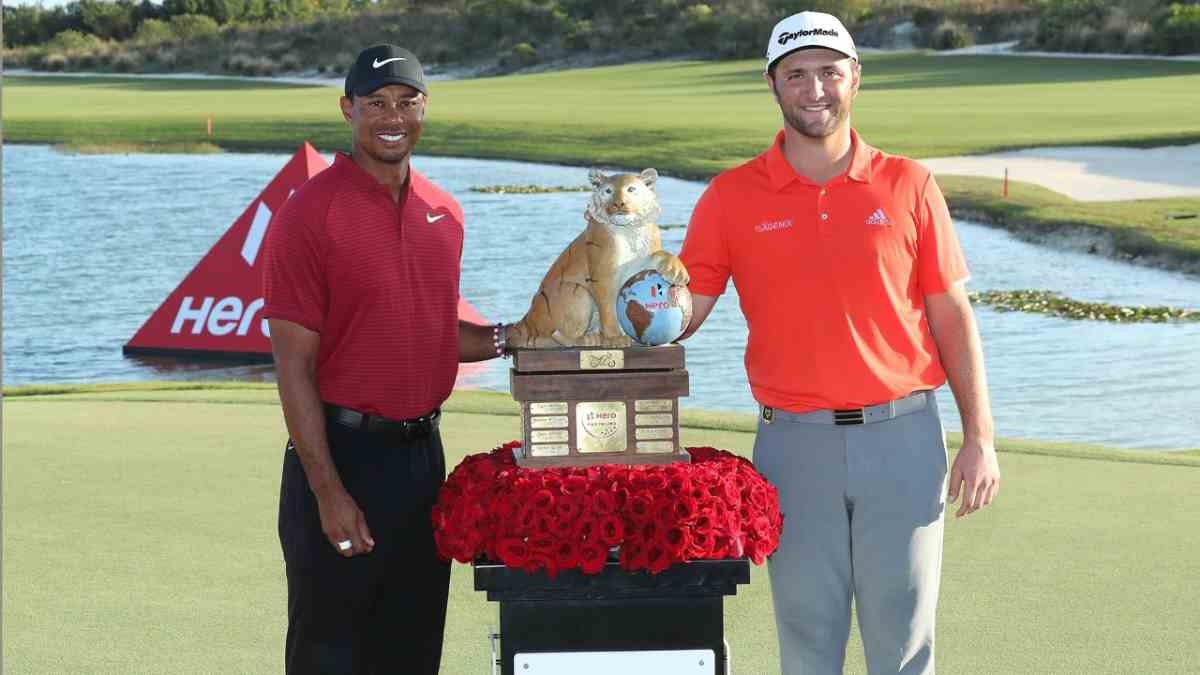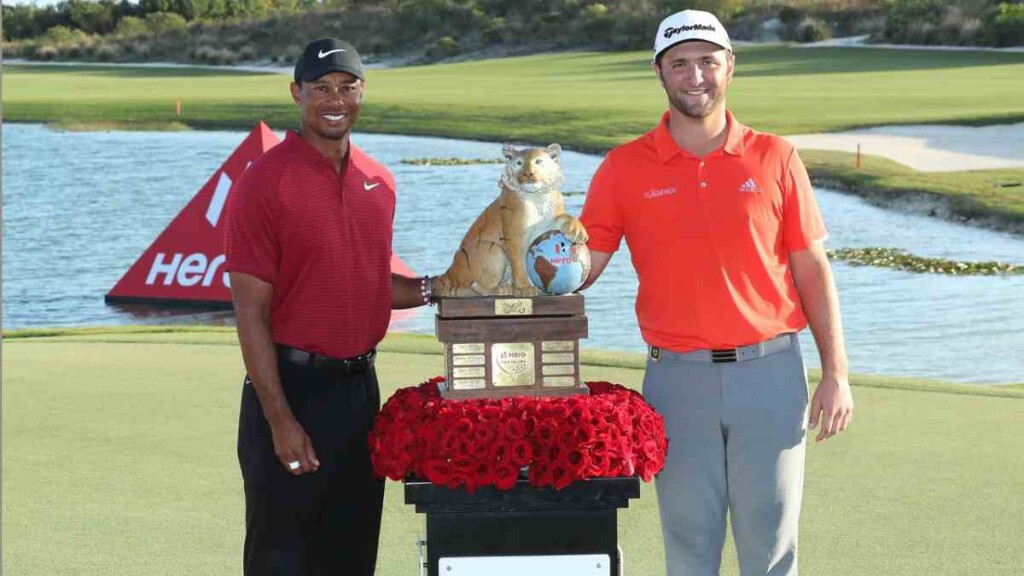 Golf is a game where a lot of different techniques, tricks, and methods are used. Some even whisper to nature before shooting the puck in the air. Nevertheless, these depend from player to player. Sharing knowledge could mean one is helping out their opponent get stronger.
Although it seemed like, some learning never ends. Despite being rivals in the same game, Tiger Woods and Jon Rahm didn't follow the stereotypical boundaries and decided to show their plates to one another. Rahm who has been continuously at the top of the OWGR rankings is still in his developing stage.
Who would have been a better coach than the GOAT of the game itself? Unfortunately, this year has been both tough and fun for Woods. While he happily participated in The Match with Rory McIlroy and at PNC Championship with his son Charlie, Woods' physical health is not at its peak.
Still dealing with reparations for the 2021 car accident, his right leg plantar fasciitis has disallowed him from taking part in events, especially The Open Championship. He had to use golf carts to travel across the greens at the two events.
His participation sure did cost him a hectic messed up 2023 schedule, but he is happy to face it any time. While learning from Jon Rahm and learning his swing mechanisms, Woods seemed to have been fascinated by his usage of the stick.
It was noted that perhaps it was the willingness to learn that allowed the GOAT to forget rivalry and sports ego, to just come forth and gather knowledge. He is who he is because of the people he surrounds himself with. The fans cannot wait to see the legend in action at The Masters in April 2023.
Also Read| Tiger Woods rules 2022 Google search with PGA defector Phil Mickelson in toe
Also Read| WATCH: Tiger Woods, Rory McIlroy shows off caroling skills by welcoming Christmas in TaylorMade ad