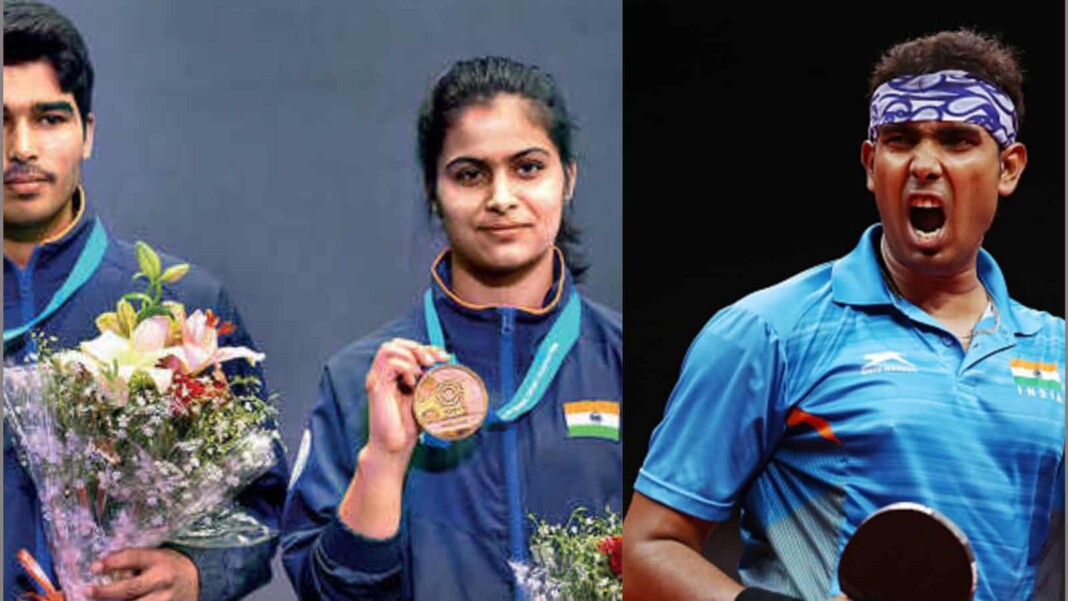 The fifth day is a crucial one for the Indian Olympic contingent with as many as two medal events. Shooters Manu Bhaker and Saurabh Chaudhary will be in the spotlight having faltered in the single's events. They are strong individual performers and will be pumped up to give their best.

Sharath Kamal is on the verge of scripting history by becoming the first-ever Indian player to make it to the Round of 16. The veteran is the only Indian paddler still in the competition. Men's Doubles pair of Satwik/Chirag in action in Group stage clash>
Tokyo Olympics 2020 Live Updates Day 5
11.25 IST – Boxing – India's Lovlina borgohain defeats Germany's N Apetz 3-2 in the round of 16 and advances to quarters of Women's welterweight boxing. She is just 1 step away from confirming a medal!
10.30 IST – Badminton Update – Satwik and Chirag have finished 3rd in Group A, which means they miss out on the quarterfinals of Men's Doubles Badminton in the Tokyo Olympics.
10.16 IST Badminton – Satwik/Chirag take the second set against Vendy/Lane 21-19. With this, they take the match in straight sets 21-17,21-19. However, with the Chinese Taipei pair winning both their games, hopes fade away for the Indian pairing!
10.15 IST – Shooting – Elavenil/Panwar finish in the 12th spot in qualifying with 626.5 points. Moudgil/Deepak pair finish in 18th place with 623.8 points. Both fail to make it in Qualifying 2. No medal for India on 27th July as well!
10.00 IST – Shooting –
Two Indian pairs in action in the 10m Air Rifle Mixed Team Qualification event
Elavenil Valarivan and Divyansh Panwar
Deepak Kumar and Anjum Moudgil
9.50 IST Badminton- Satwik/Chirag take 1st game 21-17 in against Vendy/Lane of Great Britain.
9.51 IST – Table Tennis – Sharath Kamal pushing Ma Long all the way through. But the Chinese cruises past the Indian in the all-important 5th set. Takes the game set and match (5th set 11-4) 4 sets to 1 – 11-7, 8-13, 13-11,11-4, 11-4. Indian competition in Table Tennis in Tokyo Olympics ends.
9.40 IST Table Tennis- Ma Long gathers a huge lead in the 4th set to take the game 11-4. 3-1 China in round 3 of Men's Singles.
9.35 IST Badminton- Indian Pair of Satwik/Chirag in action against Great Britain's Vendy/Lane. However, With Chinese Taipei's Yang Lee-Chi-Lin Wang beating Indonesia's Gideon-Sukamuljo 21-18, 15-21, 21-17, Satwiksairaj and Chirag have been knocked out even before taking the court
9.36 IST Chinese takes 3rd game 11-13. A high-intensity clash this!
9.30 IST Tight game! Both the veterans showing their A-game in the 3rd set. 10-10 in the 3rd set.
9.26 IST Sharath plays his best shots to stun World No 2 in second set 11-8!
9.20 IST Ma takes first set 11-7, Sharath fighting very well.
9:15 IST Sharath Kamal in action against Chinese legend and World No. 2 Ma Long.
08:35 IST Mixed Team 10m Air Pistol: China wins the gold medal, ROC takes Silver and Ukraine bronze medal. This is a big setback for Indian shooting hopes as Manu/Saurabh have won all Gold medals in 2019 and Silver in Croatia.

Still, a long way to go for them, maybe in Paris we will see them on the podium.
08:15 IST Finally some good news! India won 3-0 against Spain. Good comeback by the Indian Hockey team after losing 7-1 to Australia.
6:50 IST Indian Hockey team scored the second goal against Spain via penalty stroke. India leads 2-0 after the first quarter.

06:45 IST Manu Bhaker's poor performance in qualifying round 2 has cost India a medal today. India finished 7th in qualifying round 2 as Manu shot 92/94 while Saurabh shot 96/98.

06:10 IST Qualification round 2 coming up, Saurabh is shooting well, Manu has to buckle and stop shooting that much of 9s if we want to qualify as top 2.

05:55 IST Ranked 1 Manu/Saurabh through to qualifications 2 with a score of 582, Deswal/Verma out as they finished 17th with a score of 564.
05:40 IST End of the first series: Saurabh and Manu shot 98/97 while another Indian team Deswal/Verma shot 92/95, almost out of this competition.

05:30 IST Day 5 action begins for India, Indians need to finish in top 8 to make it to the next round. Bhaker and Chaudhary started with 10 and 9 respectively.

Horrific from Verma as he shot a 7 and they are placed at the bottom, Bhaker/Chaudhary 2nd.

05:00 IST We are just 30 minutes away from the start of the 10m Air Pistol mixed team event. All eyes will be on Manu Bhaker and Saurabh Chaudhary as they have dominated this event till now. Abhishek Verma and Yashaswini Deswal will also look to win a medal in this event.
The Indian athletes had a forgettable day four at Tokyo Olympics as most of the matches produced disappointing results. However, fencer Bhavani Devi created history after becoming the first one from India to mark participation in a fencing event at any Olympic edition. She also won her debut match 15-3 against Tunisia's Nadia Azizi 15-3 before crashing out against a higher-ranked French fencer.

Similar results were seen in the men's team event of archery as well where the trio of Atanu Das, Tarundeep Rai and Pravin Jadhav won their pre-quarters match 6-2 against Kazakhstan. However, they lost to the gold-medalist team from South Korea in a one-sided affair for the quarter-final match.
Despite a disappointing day in Tokyo, all hopes are not lost for India with two medal events scheduled for day five. We bring to you the live updates on day five of the sporting extravaganza.
Indian Team's Schedule on Tokyo Olympics day five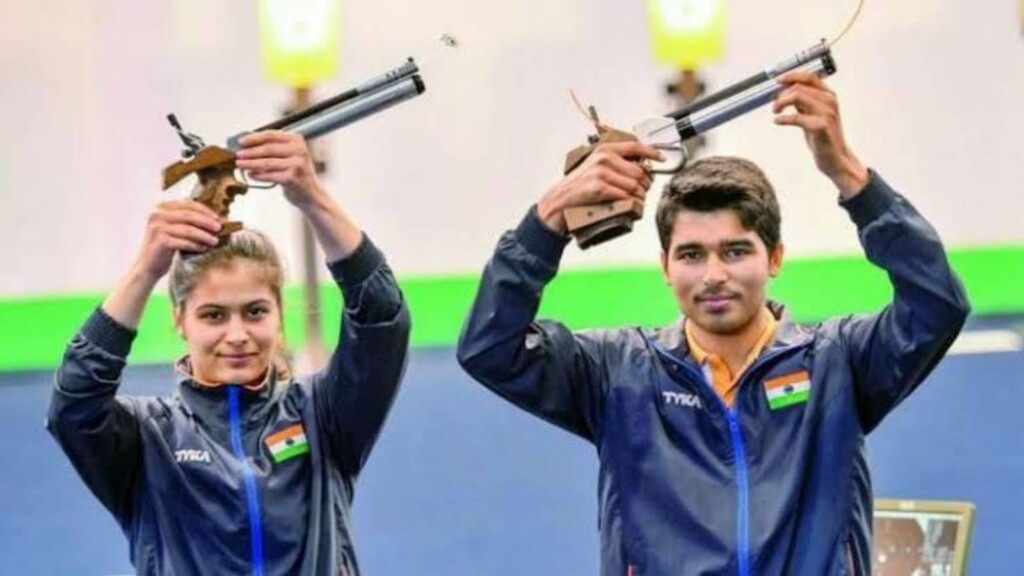 TIME
SPORT
EVENT
ATHLETE
8:35 AM
Sailing
Laser Radial Women Race 05
Nethra Kumanan
8:45 AM
Sailing
Laser Men Race 04
Vishnu Saravanan
9:50 AM
Sailing
Laser Radial Women Race 06
Nethra Kumanan
10:00 AM
Sailing
Laser Men Race 05
Vishnu Saravanan
11:15 AM
Sailing
Laser Men Race 06
Vishnu Saravanan
6:30 AM
Table Tennis
Men's Singles Round 3
Sharath Kamal vs Ma Long China
10:57 AM
Boxing
Women's Welter (64-69kg) – Preliminaries
Bargohain Lovlina vs Nadine Apetz
5:30 AM
Shooting
10m Air Pistol Mixed Team Qual. Stage 1
Manu Bhaker and Saurabh Chaudhary
6:15 AM
Shooting
10m Air Pistol Mixed Team Qual. Stage 2
*Subject to qualification*
7:30 AM
Shooting
10m Air Pistol Mixed Team Finals
Medal Event
9:45 AM
Shooting
10m Air Rifle Mixed Team Qual. Stage 1
Divyansh Singh-Elavenil Valarivan
and
Anjum Moudgil-Deepak Kumar
10:30 AM
Shooting
10m Air Rifle Mixed Team Qual. Stage 2
*Subject to qualification*
11:45 AM
Shooting
10m Air Rifle Mixed Team Finals
Medal Event
6:30 AM
Hockey
Men's Pool A
INDIA vs SPAIN
8:30 AM
Badminton
Men's Doubles Group Play Stage – Grp A
Chirag Shetty-Satwiksairaj Rankireddy
vs
Ben Lane-Sean Vendy
11:20 AM
Sailing
49er Men Race 01
Ganapathy Kelapanda, Varun Thakka
12:15 PM
Sailing
49er Men Race 02
Ganapathy Kelapanda, Varun Thakka
1:10 PM
Sailing
49er Men Race 03
Ganapathy Kelapanda, Varun Thakka
Also Read | Fencing at Tokyo Olympics: Twitterati celebrates as Bhavani Devi creates history with India's maiden win
Also Read | Tokyo Olympics silver-medalist, Mirabai Chanu honoured by Manipur Government; appointed Additional Superintendent of Police