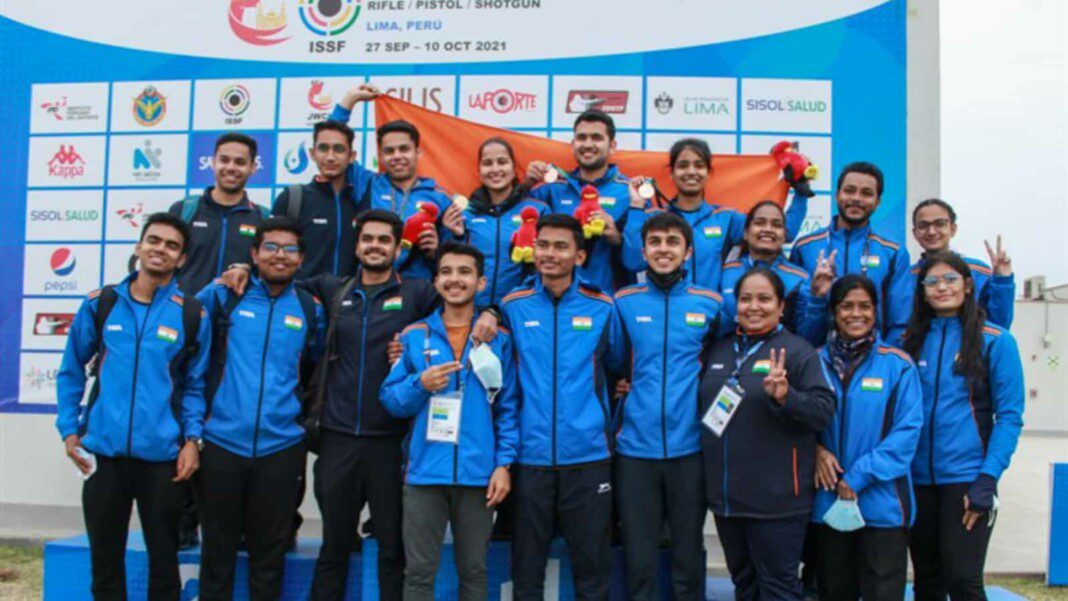 It was complete Indian dominance on the final day of the 2021 ISSF Junior World Championships in Lima, Peru. The country's shooters not just won all 4 golds but all 12 medals on offer from the non-Olympic 25m Standard Pistol and 50m Pistol events.
India finished on top of the medal tally with a whopping 40 medals including 16 golds. Team USA was a distant second with 7 golds and 21 medals. Although countries such as China, Russia and Korea did not send any participants, the scores posted by the young Indian contingent in Olympic events were of standards befitting any top international competition.
25m Standard Pistol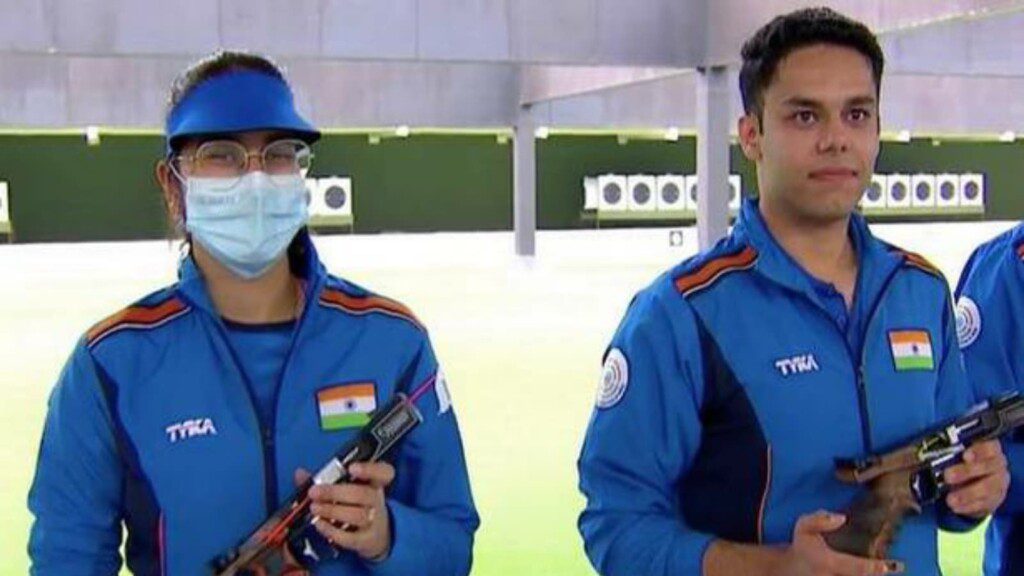 Vijayveer Sidhu and his twin Udhayveer may have had disappointing outings in the 25m RFP finals but both combined in 25m Standard Pistol to help India get a podium sweep.
Vijayeer finished with 570-17x, just marginally ahead of Udhayveer's 570-14x. Another Indian Harsh Gupta got a bronze with a score of 566. 17 shooters from 8 countries participated in the competition which had no final.
Likewise Rhythm Sangwan narrowly missed out on individual medals both in Women's 25m Pistol and Women's 10m Air Pistol but finally got an individual gold in Women's 25m STP. She scored 573-21x.
Niveditha Nair and Naamya Kapoor, the new Junior World Champion in Women's 25m Pistol, won silver and bronze with scores of 565 and 563 respectively. 11 shooters from 5 countries participated in the competition which had no final.
The team of Vijayveer and Rhythm had earlier won gold in 25m Rapid Fire Pistol Mixed Team.
50m Pistol
Arjun Singh Cheema won gold from this former-Olympic event that was made famous in India by Jitu Rai.
Arjun scored 549-11x. Shaurya Sarin finished just ahead of Ajinkya Chavan for the silver medal after both were tied at 549-5x. 16 shooters from 7 countries participated in the competition which had no final.
In Women's 50m Pistol, Shikha Narwal (530) won gold from a small field that had just 5 participants and only 1 non-Indian competitor. Esha Singh (529) and Navdeep Kaur (526) were 2nd and 3rd.
Double Trap
This former Olympic shotgun event saw exclusively Indian competition. Vinay Pratap Singh Chandrawat (120), Sehajpreet Singh (114) and Mayank Shokeen (111) were the top three in Men's Double Trap.
Manvi Soni (105), Yeshaya Contractor (90) and Hitasha (76) were the top three in Women's Double Trap.
25m Rapid Fire Pistol Team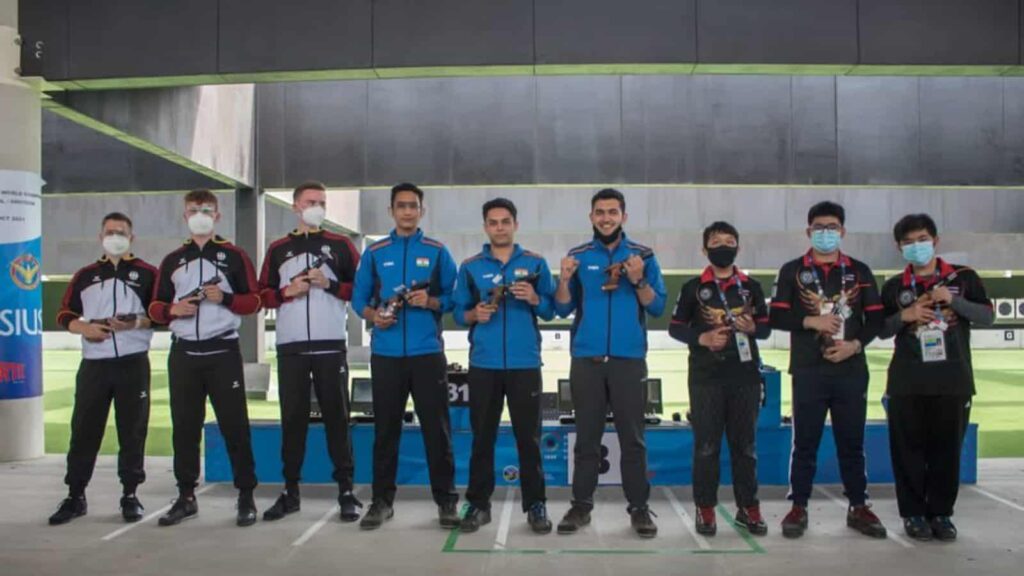 The Indian team of Adarsh Singh, Vijayveer Sidhu and Anish Bhanwala defeated Germany 10-2 in the Men's RFP team event held on the penultimate day of the ISSF World Juniors.
This was the first gold medal of the tournament for both Adarsh and Anish.
Thailand defeated Belarus 9-3 in the bronze medal match. Only these four countries took part in the competition.
50m Rifle 3 Positions Mixed Team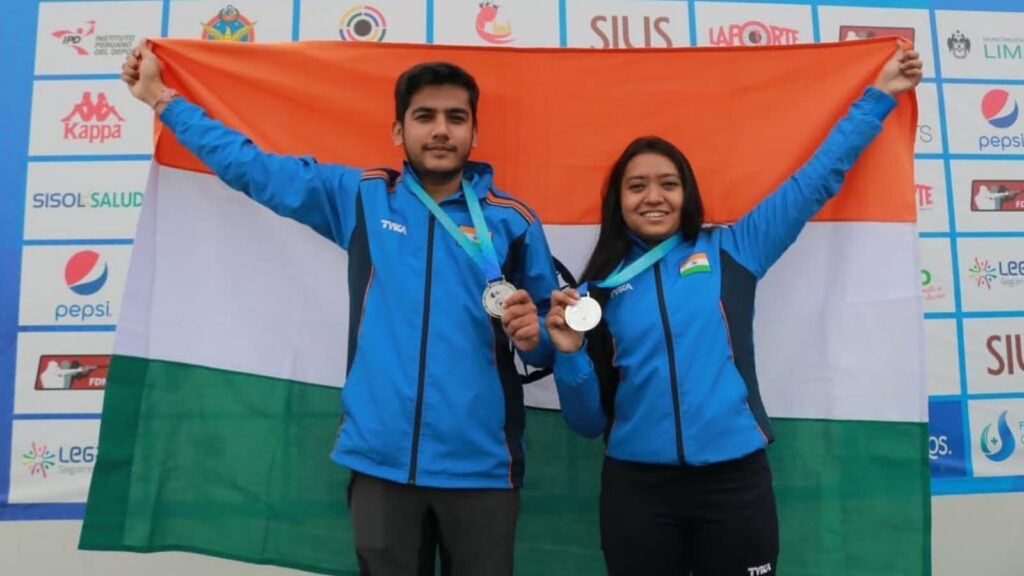 The final rifle event took place on the penultimate day of the tournament. Germany 1 (Max Braun, Ana Jensen) defeated the Indian team of Aishwary Pratap Singh Tomar and Ayushi Podder by a scoreline of 31-17 in the gold medal match. 13 teams participated. The Indian team had qualified in first place in Qualification 2 with a score of 590-30x.
Czech Republic defeated Hungary 1 in the bronze medal match.
Aishwary added another medal to his kitty after a record-breaking run in the individual event while it was the second silver won by Ayushi.
The ISSF World Juniors finished as a successful competition for the Indian team after the fiasco at Tokyo 2020. Whether the shooters, coaches and federation can take the lessons of this tournament towards bigger competitions remains to be seen.