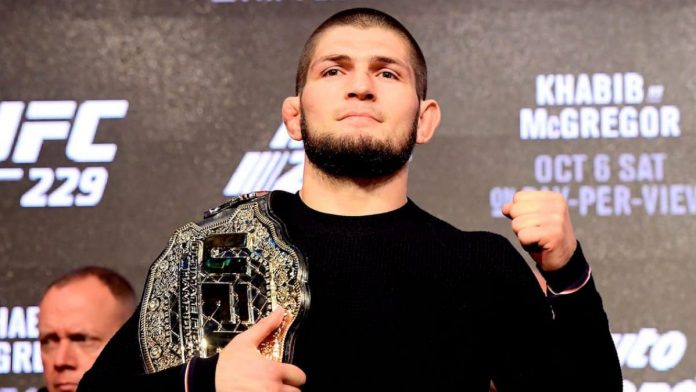 Khabib Nurmagomedov recently confirmed that he has officially retired from the sport of MMA. The Russian retired with a clean record of 29 wins and no losses, amidst a plethora of rumours that he would return after announcing the decision to hang up his gloves after beating Justin Gaethje at UFC 254.
And more recently today, Khabib took to Twitter to reminisce his title fight against Al Iaquinta at UFC 223, wherein he won the vacant lightweight championship. Khabib mentioned how a truckload of fighters pulled out from the fight against him, before Al Iaquinta stepped in.
'At that moment I was 25:0' – Khabib Nurmagomedov
Khabib tweeted, "It was the week when no fighters were found in lightweight division, but Al Iquinta. I was offered five different top-ranked opponents, but all of the squeezed out with different excuses. At that moment I was 25:0 , with 9:0 in UFC."
Khabib was initially scheduled to face Tony Ferguson (it was the fourth time, back then), but Tony pulled out due to a knee injury. Max Holloway was named his replacement, and he pulled out too, due to NYSAC (New York State Athletic Commission) declaring him unfit due to extreme weight cutting. It was time for 'Showtime' Pettis, after that – he withdrew too, due to coming in heavy at the weigh-ins and choosing not to reweigh.
As the fourth choice, Paul Felder was expected to take on Khabib, but he was rejected by the NYSAC for his unavailability in the top 15 of the lightweight rankings. And, hence Al Iaquinta, stepped in and eventually lost via. unanimous decision.
Also Read : Vicente Luque pleased with victory over Tyron Woodley
Also Read : Kamaru Usman channels his inner Conor McGregor