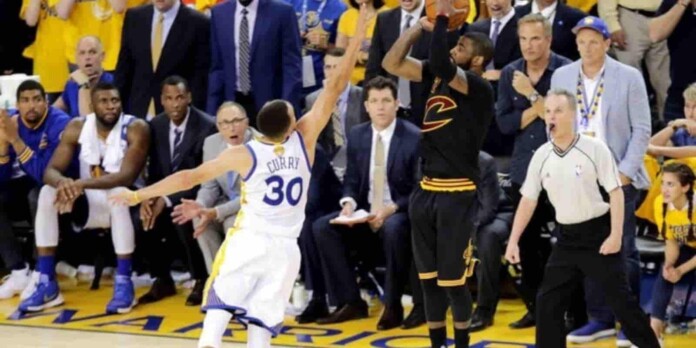 A lot of NBA players are known to deliver during the dying moments. There last minute clutch shots are the trademark of such players. Many players including Damian Lillard, LeBron James, Kyrie Irving etc. hold such reputation. During the 2016 finals, the Cleveland Cavaliers finally ended the season with a title that LeBron James had promised. But there were many secondary supports along LeBron James without which, this title quest would have never been fulfilled. Kyrie Irving was one of the biggest asset to the team then. The young guard with impeccable handles and excellent shooting accuracy took charge of the team every time the 'king' was off the court. Kyrie Irving has established himself as a clutch player down the years. Now former Cleveland Cavalier teammates feels Kyrie Irving should be the one to take the last moment clutch shot ahead of LeBron James.
Cavs came over a 3-1 deficit to win which was later termed as the greatest comeback in the history of sports. During the game 7, Warriors and Cavs were tied at 89-points each. With 55 seconds left in the 4th quarter, Kyrie Irving faced Stephen Curry on a one on one situation. He sized him up and landed a side step three pointer on his face. As the audacious shot counted, Cavs never looked back at their flaws. The momentum was enough to get them to the finals moments of joy.
Is Kyrie Irving that good?
After the 2016 finals, 'Uncle Drew' stablished himself as one of the best clutch players. He alongside LeBron James were the most feared side. Former teammate and NBA analyst Richard Jefferson has come in support of Kyrie Irving with his ability to make the shots at crucial moments. He said, ""He's not the best person I've played with, because I've played with Tim Duncan, Dirk Nowitzki, LeBron and Steph. But the person that hit the biggest shot I've ever been part of is Kyrie… (I'd pick Kyrie) if I had to have one person. Because that shot changed my life," Jefferson said during an interview with YouTuber Kentrell Beecham.
However, a lot was followed ever after Kyrie Irving's shot in 2016. During the 2017 season, a lot of fans wanted Irving to take charge during the crucial moments while LeBron James was on the ball. Moreover, it was also rumored that Kyrie Irving left Cavs because of this dispute with James. But Richard Jefferson denied these facts long back playing along both the players. But Jeff's statement made a strong case for Kyrie Irving emerging as a clutch player in the game.
Also Read: LeBron James named best point guard by Gilbert Arenas; leaves out Kyrie Irving from his top 5 pick