LeBron James and his entire family were on the floor on Wednesday night to support his son Bronny James. They attended Bronny's game as the young Los Angeles Lakers star kid had an excellent night. James was accompanied by his wife Savannah James, and his daughter Zhuri James. Bronny shared the court with his younger brother Bryce James on the court. 
Earlier in October 2022, James took both his son to the Lakers facility and had a few practice sessions together. The father-son trio was seen shooting, dribbling, and dunking together while they enjoyed their time together. In February last year, LeBron also expressed his desire to play with his oldest son in the NBA. "My last year will be played with my son," he said. "Wherever Bronny is at, that's where I'll be. I would do whatever it takes to play with my son for one year. It's not about the money at that point," said James.
He doubled down his desire to play with his son in a recent one-on-one interview with Dave McMenamin. "I need to get on the court with my son, I want to be on the court with Bronny," said LeBron. "Either with the same team or in a game against him. I don't mean we'll do one on one in a game, but I'd love to do something Ken Griffey Sr. and Jr. style. It would be awesome, no doubt," James added.
Related: LeBron James drops truth bomb on future plans involving his son Bronny James
Can Lebron James' son Bronny James make it to the NBA?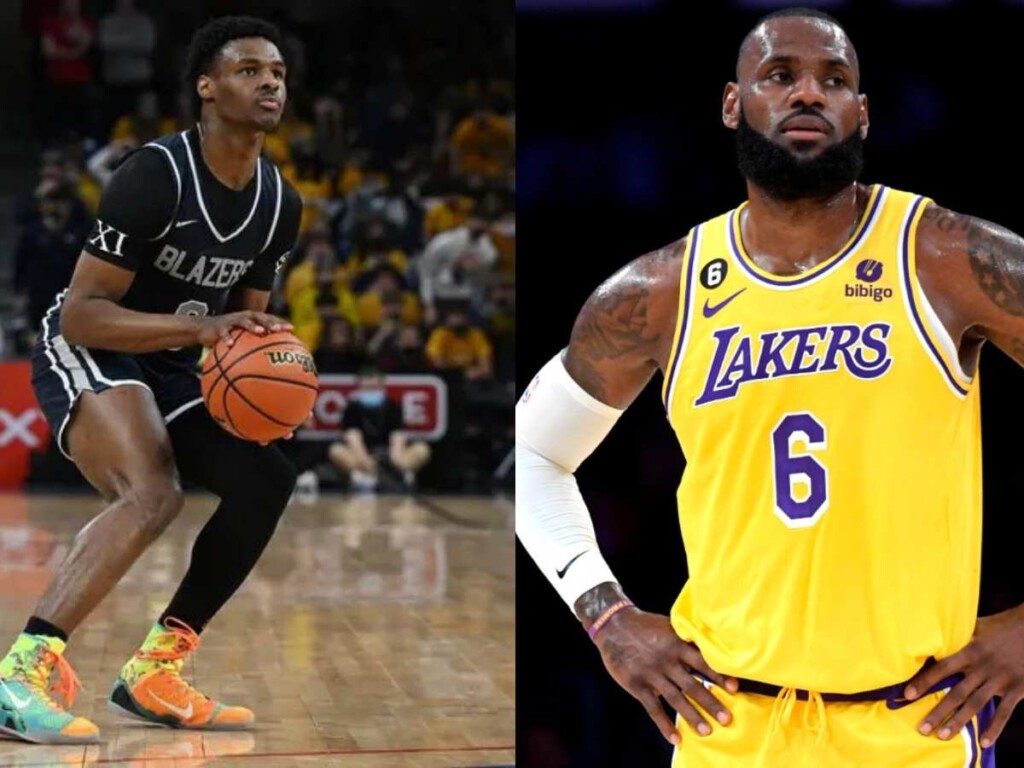 For almost a year, since the time Bronny has been in the news for possessing excellent basketball skills, he is seen as a potential draft pick. Obviously, a lot of his prominence in the national news comes from his association with his father LeBron, but he truly is a skilled player.
He can shoot the ball and is also highly athletic. Despite his numbers going down in the projected draft he is still among the players with an NBA future. Top-100′ 2023 Recruiting Class has Bronny projected to be drafted No. 41 in 2024 and 35 overall prospects in ESPN's 2023 Recruiting Class.
The oldest son of the Lakers star is having an excellent senior year of basketball. Bronny had a stellar performance for the Sierra Canyon as they beat Loyola 71-52 on his senior night. He had a near triple-double, bagging 18 points, eight rebounds, and seven assists in the game. After the game, LeBron, his wife Savannah, their both sons, and their daughter Zhuri posed for a picture on the court.
You Can Also Read:
"Passing greats in losing efforts is never been a DNA of mine," LeBron James unsettled over Lakers' 2022-23 Season failures
"Anthony Davis is directly responsible for two losses," Stephen A. Smith not willing to give up on LeBron James, Lakers this season
Do follow us on Google News | Facebook | Instagram | Twitter