With more than 2,000, 35 Foot Walks in Albert Pujols career, the one was the 2nd might be the most cherished. Even though Pujols had being away from postseason baseball for more than 11 years, he was still no stranger to the play. "That night got to me," Pujols said. "It hit me. The noise — it was different."
With the 2022 MLB season coming to an end, this is the last time we are going to see Albert Pujols in a baseball uniform. Putting an end to his 22 years magnificent career. Though Pujols calls it "a blessing" with a lot more to come, he already considers himself a winner no matter the outcome, retiring with his best mate Yadier Molina.
"This is how I want my career to end — with the fans, with the city, in the postseason," Pujols told ESPN on a recent morning in San Diego. "Man, I wouldn't change a thing."
Also Read: WATCH: MLB fans' Marriage Proposal gone horribly wrong, gets slapped blatantly for going down on one knee with FAKE ring
Albert Pujols' MLB career circle to have it's last post-season push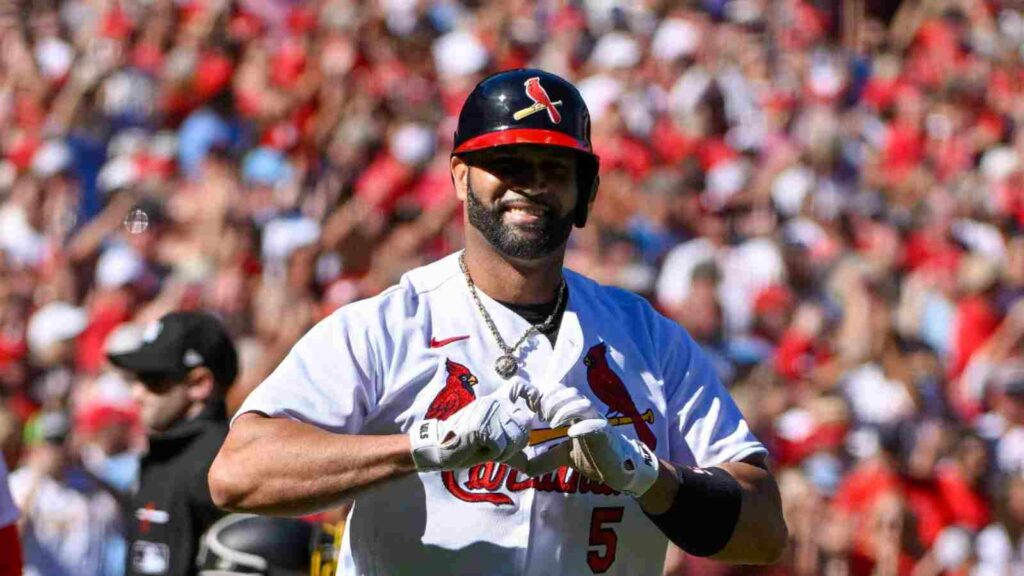 Albert Pujols shift to the Dodgers from the Angels, was worth it to an extent but it took quite a toll on the players health, leaving him exhausted. 15 days after Pujols was a free agent, he received offers from three different clubs. But on a lucky Friday came THE OFFER from the St. Louis Cardinals.
Manager Oliver Marmol, was eager to have the ex-Cardinal back on board "You in shape?" Marmol asked. "Wanna FaceTime to see?" Pujols responded. Marmol pitched this idea to Cardinals' president of baseball operations John Mozeliak, who himself decided to call Albert Pujols onboard. Leading to the $2.5 million, one year contract.
"I just wanted to understand, 'Could there be an exit ramp?'" Mozeliak recalled. "Luckily we never even had to explore it."
Also Read: "Barks at the park" Francisco Lindor's 26th home run, fetched by nice-doggo 'Renegade' who uses it as chewy
Also Read: "SHAMBOLIC" Michael Jordan's 'FLOP' baseball career ripped apart by $3.4 Million sports website in explicit rant
Do follow us on: Facebook | Instagram | Twitter