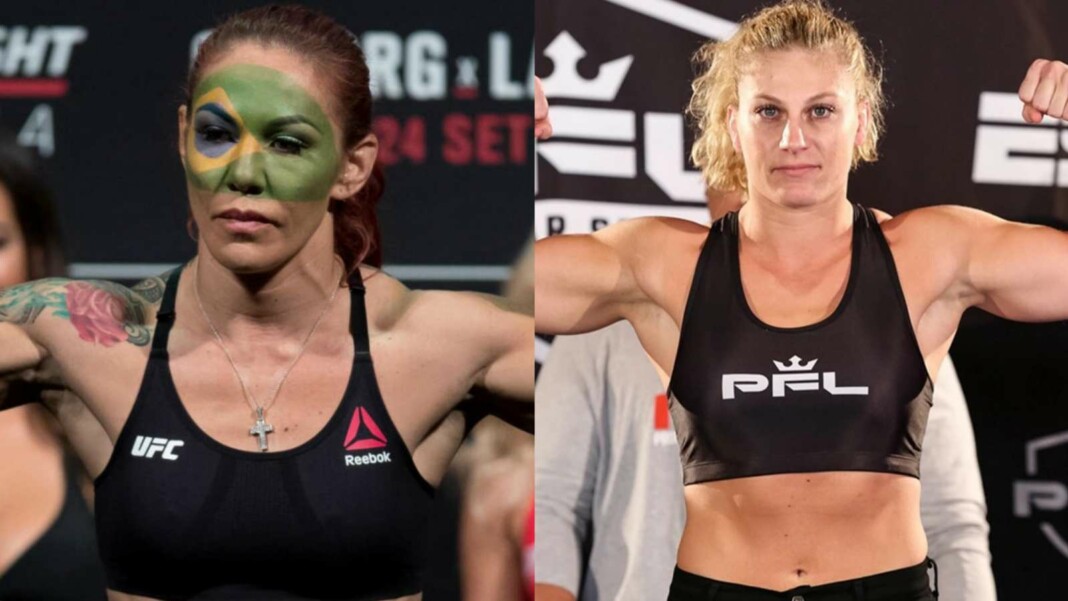 Kayla Harrison put on yet another dominant showing at the recently concluded PFL 8. She faced the lanky New Zealander Genah Fabian in the Playoffs semifinals for the women's lightweight division. All Harrison needed was a few minutes in the first round to finish the Kiwi who trains at City Kickboxing in Auckland, New Zealand. Fabian succumbed to a flurry of punches from Harrison, giving Harrison her 11th consecutive victory in her MMA career (11-0).
Following her win, Cris Cyborg issued a callout on Twitter. Now, Cyborg is currently plying her trade in Bellator MMA, where she is the women's featherweight champion. The former UFC fighter revealed that she could make 155lbs and fight Kayla Harrison, while also mentioning that she "has been collecting trophies for 16 years."
Harrison responded to the same at the post-fight press conference. She laughed it off saying that Cyborg wouldn't stand a chance against her.
"16 years I've been collecting trophies" – Cris Cyborg to Kayla Harrison
Cyborg wrote, "I can make 155lbs…#GrandSlamChampion."
She followed it up, with another Tweet that read: "16 years I've been collecting trophies. #GrandSlamChampion."
When asked about Cyborg's callout via. Twitter, Harrison responded at the post-fight presser: "Oh, we know she can make 155 lbs. Congratulations! [chuckles] Do you want a participation trophy? You can make it, but you can't beat me!"
Barring a loss to Amanda Nunes at UFC 232, which saw her concede her UFC women's featherweight title, Cyborg has never really been tested (maybe in her first-ever fight) in her MMA career. She is fast, slick and explosive, but going up against an immensely powerful Harrison might be an uphill task. Harrison is like Ronda Rousey but heavier and more powerful.
Do you see a cross-promotional fight between Harrison and Cyborg happening?
Also Read: Who holds the record for most wins in UFC history?
Also Read: Ciryl Gane MMA Record: What is the French champion's mixed martial record?