Jimmie Johnson is arguably the greatest driver in NASCAR cup series history. The seven times cup champion dominated the premier stock car division when the sport was at the peak of its fame and competitiveness. The list of Hall of Famers Johnson defeated to crown him as champion is a testament to his greatness.
Just like every great champion of motorsports, Johnson's wins had the backing of an impressive team that was a level above its contemporaries. This aspect of the sport sometimes makes few of the racing community not credit the drivers enough for their accomplishments. RFK Racing owner-driver Brad Keselowski, who defeated JJ for his maiden title in 2012, has similar feelings though he respects the veteran's achievements.  
In an exclusive interview with RACER, Keselowski pointed out that Jimmie Johnson successfully made the garage believe he worked hard. He added that this narrative helps the media to validate his wins more. Pointing at NASCAR legend Tony Stewart's Racing style, he pointed out that the 'hard work' narrative helped HMS to cover the impressiveness of the team he had.
"I think Jimmie was really good at making people think he worked very hard. Whether he did or not, I'm not sure because I never saw it. He did the whole workout thing and all of that, and I'm sure there was a lot of validity to it. Honestly, I don't think that makes race cars go fast; I don't think that makes him go fast," Brad Keselowski said.
"I think it told a great story to the garage and the media that made them feel good when he was fast. Like, 'Oh that makes sense. He worked out.' OK, I saw Tony Stewart eat a cheeseburger before the race, and he was fast as (expletive). So, I don't think that's why he was fast, but it created this really great cover for when he had such an incredible team, and it was really a memorable branding play as much as anything else," Brad Keselowski added.
Related: "He had a certain class… he was never an ego guy," Brad Keselowski hails NASCAR legend Jimmie Johnson
Brad Keselowski admires Jimmie Johnson very much because he didn't just because he had the best equipment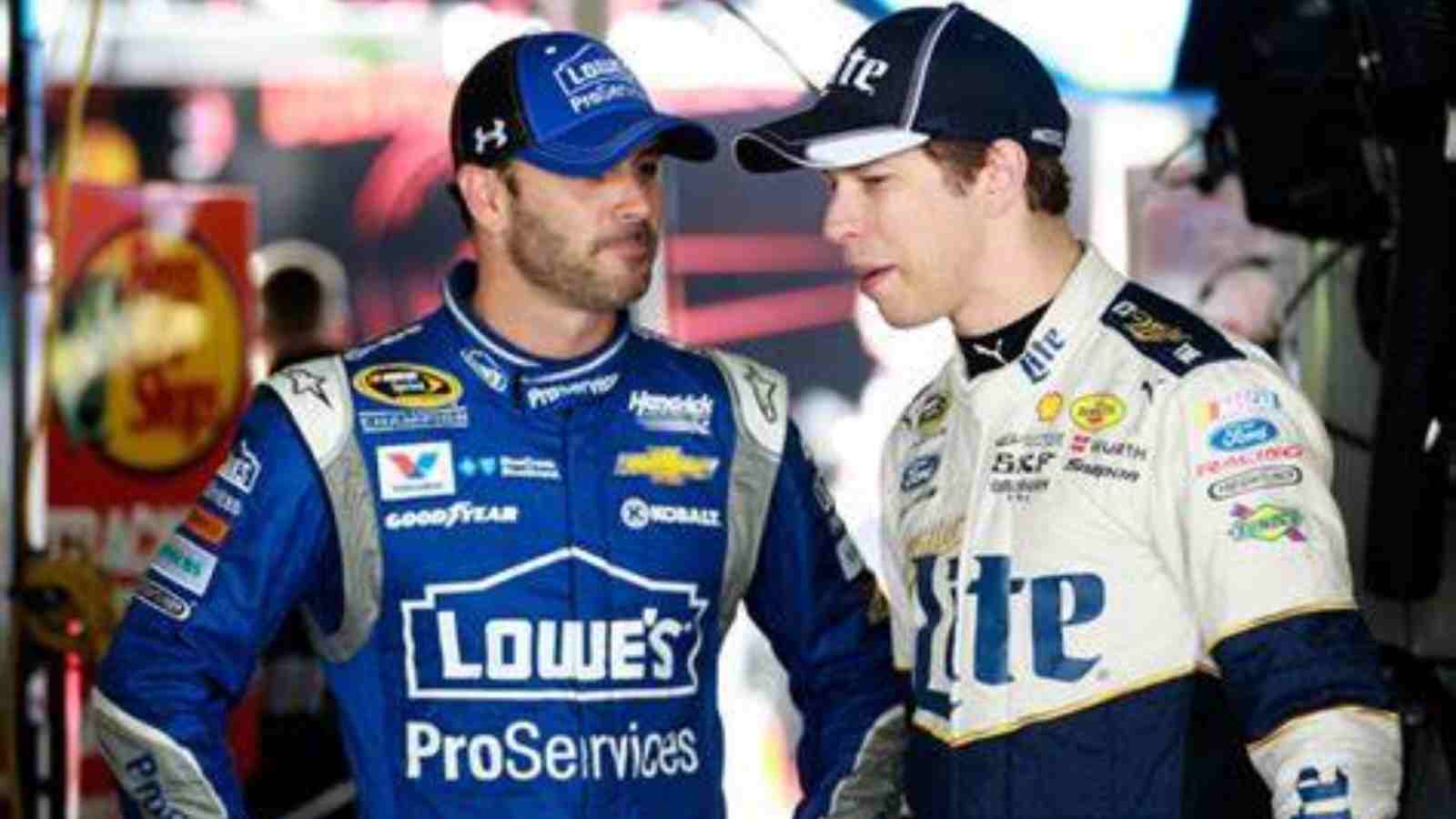 There is no bad blood between Keselowski and Johnson, as the former greatly respects the latter's accomplishments. He likes to give more credit to the No:48 HMS crew for Johnson's success. At the same time, he doesn't want to take away any credit from Johnson for his successes.
He pointed out that having the best equipment is no guarantee of wins. One needs to be smart as well. Keselowski said, "I guess what I saw the most out of Jimmie is undoubtedly he had the best equipment, but he was cool enough and smart enough to know when to use that equipment and when to settle for a second or third because it wasn't in the cards,".
Bard Keselowski acknowledged that Jimmie Johnson was really good at getting the best out of the resources provided to him, unlike many others. Johnson understood the landscape and on-track games to produce his best.
"At any point in time, many drivers in Cup will have great equipment, but having great equipment and getting the most out of it is completely different. And he was able to know when to go and when not to go and was really good at playing those games of understanding the landscape. That was impressive to me," Brad Keselowski added.
Related Stories: