NASCAR Truck Series race in Talladega lived up to its notorious reputation. Jordan Anderson was one of the drivers to find himself at the wrong place at the wrong time at the track. The 31-years old suffered a life-threatening crash and was moved to medical care soon after the crash. Anderson has reportedly suffered second-degree burns.
There are burns on the face, right arm, and both knees of the Chevy Truck driver. The journeyman driver found himself sliding across the track with flames shooting from beneath. The driver was running P4 at the time. Talladega was only the 5th truck race for the veteran this season.
When the truck came to a stop after colliding with the interior wall, the driver was already halfway out of the vehicle. He rushed out of the car as fast as he could to avoid further burns from the fire. Jordan Anderson was quickly administered to the infield care and was later airlifted to a Birmingham hospital.
Also read: Kyle Larson calls out NASCAR for handling of the Byron-Hamlin clash at Texas
Find out what Jordan Anderson had to say about the crash and serving the flames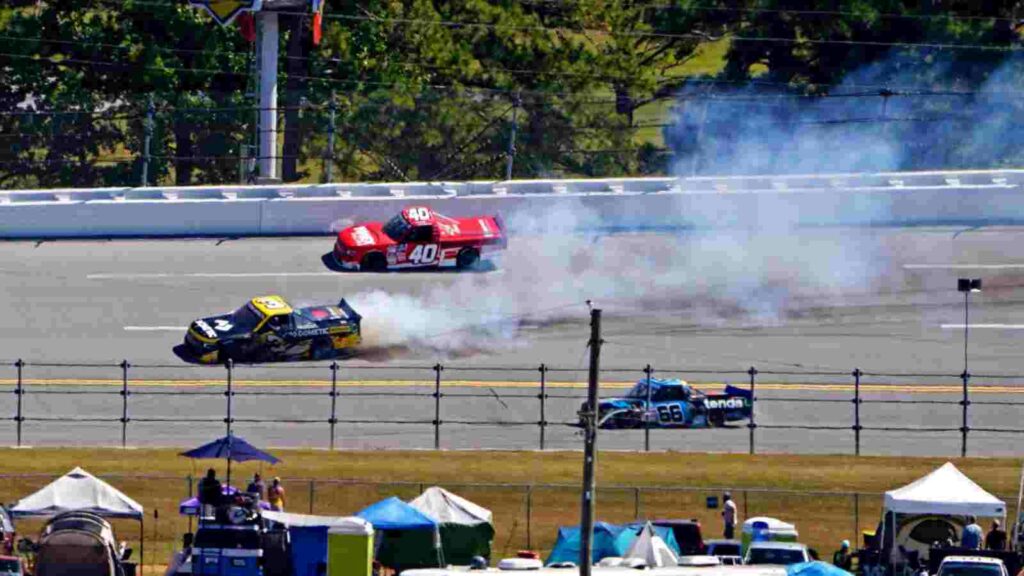 Jordan Anderson said that he is grateful for all the prayers and support that came his way. He thanked NASCAR and Medical prepositional for the care. Anderson said that God's hand played a big part in his survival. He added that this was the scariest crash of his career so far.
"So grateful for all the prayers and support. Have been in some great hands with all the NASCAR and nurses and doctors. No doubt god's hand was protecting me through that one. The scariest moment of my racing career by far," Jordan Anderson tweeted.
Jordan Anderson then revealed that he has suffered second-degree burns. He added that he is cleared to return home. The Chevy driver suggested that everything will heal within a couple of weeks. He is thankful nothing worse happened.
"Ended up with second-degree burns across my neck, face, right arm, hands, and both knees. Getting cleared to go home tonight. Doctors say everything should be healing up within a few weeks. will keep everyone updated on the healing process but just thankful it wasn't worse," Jordan Anderson added.
What are your thoughts on the crash?
Also read: Denny Hamlin created a Twitter frenzy by revealing why the Goodyear-NASCAR partnership will never change regardless of the tire-quality
Also read: Kevin Harvick wants NASCAR to adopt these two Formula 1 rules