It has been nine years since NASCAR introduced a "throwback weekend" at Darlington Raceway. Though it is a much-appreciated tradition, is it becoming pointless? The three-time Daytona 500 winner Denny Hamlin thinks so. The throwback weekend is one of the many anticipated NASCAR Cup Series weekends. Since 2015, the sport has held throwback weekends at Darlington Raceway during one of its two dates.
On this famous weekend, the teams and drivers pay their respect to the history of NASCAR. The cars sport old paint schemes, and some drivers even dress up in vintage-era outfits. Fox will host Hall of Famers and other legendary drivers in the TV booth. However, this is not just a mere celebration. This tradition reminds the fans of the good old days. It also provides insight into NASCAR's history for younger and newer fans. But 23XI Racing co-owner Denny Hamlin feels it has run its course. 
Denny Hamlin gave his honest views on the throwback weekend in the Actions Detrimental podcast. His co-host also joked, "It might have run its course because Kyle Busch threw back to himself." Hamlin then defended his fellow driver Busch stating it was not his fault as he did not decide on the paint scheme. On a serious note, the Joe Gibbs Racing driver said, "I just feel like everyone's pain scheme is from a different era."
Related: Cup drivers' subtle revenge is costing Ross Chastain Cup wins, and it's making his duels more aggressive, reckons Denny Hamlin
Denny Hamlin says he cannot recognize half of the cars at the throwback weekend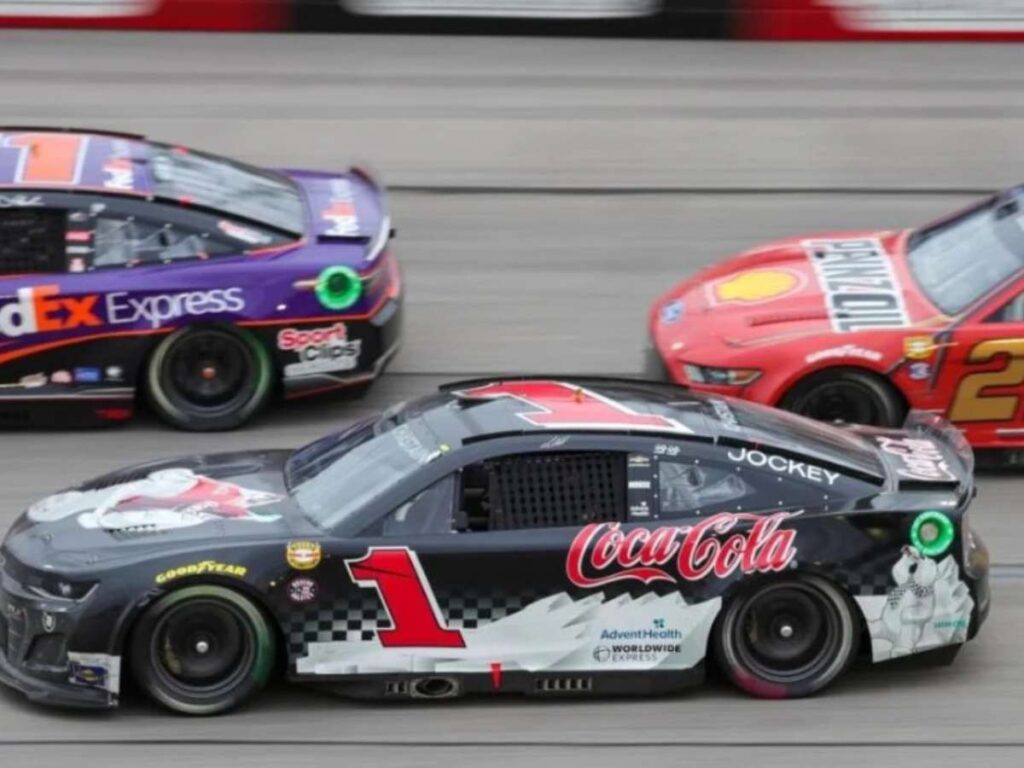 He added, " I don't even recognize half of the cars. All it does is make me more confused as a driver in the race. I don't even know whom I'm frickin racing against. Because whose car is this and who are they throwing it back to? I never heard of them, or I just don't know. Everyone was so bought in for the first couple of years. Even the crew guys were decked out. And I just feel like it's lost its luster." 
The throwback weekend is not mandatory for every race team, but many like to pay homage to the NASCAR legends. For the 2023 throwback weekend at Darlington, Kyle Larson sported Tony Stewart's race-winning paint scheme with Hendrick Motorsports from the 2009 Xfinity season. Chase Elliott paid respect to his father, Bill Elliott, with his race-winning paint scheme from the early 2000s.
William Byron threw back to Jeff Gordon's 50th-anniversary design. Denny Hamlin sported his 2020 paint scheme celebrating 50 years of FedEx. Ryan Blaney threw back to his father, Dave Blaney's mid-1990 paint scheme, and Chase Elliott honored his father, Bill Elliott. It is safe to say that some designs were more impressive than others.
As Denny Hamlin has made his views clear, it is unlikely that he will make an extra effort for the throwback weekend in the future. However, everyone is entitled to their own opinion.