NASCAR has penalized Joe Gibbs Racing veteran Denny Hamlin for intentionally coming into contact with Ross Chastain during last Sunday's Phoenix Cup race. He has docked 25 driver points and is fined $50,000. These are the minimum punishment for drivers if found guilty under Section 4.4 of the NASCAR Rule book.
He is booked under points B & D. Point B discusses the punishments for "Attempting to manipulate the outcome of the race or championship and wrecking or spinning another vehicle, whether or not that vehicle is removed from the competition as a result,". Point D discusses "Actions NASCAR finds to be detrimental to stock racing or NASCAR,".
The 23XI Racing owner could have easily walked off without penalty if he didn't have revealed that he intentionally sent Ross Chastain's Chevy to the wall in the heat of the moment. Both drivers poised for top 10 finishes were dropped to P22 and P23 after the clash. Hamlin, while talking in his Dirty Mo Media podcast, expressed how he messed up and that he just wanted Chastain to score a similar poor finish as him.
"It wasn't a mistake. No, it wasn't a mistake. I let the wheel go, and I said he's coming with me. It's been interesting because I hear people say this is for last year or this year. I got wrecked at the Clash. I don't know that Ross sees it that way. I think he's still curious about what I thought about the Clash…At the time, I'm like, I'm going to finish in the mid-teens anyway because my car is just plowing here, I'm about to get ate up by all these new tires. I just was like, if I'm going to give this guy a hard time, it's just going to be then," Hamlin said..
In case you missed it: Chase Briscoe excited ahead of COTA tussle with ex-F1 World Champions Kimi Raikkonen and Jenson Button
Here is how fans on Twitter reacted to the penalty
NASCAR senior VP Elton Sawyer on the Denny Hamlin incident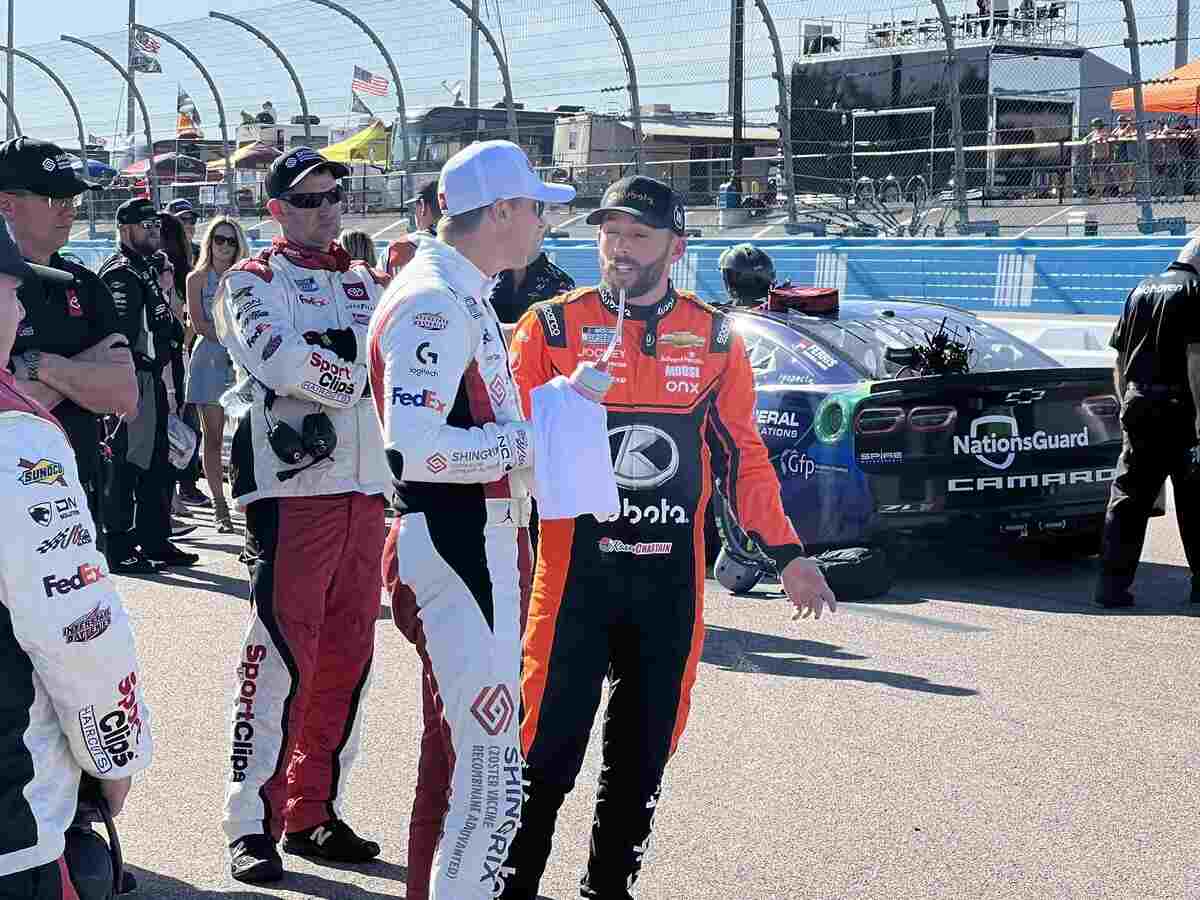 Elton Sawyer opened up and shared his thoughts on the incident between the Cup championship chasers. He pointed out that he would have shrugged off it as a racing incident if not for Hamlin's podcast. He pointed out that NASCAR can't afford to sit back when such incidents that affect the race result occur.
"They're all individual, right? They're unique to themselves. When you look at this one this past weekend, we would have viewed that as a racing incident, but then it's 24 hours later, and you have a competitor that has gone on a podcast, which I will say, we're delighted that Denny has a podcast. We think that's great, interacts with the fans," Sawyer said.
"But when you start admitting that you have intentionally done something that would compromise the results of the end of the race, then that rises to a level that we're going to get involved. There's no other way to look at that. We're going to get involved in those situations. We've been consistent in the past with that, and we will be consistent going forward," Sawyer added.
Discover: