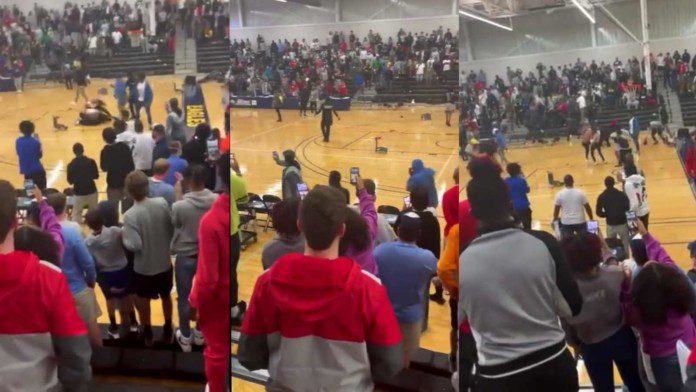 In a recent viral video of Wake Technical Community College, a confrontation between the fans turned into a huge conflict that took place during the final of a basketball game at the campus. A viral video was captured on Wednesday night by spectators who were present during the fight. The crowd went uncontrollable because of which security guards were compelled to use tear gas.
The tournament was the 49th edition of John Wall Holiday Invitationals, the finals of basketball were going on. This tournament is considered one of the top and most popular basketball tournaments among high schoolers in the USA. The title for this tournament was sponsored by former NBA all-star and Raleigh native John Wall.
Watch video of the incident:
Many NBA players have played in the tournament, this shows how important the tournament is in USA. The conflict among the fans during the final game at the Northern Wake Campus of the Wake Technical Community College is not clear and lacks the definition of what triggered the conflict. The report explains that no player was engaged in the conflict among the fans.
Also read: "Tiger Woods is greatest player born on this day"- Skip Bayless
Here's what Bryan Hanks said as spokesperson of organizers
According to Recent Times, Bryan Hanks explained the situation on the behalf of organizers. Hanks said, "The conflict happened during a game between Farmville Central and Kissimmee, Florida's Life Christian Academy. When the conflict began, the security had already been stretched thin due to a prior fight that occurred among players from Southern California Academy of Castaic, California, and Moravian Prep from Hudson, North Carolina."
Later he added, "The deployment of tear gas created an unsafe situation for players in the Farmville Central and Life Christian game prompting the tournament to reschedule the game to Thursday morning, on December 30."
The tournament was postponed till Thursday Morning for the final game, in the video, we can clearly see how fans break in during the finals and spoil the game of basketball for the players and fans who came just to cheer for their team.
Also read: We're not worried about him" – Kevin Durant and Harden reveal…
Here is Coordinator Webb Wellman's take on the conflict.
Further, the coordinator of the tournament Webb Wellman said, "What happened tonight does not represent John Wall, the Triangle Education Advancement Foundation, or the Holiday Invitational. We love our players; we love our fans and we will work hard to ensure this does not happen again."
Wellman also added by saying, "This event is about the love of the game and violence will never be acceptable. We apologize to our fans and supporters and look forward to better serving you moving forward."
Also read: "It's over": Chris Broussard and Nick Wright go off on Lakers..