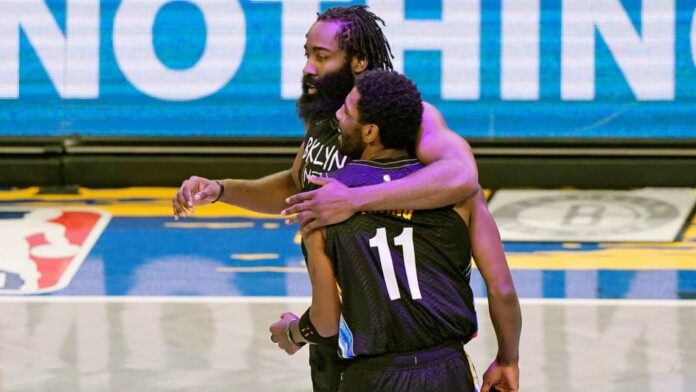 Kyrie and the Nets played against the San Antonio Spurs and emerged as the winner by 117-102, Kyrie in his post-match interview spoke about James Harden's leadership by making a hilarious impersonation about the Beard and about the insane match James Harden had.
James Harden the Leader for Nets against Spurs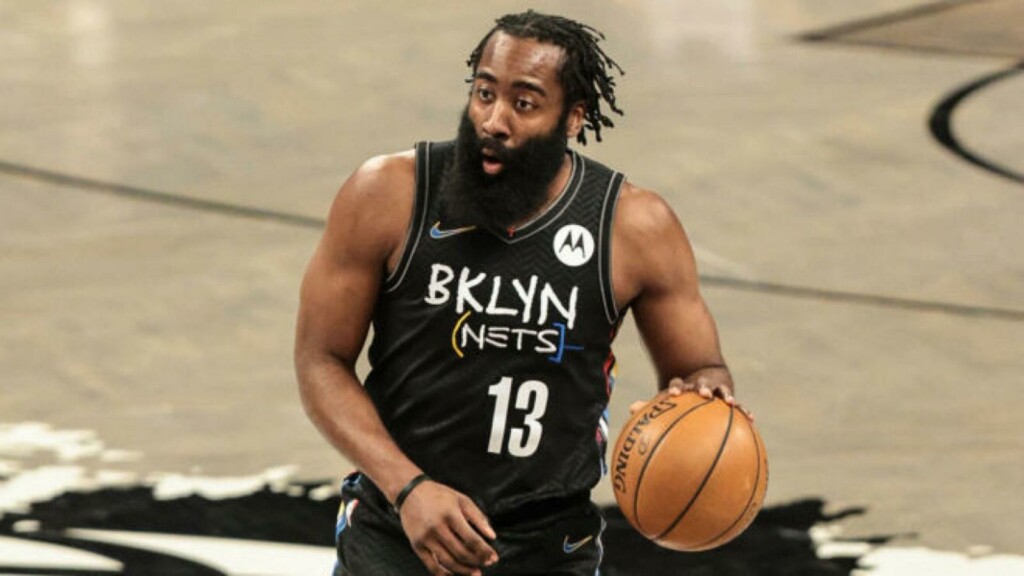 The Brooklyn Nets headed to the AT&T Centre to face San Antonio Spurs, without their star man Kevin Durant everyone is looking up to the next big two Kyrie Irving and their leader James Harden. Looking for a big win on the road which they did the two big men for the Nets put on a show.
Kyrie Irving came out of the game with 24 points, 4 assists, and 3 rebounds, the Beard blasted to the scene and came out with a triple-double and dropped 37 points, 11 assists, and 10 rebounds, he did all this without even dunking and to make a statement to his team-mates that he still has it. To which James Harden came out jokingly in the interview, "They don't think I can't dunk no more, I don't wanna bring it out".https://en.wikipedia.org/wiki/Kyrie_Irving
Uncle Drew having fun with The Beard
Kyrie Irving coming out of a really good performance for the Nets had a little joke in the interview by making a hilarious impersonation about his Captain saying, "So I was just trying to get out of his way, and then when I came to the bench I felt like I took some shots that were just- they just weren't in alignment, or just I didn't get to my spots, as easy as I wanted to and the bench was as supportive as we've ever been. They're just like 'it's gonna come, it's gonna come.' And then James just kinda yelled at me, it's not a negative yell, but he yelled at me he's like 'Ky, get the f–n ball!"
Kyrie also came out with appreciative words for his team-mate and leader James Harden, "I mean he makes the game so much easier for everyone else".  Kyrie and James put up a dominating show against the Spurs and the Nets coach Steve Nash mentioned them both about their performances being electric for Harden and an assassin for Kyrie.
It is obvious for the Nets to have a championship team, James Harden makes his point as Kyrie Irving won't be available to play each and every game, since he is available for only half the fixtures due to his vaccination status. In an interview, James Harden was asked about Kyrie's vaccination status and if he suggests Kyrie get a vaccination for the team, to which he said, "He knows that, he knows that, he knows that, he knows that," said The Beard. On asked if he has asked Kyrie to get vaccinated to which he responded, "Nah."
Also read:Dejounte Murray goes full David Robinson with Spurs record no other…
Also read: James Harden hilariously trolls Houston Rockets over Spurs tribute video