Like all good things, the Brooklyn Nets' 15-game winning streak too came to an end. It was expected of Kyrie Irving and Ben Simmons to carry the team in Kevin Durant's absence but clearly, that didn't happen as the Boston Celtics beat the Nets 109-98 on Thursday night. The Celtics were led by Jayson Tatum who scored 20 points 11 rebounds and 5 assists. With this victory, Celtics cemented their position on top of the Eastern Conference whereas the Nets continue to hold the 2nd position.
The Nets lost to the Celtics at Barclays Center, 109-98, and Simmons did about everything but score. In the 26 minutes that he played, Simmons recorded a season-high 13 assists, grabbed nine rebounds, made two steals, and blocked a shot. However, he also picked up five fouls in the second half, handed the ball over twice, and shot 0 for 3 from the field.
It was Simmons' second scoreless performance of the year, his first came on Nov. 28 against the Magic, where he played 11 minutes before leaving with an injury. In light of the fact that the Nets played their first game without Durant (MCL sprain), who averages 29.7 points per game, on Thursday, Simmons acknowledged he needed to play with more aggression.
Speaking on the matter, Simmons said, "I think I'm giving the ball up way too many times when I know who I am, I know I need to get to the rim and get buckets." Simmons had only attempted six field goals a game this season, averaging 7.7 points. He had an important role in both defending Jayson Tatum, who was held to 20 points on 7-for-22 shooting and pushing the ball in transition, where he received a few of his assists.
Related: "FALSE ACCUSATIONS," Ben Simmons finally breaks silence on hooking up with Megan Thee Stallion
All responsibility on Kyrie Irving and Ben Simmons in Kevin Durant's absence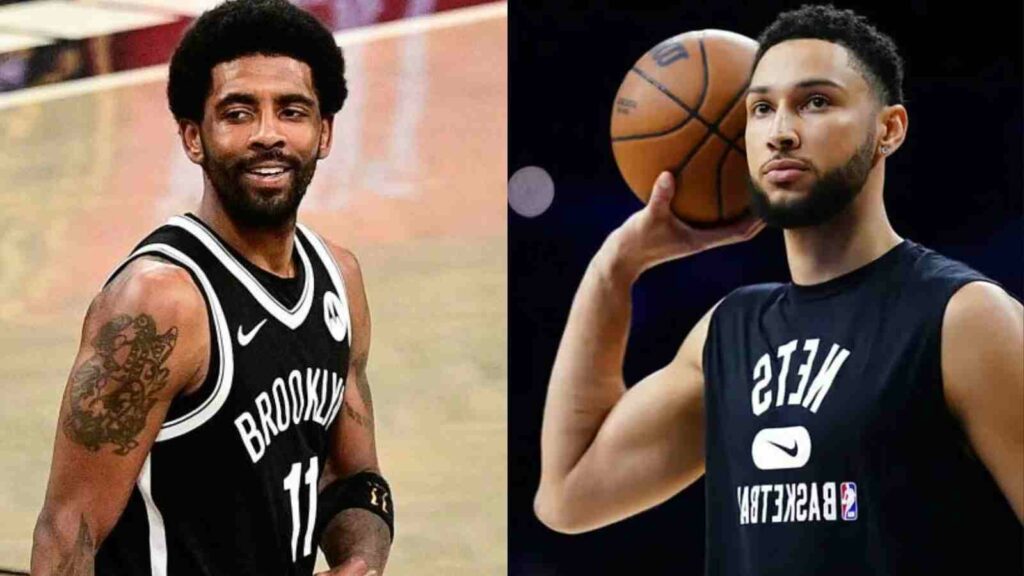 Brooklyn Nets star Kevin Durant departed the game in the third quarter with what the franchise described as a right knee injury, ending the team's 102-101 victory over the Heat. The organization disclosed on Monday that Durant will undergo another evaluation in two weeks due to a right MCL strain. Durant missed six weeks of action due to an MCL strain he sustained a little less than a year ago.
While the Nets are indeed in a comfortable position as they continue to hold the 2nd position in Eastern Conference with a 27-14 record, it will be expected of Irving and Simmons to continue that momentum and not let losses like the one against Celtics derail them of their championship hopes.
Through Brooklyn's 40 games played, Irving is averaging 26.0 points, 4.9 rebounds, and 4.7 assists in 36.5 minutes per game. With shooting percentages of 48.8 percent from the field, 36.6 percent from 3-point range, and 90.7 percent from the foul line, he is on the verge of an exceptional 50/40/90 season.
In Case You Missed It:
Kevin Durant dethrones Dominique Wilkins for the 14th place in the NBA All-Time-Scoring list
LeBron James, Stephen Curry, and Kevin Durant dominate in the first fan returns of NBA All Stars
Do follow us on Google News | Facebook | Instagram | Twitter