Charles Barkley has always been critical of Kyrie Irving but this time he has roped in his new star teammate Luka Doncic in a scathing analysis of the Dallas Mavericks' future. "It's not gonna work, never thought it was gonna work," said Chuck on the new duo in Dallas. Barkley does not believe that Luka and Kyrie bring enough to the table to benefit the Mavericks. "They don't bring any diversity to the team, they don't play defense. They don't rebound the ball…," said Barkley.
The Mavericks are 2-4 in games where Kyrie and Luka have played together this season. "They're both great one-on-one basketball players, and that's the problem," said Barkley on why they will never work well together. Chuck feels that two ball-dominant hug-usage players will not be able to fit in the same system. According to Barkley, Luka and Kyrie have made a living off the same plate of tricks and he is not convinced their tricks will sell together.
Barkley also called Luka Doncic a bad rebounder despite Luka having 15+ games with over 10 rebounds this season. "His rebounds are just rebounds, they're not like game-changing rebounds", said Barkley. Luka Doncic intentionally missed a free throw and caught a rebound to score a basket and take a game to overtime just this season. Luka and Kyrie still have a long way to go, but Barkley is not giving them a chance.
Also Read: WATCH: Charles Barkley striving to perform like "U Can't Touch This" song rapper MC Hammer, leaving Shaquille O'Neal, Kenny Smith in utter shock
Kyrie Irving and Luka Doncic each drop 40+ points to prove Charles Barkley wrong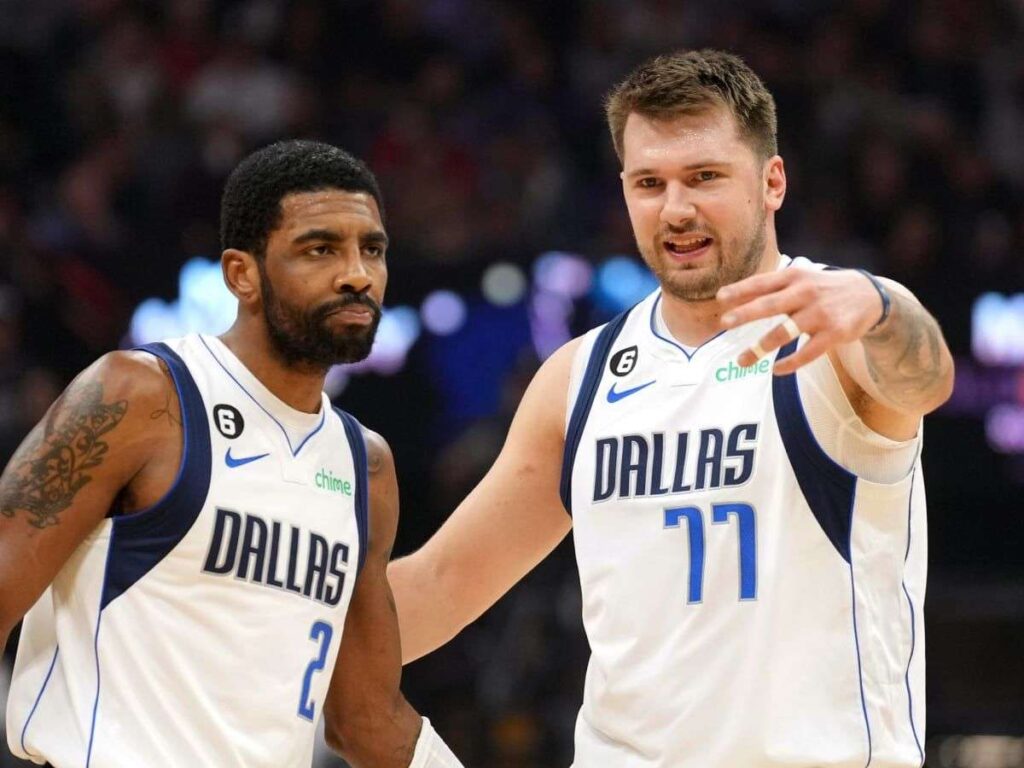 The Dallas Mavericks finally got back to winning ways with a 133-126 win over the Philadelphia 76ers. Kyrie Irving scored 40 points to go with Luka's 42 in a comprehensive performance. Kyrie and Luka combined for 13 threes with Kyrie getting 11 points in the fourth quarter. Luka and Kyrie seem to have worked on their chemistry as Luka was a frequent assist provider for Kyrie's threes he ended the night with 12 assists.
Kyrie Irving put on a masterful display of dribbling to get some tough finishes at the rim. The Dallas duo were moving off screens and dribble-hand-offs like they have been playing together for months. The start of this superstar tandem was rough but they seem to have finally found some rhythm. They did almost let the game slip in the fourth quarter but some clutch buckets from Kyrie and a costly turnover by James Harden sealed the game.
The Mavericks are back to the 6th seed after being in the play-ins last week. As it stands they would go up against the #3 Sacramento Kings in the playoffs. Sacramento has the highest offensive rating of any team in the league this season. However, Dallas is right up there as the sixth-best offense this season while having the 6th worst defense as well. Charles Barkley might be right about them not playing defense, but at full offensive powers, nobody can stop Luka and Kyrie.
In case you missed it:
Do follow us on Google News | Facebook | Instagram | Twitter