Brooklyn Nets saw highs and lows in the span of 3 seasons. They were top contenders with Kevin Durant and Kyrie Irving in the roaster and 3 seasons later they might be in a familiar situation as both megastars are looking for a trade away from the NY. The only positive sign would be that the Nets have 2 of the top 10 NBA stars to trade, which will earn them some huge returns. As per inside reports, Kevin Durant worked hard behind the scenes to get buddy Kyrie Irving a long-term max deal with the Brooklyn Nets. When team owner Joe Tsai stood firm and opted against "Long term" commitment, Irving had to opt-in his player option, to stay with the franchise.
So, after Kyrie's uncertain future at Brooklyn, Durant asked Tsai for a complete change of scenery. The stage is now set for a reunion with the enigmatic point guard somewhere else, as Irving could also be moved out in the coming weeks, following Kevin's departure.
Speaking on "The Odd Couple" podcast, Chris Broussard simply couldn't believe why KD would continue pining for a chance to play with Irving, "What is KD thinking!? You can be buddies on different teams. Why in the world would you again hitch your horse to Kyrie Irving!? If this is true, it's damning. Damning, I tell you! Why? Wouldn't you rather play with Damian Lillard and a host of others?"
Chris Broussard questions the "improbable" decision of Kevin Durant – to play with Kyrie Irving in the future again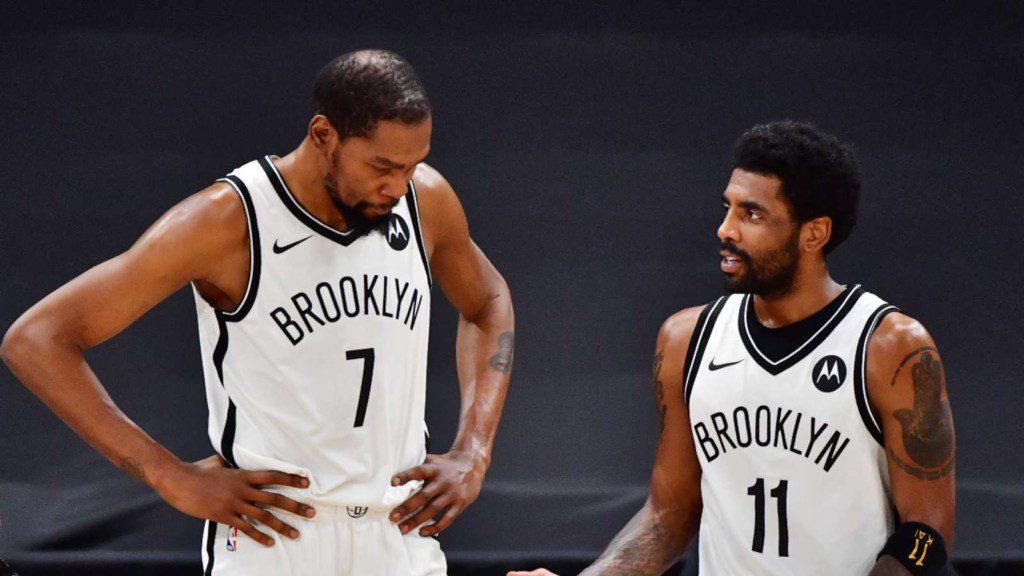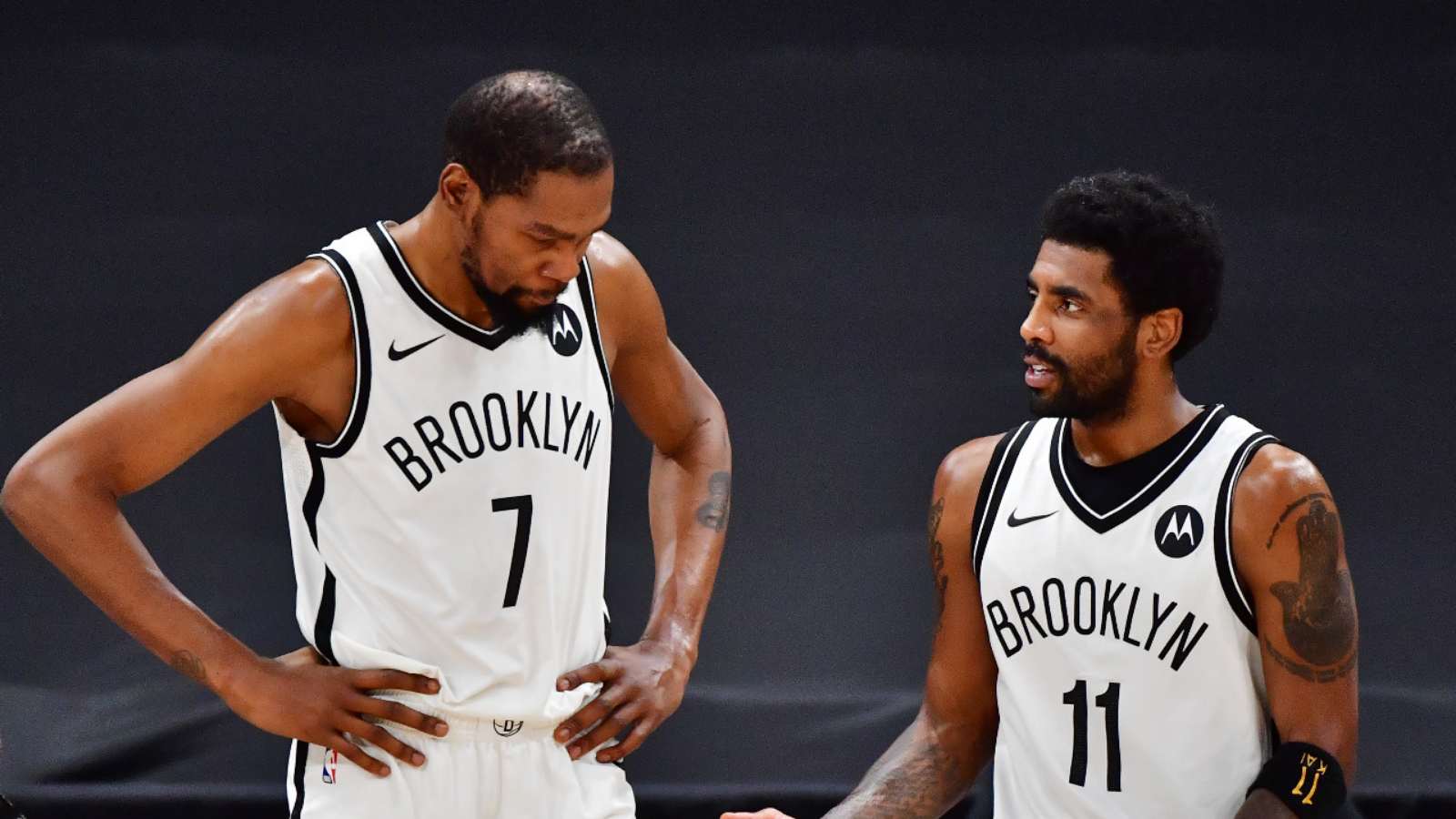 Kevin Durant and Kyrie Irving, though had the worst seasons of their career, are top-quality players that every franchise would love to have. But they are not free agents anymore like in 2019, and teams would have to fork out massive assets to land either of the superstars, let alone the pair. So keeping that in mind, Brooklyn Nets are in a unique situation, having two of the best trade chips in hand, which are nearly untradeable.
Also Read: "Nobody will remember how much money he made" Chris 'Mad Dog' Russo says James Harden should be focused on his legacy
As said earlier, teams that would love to have both stars will need some unimaginable package in return May need to add 2-3 franchise players to sweeten the trade. A few days ago, ESPN's Brian Windhorst reported on rumors that the LA Lakers could be preparing a package to bring them to Hollywood. If that were to happen, the Lakers would have to let go of their NBA Champion Anthony Davis, who they have reportedly refused to consider in trade discussions.
Kevin Durant is interested in playing for the Miami Heat and Phoenix Suns as per reports by ESPN. But not without Jimmy Butler, Bam Adebayo, and Kyle Lowry, the team wouldn't be the same contender that put them on KD's list. Similarly, Phoenix Suns can't trade Devin Booker for a few reasons. But it remains to be seen if the Brooklyn Nets will accept the offer of Mikal Bridges, Deandre Ayton, and a slew of picks, which would be a huge degrade in terms of quality for them.
These were just situations for Kevin Durant alone, and if Brooklyn looks to fulfill 2-time NBA Champion Slim Reapers, they need to add Kyrie in the mix, which would make the trade even more complex. With the way teams are set up, it's nearly impossible for Kevin Durant and Kyrie Irving to play under the same team again.
Kyrie's current commitment issue is putting off many teams bidding for him. Teams will surely line up for Durant, but they'll likely not get involved with Irving if they have a choice. The two players may wish to be part of the same super team again, but it's unlikely to happen.
Kevin Durant, who has 4-years on his contract, can't veto whatever trade scenario the Brooklyn Nets can come up with. KD may pine for the Phoenix Suns, but the Nets are not obliged to do that. So the 4-time scoring leader remains at mercy of the Nets to play for the best team in the league – provided the team remains best after trading KD.
The one thing going for the Suns and interestingly Memphis is that they have the most attractive packages Brooklyn can get for the former MVP. Suns can keep Devin Booker, and use Bridges, Ayton, and Cam Johnson and future first-round picks will be tough to match. Similarly, Memphis would add their dynamic youngsters; without Ja Morant in the deal, which would entice the Nets.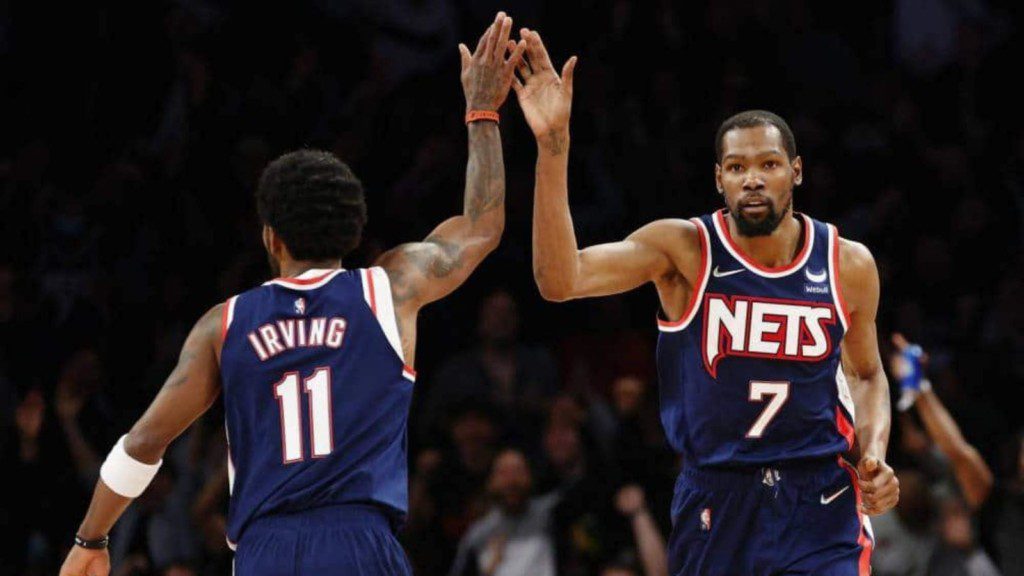 The Toronto Raptors are also emerging as dark horses in the Kevin Durant sweepstakes. Adrian Wojnarowski had an interesting analysis on how Masai Ujiri's team can spring a surprise, "I think a team that's lurking is Toronto. They have all the kinds of pieces that you would want and their picks to do a deal for Kevin Durant. Masai Ujiri, you saw the chance he took on Kawhi Leonard."
KD's future would take a minimum of 2 weeks to get settled and then teams might move for Kyrie, indicating that a "seven-eleven" pairing is hard to see in the future. The nets clearly have a lot of things on their plate.
Also Read: "Fu*k you all, I'm out" Kendrick Perkins furiously walks out of NBA Today set in heated LeBron James, Lakers talk
Also Read: "Jazz have destroyed themselves" NBA Fans astonished after Rudy Gobert gets traded to Minnesota Timberwolves