With the off-season catching fire, Damian Lillard has taken center stage. The Portland Trail Blazers superstar made a clear request to be traded to the Miami Heat early in the off-season, but as time has passed, there's been no significant progress on that front. In fact, the latest reports suggest that the deal could potentially fall through, as another strong contender has entered the race to secure Lillard's services.
According to Sportsnet's Michael Grange, the Toronto Raptors are actively in the running to acquire Lillard. While there hasn't been significant progress, they are not far behind. Grange reports that the Raptors' front office is confident they can outmaneuver the Miami Heat and secure Lillard.
In his latest piece for Sportsnet, Grange wrote, "By all accounts, the Raptors seem at least reasonably confident they can maneuver their way to the front of the line, past the Miami Heat — Lillard's preferred destination — and ahead of a team such as the Brooklyn Nets, who have the draft picks to get something done if Portland is open to taking on the last two years of Ben Simmons' contract."
After four relatively quiet seasons since Kawhi Leonard's departure, the Toronto Raptors actively seek a big-name addition to their roster. They are making a significant push in the Damian Lillard sweepstakes, signaling their intent to re-establish themselves as contenders in the NBA.
Despite the Raptors' assets and confidence in outbidding other suitors for Lillard, there remains uncertainty about whether Lillard would be willing to move to Toronto. According to Heat's beat reporter Ethan Skolnick, a source close to Lillard's agent suggested that Lillard might not be pleased if Portland were to trade him to Toronto and could potentially make the situation 'ugly.'
Also Read: "He was puzzled" – Dwyane Wade STUMPED LeBron James with stunning demand after embarrassing Finals loss to Mavericks
Raptors' players tried recruiting Damian Lillard after Kawhi Leonard's departure in 2019
The Toronto Raptors are in the running to acquire Damian Lillard now. However, Toronto could have been a potential destination for the star point guard four years ago after Kawhi Leonard left.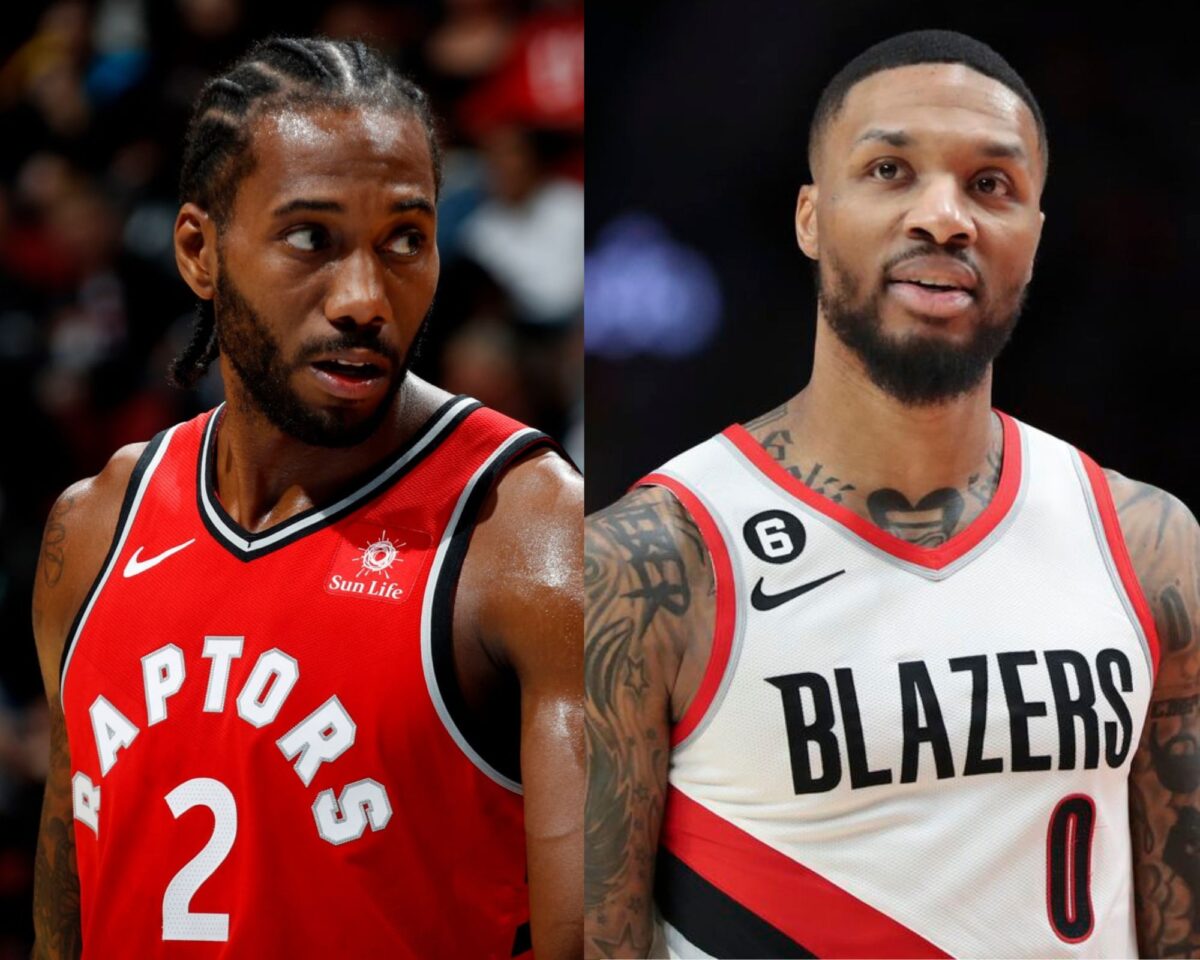 In the same article, Michael Grange mentioned that several core players from the Raptors attempted to recruit Damian Lillard. This occurred after the franchise's first-ever NBA championship season, led by Kawhi Leonard, who subsequently left to join the LA Clippers in free agency.
"Not long after the Raptors won their 2019 championship, some Raptors players reached out to Lillard about the possibility of joining forces in the post-Leonard era and were instantly rebuffed," wrote Grange.
Of course, the trade for Lillard didn't materialize as he remained loyal to the Blazers, wanting to win a championship with them. Meanwhile, the Raptors maintained their faith in their existing core and didn't pursue other star players.
Four years later, the Raptors find themselves back in the race to acquire Damian Lillard. Whether this pursuit will be successful remains uncertain. Only time will reveal whether Lillard will don a Raptors jersey this time around.
In Case You Missed:
Do follow us on: Facebook | Instagram | Twitter
Follow FirstSportz on WhatsApp Channel