The modern NBA sure is under a lot of scrutinies and NBA analyst, and podcaster, Leigh Ellis believes, stars like Kevin Durant, Anthony Davis, James Harden, and others are responsible for this. The analyst no longer is interested in covering basketball as he claims the new generation of superstars has sucked the love out of the game from him.
While most fans believe the game of basketball has never been played at such a high level with pro players being ridiculously advanced with their skills and training, analysts like Leigh Ellis believe superstars of the modern NBA are too heavy in the head causing a lot of the focus to be on them rather than the sport of basketball.
Former analyst, and podcaster, Ellis, who also is a familiar face in the ESPN crew announced retirement and decided to travel the world playing pick-up basketball in the streets. Via a phone call interview with Washington Post, revealed why he decided to not cover the NBA anymore. Ellis was one of the main faces of the show "The Starters" which was a fan favorite.
In his interview with the Washington post, Ellis said, "Anthony Davis can only ever pay for two weeks at a time. James Harden wanted respect for giving back $7 million in free agency. Kevin Durant said to fire everyone in Brooklyn. These sorts of guys don't inspire me anymore. Maybe that's an age thing. When you're a kid, you look up to these guys as heroes. Now you look at them and you go, 'What the f*** is wrong with this guy?'"
Also Read : "Called the hit then went to sleep" Fans troll Kevin Durant for his 'SHOCKED' reactions as Nets fire Steve Nash
Twitter reacts to Leigh Ellis' brutal critique of Kevin Durant, James Harden, and other superstars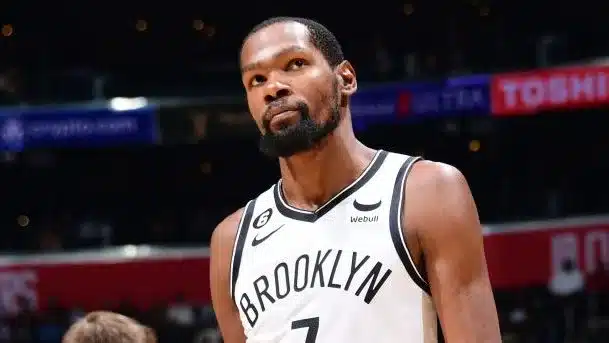 The analyst's words are definitely harsh but surprisingly many fans seem to agree with him on his critique of the modern-day NBA superstars. The fan-favorite NBA personality used superstars of the Brooklyn Nets, Kevin Durant, former Houston Rockets star, James Harden, and LA Lakers star player, Anthony Davis behavior as examples for his critique of how the superstars of this generation have ruined the NBA.
This show was so damn entertaining man

— LilYoungPopeTheChosenOne (@Balladotkom) November 25, 2022
I miss the starters bro. The only time I ever watched Nba tv

— Happy Pelicans Fan😁⛈⚜️ (@Happypelsfan) November 25, 2022
W Leigh the NBA turned into the National Drama Association

— Giannis Lamar (@GiannisLamar_) November 25, 2022
Leigh Ellis: "I'm no longer interested in covering the NBA"

NBA fans: pic.twitter.com/34xIAMHrkY

— B. Chordial (@BChordial) November 25, 2022
When did Kd say to fire everyone? He just wanted a terrible coach fired which is what some super stars from the past did too.

— DurantMuse (Parody account) (@Durantmuse) November 25, 2022
How many people were around before they became the starters and they were the basketball Jones? Bruh been putting in work for like a decade. That's like the second basketball pod I found after bill Simmons grantland show. It makes sense to be burnt out at this point.

— Doc Ellery (RideWithMe: Link in Bio) (@RideWithDoc) November 25, 2022
Also read: "I call this place home" James Harden pours love on Houston despite leaving two years ago
Does he think there's nothing good in the NBA outside of these three players? Why are these the reasons to stop watching? Being uninspired cuz a player gets injured too often makes 0 sense I'm sorry. And Leigh knows ball I just don't know why these are the reasons he won't watch.

— Jack Callahan (@JackCallahanNBA) November 25, 2022
Grew up on the Starters. He's got a point, the player emporment has definitely made the game more soft. I'm scared to buy regular season tickets because superstars can just stay they don't feel like playing. pic.twitter.com/owfqGkTIPf

— Waveestar (@SamDatrillest) November 26, 2022
Couldn't agree more. Also, paying ridiculous money for tickets, only to find out the star players are "injured," sitting on the bench with expensive street clothes. Guys getting $41 million to never play. No thanks. Congrats Leigh!

— Bobby Smith (@Michigan305) November 25, 2022
he and the rest of the guys were cool on their show a couple years ago. i literally forget what the show is called it has felt like a million years since then, but havent followed him since

— mikey (@MambaMicale) November 25, 2022
Leigh Ellis now has his own YouTube page and uploads vlogs of him traveling around the world playing pickup basketball. Ellis has a lot of top interviews with superstars of the 2000s like LeBron James, Kobe Bryant, Stephen Curry, and others on YouTube channel.
Also read: "Let's bring the championship to Brooklyn" Kevin Durant comes to terms with Nets to "run it back"