A picture of Kristaps Porzingis and F1 driver Yuki Tsunoda has been trending on social media platforms due to the massive height difference between the two.
An unlikely F1 fan, Porzingis turns up in support of the F1 driver Yuki Tsunoda at the Spanish GP. And at an unprecedented turn of events, Tsunoda couldn't capture victory as he faced a penalty during the race that sparked controversy in the race.
Yuki Tsunoda, at the race today at Circuit de Barcelona-Catalunya, dropped out of the points due to a time penalty, awarded to him for a near-miss with Alfa Romeo's Zhou Guanyu, who went on to finish the race in 9th place. Tsunoda dropped out of the top 10 as a result of a five-second time penalty that was applied to his race time, this was following a near-collision between the two drivers as they were jarring each other for position late in the race.
On the other part of the picture, Kristaps Porzingis is enjoying his NBA vacation as he is gearing up for free agency this summer. Porzingis is still under contract with the Wizards, but he can be an unrestricted free agent if he declines his 2023-24 player option with the team.
Among the various rumoured suitors include former teams like the Dallas Mavericks and New York Knicks.
Related:WATCH: Kristaps Porzingis trash-talks Joe Ingles after getting shoved to the floor by him as Wizards take over Bucks
Fans react to massive height DIFFERENCE between Kristaps Porzingis and Yuki Tsunoda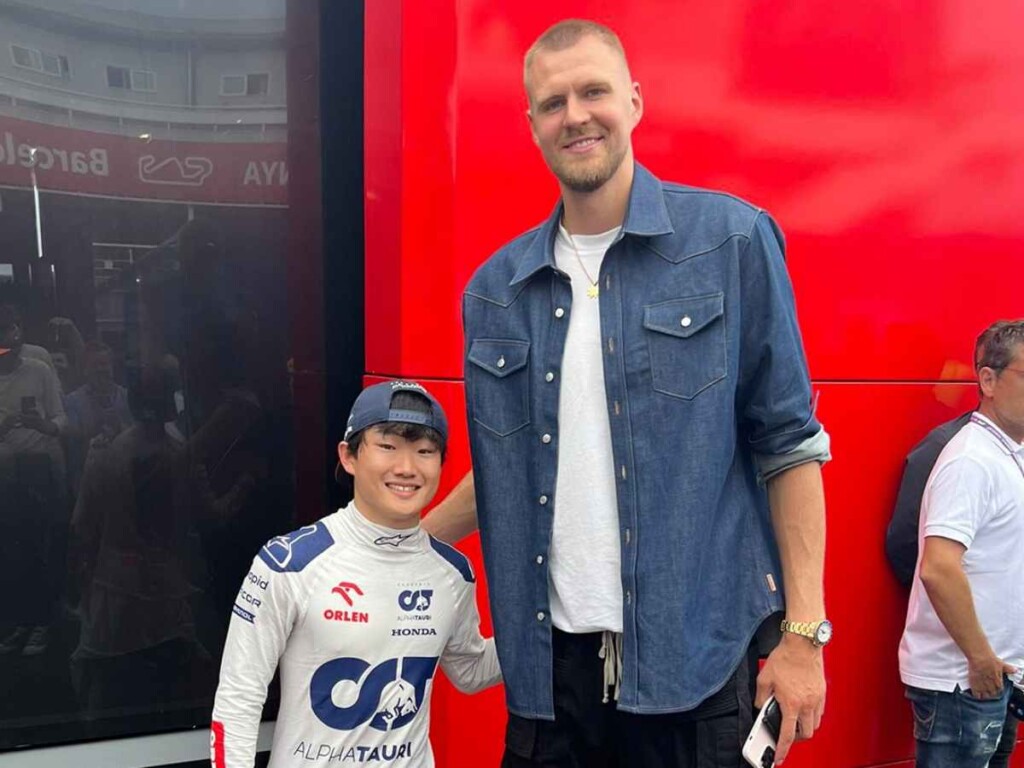 Fans on Twitter can't seem to comprehend the photo that Porzingis and the F1 driver took recently due to the massive height difference one would get when you put a 7-footer to a 5'3-foot dude.
NBA players can get really tall in pictures and Tsunoda being 5'3 doesn't help either as fans are trolling the latter for his penalty in the race today and well for his height. You can check the reactions below:
The unlikely partnership might bear a new meme as the picture is flooding every sports page along with the height jokes from the fans.
In case you missed it: