Following Damian Lillard's trade to the Milwaukee Bucks, superstar Giannis Antetokounmpo looks more than excited about the move of Lillard who is looking to help guide the team to its second championship during his tenure with the Bucks. Antetokounmpo's recent epic 5-word text to Damian Lillard after his trade to the Bucks has charged up the NBA world for the upcoming season.
According to the Bleacher Report, soon after the Lillard trade was announced, Antetokounmpo sent Lillard a text message to Lillard that made the NBA spectators go crazy. The message also shows that Antetokounmpo is fired ahead of the season and desperately looking forward to pairing with sharp-shooting Lillard.
Soon after the trade was announced, Antetokounmpo sent Lillard a text message that read, "Let's get this f–king championship,"
The Bucks, under pressure after a dismal season, have raised the bar with the addition of Lillard. Despite the fact that losing Holiday impacts defense, Lillard's scoring prowess, especially in crunch moments, elevates their offense. This dynamic duo boosts Milwaukee's championship hopes, setting the stage for an intense and promising season.
Also Read: "The minute a white woman cries, the world has to stop" – Nia Long launches ATTACK on Celtics for horrible handling of ex-coach Ime Udoka's affair scandal
Giannis Antetokounmpo's message to Jrue Holiday
In a heartfelt exchange, the Milwaukee Bucks acquired Damian Lillard at the expense of parting ways with guard Jrue Holiday a dear friend of Giannis Antetokounmpo, who played a prominent role in the Bucks' championship run in the 2021 season. Following the trade, Antetokounmpo shared a heartfelt message to Holiday.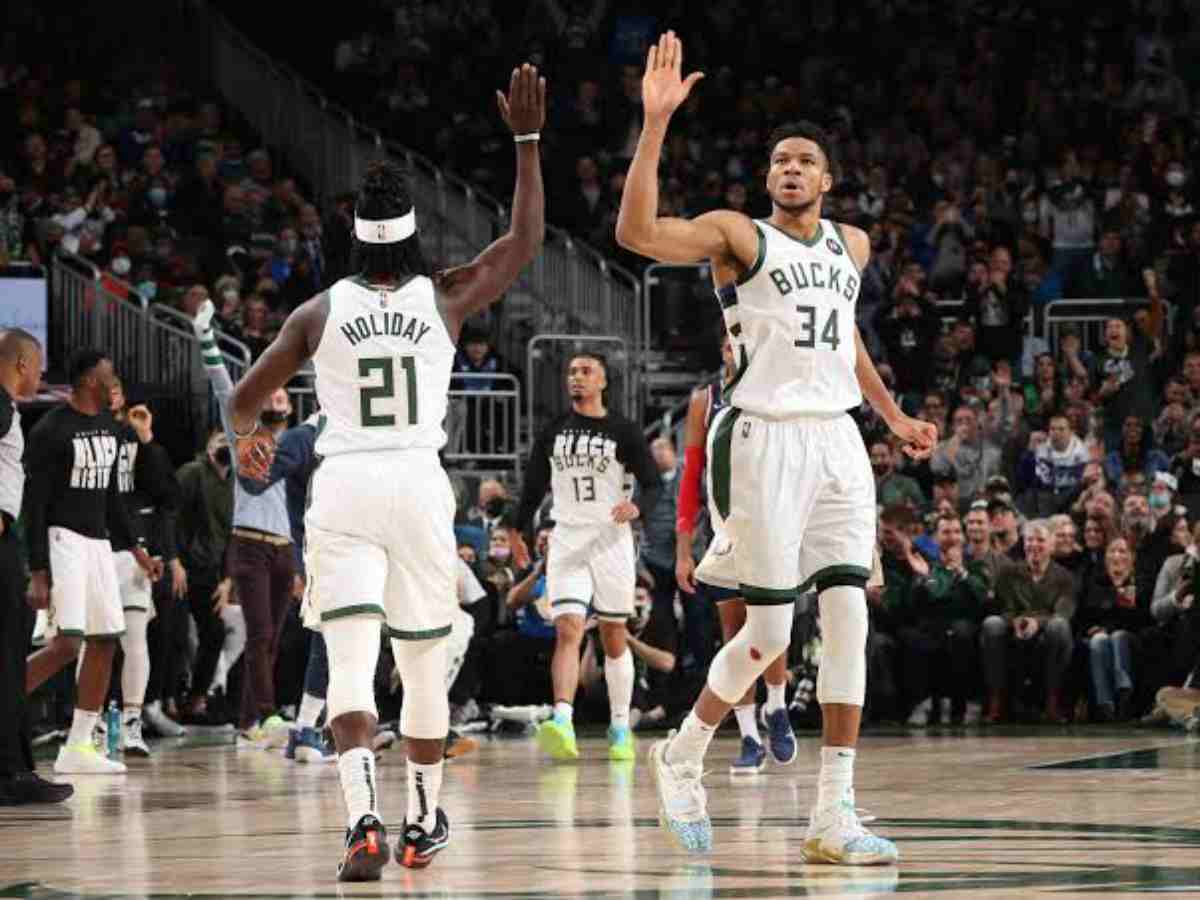 Here is what he had to say:"Jrue is my f–king brother for life. I love his family. I love him. I appreciate him. I wish him nothing but the best. He blessed me with a f–king championship. He's the one who made that huge steal in Game 5 of the Finals. I went to battle with him multiple times. F–k basketball. F–k the media shit. This guy is my brother for life, and it's always going to be like that. He's going to thrive wherever he ends up."
Holiday, a two-way point guard, heading to the Portland Trail Blazers, is expected to be rerouted for additional assets, with several contenders vying for his exceptional skills. While the trade reshapes team dynamics, the enduring bond between players transcends the court, underscoring the deeply rooted connections within the NBA basketball fraternity.
In case you missed it:

Do follow us on: Facebook | Instagram | Twitter
Follow FirstSportz on WhatsApp Channel