Former NBA player Gilbert Arenas has weighed in on Memphis Grizzlies' Ja Morant's recent strip club controversy, sharing a message on Instagram that has been widely regarded as a joke. The Memphis point guard had spent significant money at a Colorado strip club, where he also flashed a gun in a social media post.
Arenas, who had a similar gun-related incident during his NBA career that led to a 50-game suspension, advised Morant to be more careful. He added that his scandal differed from Morant's, which allowed him to make light of the situation.
"Can all the media outlets apologize to #jamorant for the smear campaign they did by calling him a Thug ! this Family man,hero,Role model ,franchise player,future face of the league and now 📍PHILANTHROPIST 📍He is shown here Donating his money and time to A Local Historic Place called "Shotgun willies" that houses 💥Missguilded females of the community💥due to the lack of funding from the city, the building AC was not working at the time which is why Morant shirt was seen off in this picture💯 The 50k donation that MR morant provided had one of the local Community women so excited she jumped on Mr morant without his consent As u can see he was not touching the women nor enjoying what was going on,as for Mr Morant's live video, due to The large amount of currency displayed on the ground, A local #Denverite attempted To Rob this HISTORICAL place and MR Morant courageously put his life in harms way and DISARMED the Bandit🙏🏿🙌🏾🙌🏾 Mr morant showed Great HEROISM 🎗️👑❤️ the Mayor of denver "Michael B Hancock" dropped the investigation against Mr morant and now is thinking about giving him the key to the city for his bravery that night ✅ Can't wait to see Mr morant back on the Floor 💯 All hero's don't wear capes But Mr Morant does 🥇#standupcitizen," he wrote as caption.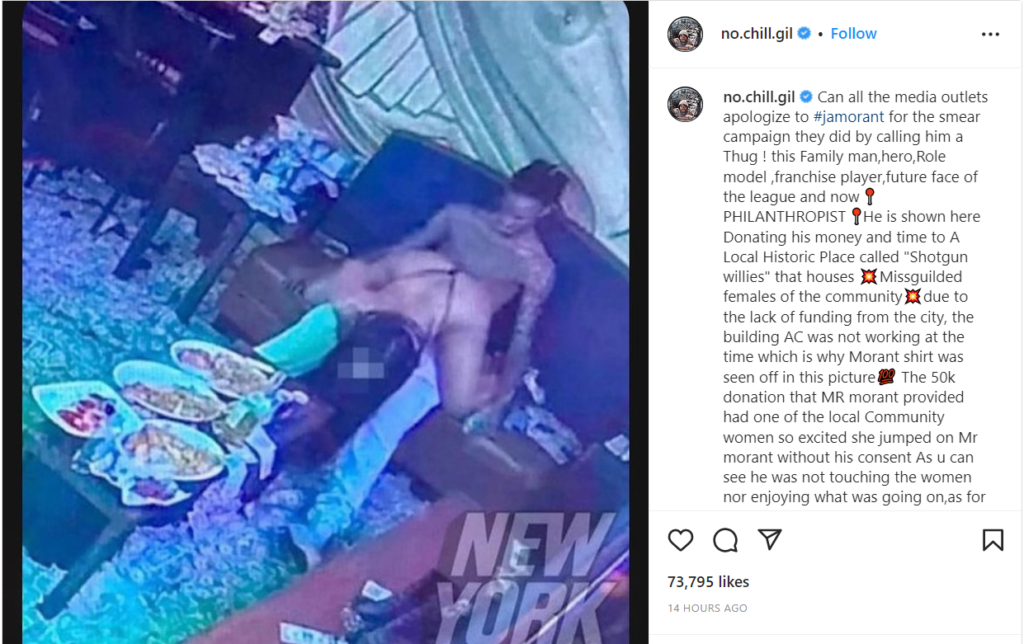 Gilbert Arenas praised Ja Morant for his heroism and philanthropy, despite the smear campaign against him. Arenas highlighted Morant's courage in disarming a bandit during a live video and his donation to a local historic place. Despite the chaos surrounding him, Morant continues to be a role model and stand-up citizen, according to the former NBA player.
Despite being widely interpreted as a joke, the incident highlights the potential dangers associated with gun use and the need for athletes to be more aware of the public scrutiny they are under. While Morant has yet to comment on the situation, it is hoped that the incident will remind all athletes of their responsibilities as role models.
Related: Gilbert Arenas gives his 'unbiased' take on the brutality of media and talks about their 'double standards' towards players
Ja Morant suspended by Grizzlies following controversies and gun incident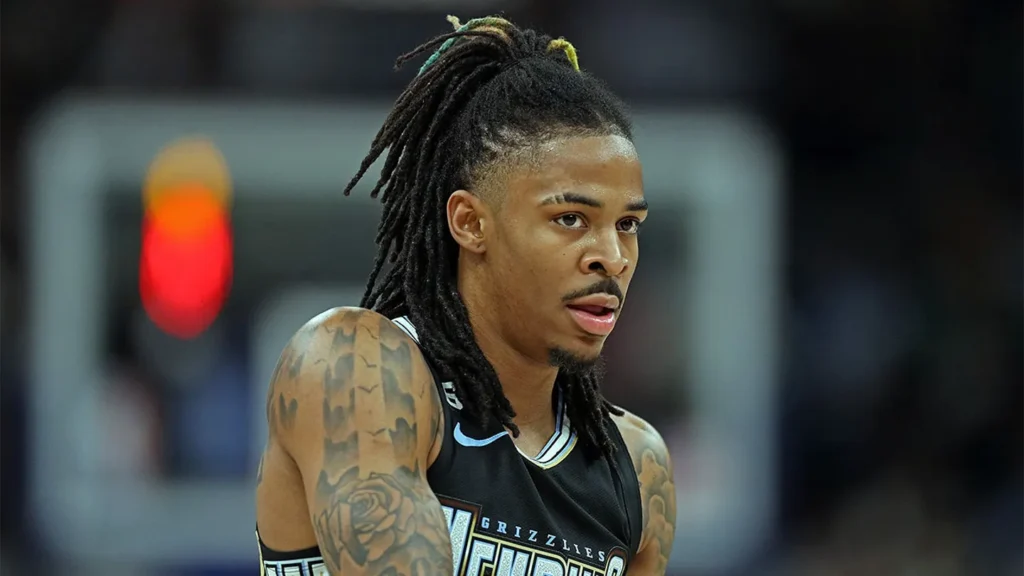 Following a series of controversies, the Memphis Grizzlies have suspended their star point guard and reigning Most Improved Player, Ja Morant. The most recent incident involved the guard being involved in a gun incident, prompting the Grizzlies to take swift action and suspend him until further notice.
Following the suspension, the leaking of photos showing Morant receiving a lap dance at a strip club caused a stir among fans and the league. Morant has publicly vowed to do better and make amends for his behavior, but his return to the court remains uncertain.
The Grizzlies are struggling without their star player, but they remain hopeful that he will return in time for the 2023 NBA playoffs. In the meantime, they are doing their best to compete without him and maintain their position in the standings. Morant's suspension is a blow to the Grizzlies, who were hoping to build on their recent success and establish themselves as a force in the league.
However, the team remains committed to supporting their player and helping him get back on track on and off the court. Only time will tell whether Morant can return to form and help the Grizzlies compete at the highest level. Fans and observers will watch closely to see how this situation unfolds and what the future holds for one of the league's rising stars.
In case you missed it:
Dillon Brooks FIRES shots at Luka Doncic stating he 'isn't ready' for a physical game against him
Paul George gives the ULTIMATE tribute to compatriot Russell Westbrook saying he's 'not comparable' to any player