Los Angeles Clippers star Paul George has expressed his admiration for teammate Russell Westbrook, who recently surpassed Isiah Thomas on the all-time assists list in the NBA. Westbrook's career total of 9,062 assists now ranks him ninth in NBA history, cementing his status as one of the best point guards ever.
Paul George and Westbrook shared a strong bond during their time as teammates on the Oklahoma City Thunder for two seasons, both on and off the court. In a recent interview, George spoke highly of Westbrook's unique talents and ability to stand out among other great NBA players.
"He's a Hall of Famer. One of the best point guards. Ever. Not one player I think you can say that Russ is comparable to. He's just kind of made his own lane and been special in that lane. He's in conversations with the best to ever do it," George said.
Westbrook's achievement in surpassing Isiah Thomas on the all-time assists list is a significant accomplishment in the NBA, highlighting his remarkable court vision and unselfish play. As a point guard, Westbrook's primary role is to create opportunities for his teammates, and his ability to do so consistently has earned him a reputation as one of the best in the league.
But Paul George's admiration for Westbrook extends beyond his on-court performance. He also praised his former teammate's character and leadership qualities, describing him as one of the best teammates he has ever had.
As the Clippers push for a spot in the playoffs this season, the dynamic duo of George and Westbrook will undoubtedly be a force to be reckoned with. Both players are at the top of their game, and they have the potential to lead their teams to a championship.
In conclusion, Westbrook's recent achievement in surpassing Isiah Thomas on the all-time assists list is a testament to his outstanding career as one of the NBA's best point guards. George's praise for his teammate's accomplishments further underscores Westbrook's talent and unique abilities on and off the court. As the Clippers continue to dominate the league, fans can expect more great things from these two NBA stars.
Also Read: LeBron James reacts to Stephen Curry's CLUTCH outing against the Bucks as he displays tremendous shooting to win it for the Warriors in OT
The Clippers must address team-wide issues to turn season around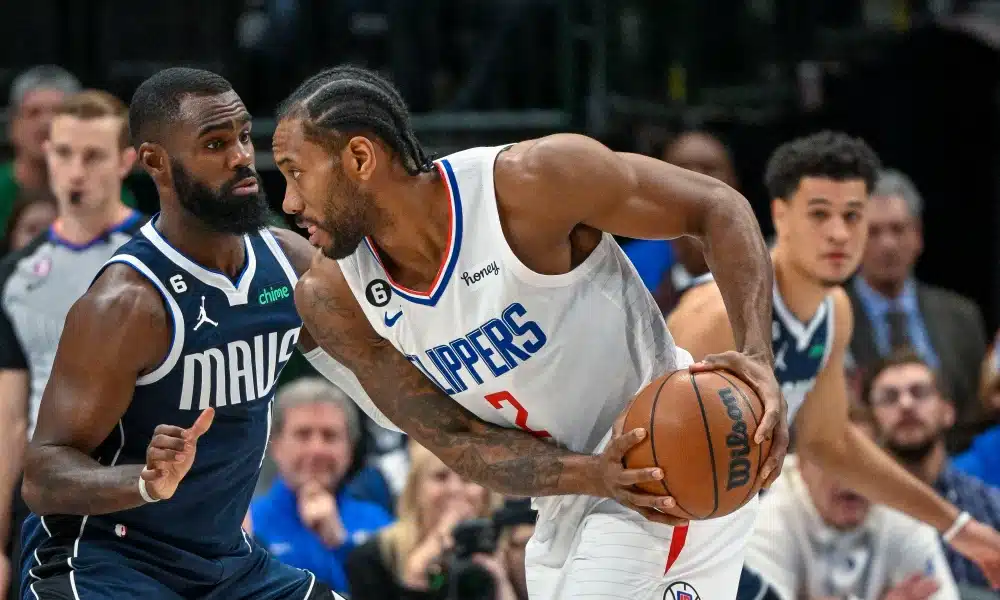 In a sudden turn of events, the Los Angeles Clippers have dropped from the No. 4 seed to the No. 8 seed in just five games. The recent losing streak has put them in a precarious position as they are now ranked as a play-in team, and if the slump continues, it could spell trouble for their playoff hopes.
In the last five games, their defense has taken a major nose dive. This has made it almost impossible for them to win against any team. In their first game after the break against the Sacramento Kings, they surrendered a total of 176 points, which is the second-highest score in an NBA game.
The Clippers will need their entire team to step up their game. The recent losses have highlighted some of the team's weaknesses, particularly on the defensive end. The Clippers will need to tighten up their defense if they hope to compete against the top teams in the league.
Despite the recent setbacks, the Clippers are still a talented team with the potential to make a deep playoff run. However, they will need to turn things around quickly if they hope to do so. With just a handful of games left in the regular season, the Clippers must step up their game and put their recent struggles behind them.
In Case You Missed:
Shaquille O'Neal accused of 'hiding' inside his house by some attorneys in order to avoid the 'mega' FTX lawsuit also involving Tom Brady
Isaiah Thomas Hopes for NBA Comeback after Waiver by Hornets
"The lights ain't coming on this year," Kendrick Perkins Writes Off Warriors' Season After Stephen Curry Injury