Udonis Haslem retired on April 9th, 2023 after dropping 24 points against the Orlando Magic. Even though he has announced his official retirement from basketball. He is still around the team and continuing with his role of being the perfect veteran. Even though Udonis Haslem hasn't been of any good use for the past 5-6 seasons. His real impact is off-the-court as a veteran where he mentors the Miami Heat team keeping them right and ready.
Even though Jimmy Butler is the leader of the Miami Heat. The title of captain is owned by Udonis Haslem. As he represents the Heat Culture and has been around for 20 years winning three championships. But Udonis Haslem isn't happy with the disrespect he's been getting lately. Obviously, his empty stat sheets have fans trolling him. But it's the hosts at TNT and their comments which bother him more.
As in a recent interview of his with Andscape's Marc J. Spears talking about his 24-point performance in the last regular season game with Dwyane Wade in attendance, Udonis Haslem took some shots on Shaquille O'Neal and Charles Barkley. As revealing his thoughts after the game where he proved himself, Udonis Haslem quoted: "Oh, hell, yeah. Listen, I couldn't wait. I read. I hear all the comments, and even some of my peers, every now and then they got jokes to crack. But I bust their a– too. Some of the guys that sit up in there behind them suits at TNT and they got jokes, I would tear their a– up. I ain't up here smoking cigarettes and eating chicken. I'm getting work done, man."
Further, explaining the big reason behind him giving his best efforts. Udonis Haslem added: "What people don't understand is the reverse effect of this is, if I'm not in shape and if I can't compete, then [my teammates] don't listen to me. If I can't do this, they going to be like, 'Man, OK, respectfully, OG, we love you, but get your a– out of here.' I have to earn their respect every year. To be able to have the title of captain."
Udonis Haslem's take is understandable but now he probably will be trolled more by Shaquille O'Neal, Charles Barkley, and the crew at TNT. As instead of just explaining himself, he has challenged the two funniest guys around the league who aren't worried about any controversy and always ready for some action.
Related: "That's why I came back for 20th season" Udonis Haslem speaks out on Heat Culture which did not let him retire
Udonis Haslem's take on his replacement in Miami Heat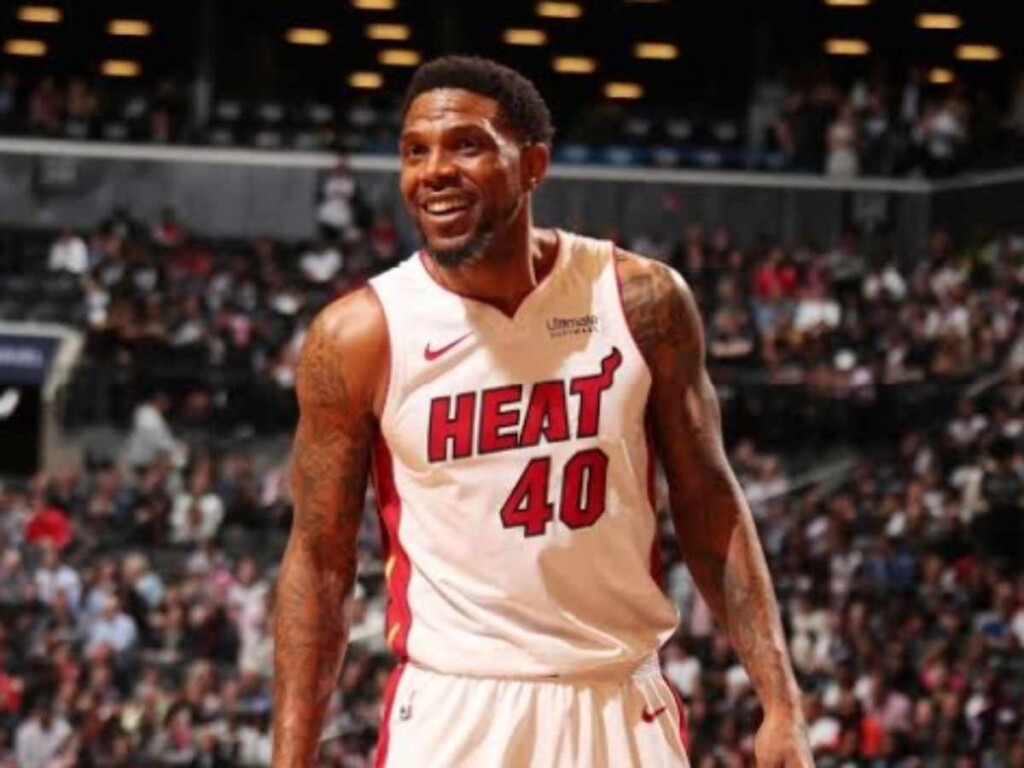 As Udonis Haslem has retired he'll be out of the team and they'll need a new voice to lead the way. He has spent 20 years with the franchise and has been a perfect veteran over the past 6 seasons. But now it's time for someone else to fill the space. But Udonis Haslem believes no individual on the roster is capable right now to fill his void and it's probably going to be a collective effort for a while.
As answering the question, Udonis Haslem quoted: "Nobody. They got work to do. They got work to do, dawg. I don't know if it would just be just one person. We have great leadership in Kyle, who'll be back next year. We just picked up K. Love. We also have Bam, who is somebody who I've been molding and mentoring, and been very close to over the years. You got Spo [Heat head coach Erik Spoelstra] who has been right there with me through all this. So, it's going to be collective."
Anyways, Udonis Haslem's time with the Miami Heat is done and now he'd like to get a new role around the franchise if possible. Also, he believes in the team and knows they'll fill in his space and figure out things together very soon.
In Case You Missed It: