Russell Westbrook has been a part of lot many trolls throughout his career. Fans just love to bring Brodie under the heat no matter what the reason is. The story would probably stay the same for forever. Recently, the NBA All-Star added to the list of his off-court greats by coaching young and talented Jerzy Robinson at EYBL. But the fans are clowning Russell Westbrook, as they believe he'll ruin her talents, especially her shooting skills.
Russell Westbrook is one of the best point guards in the history of the league. There are reasons he's crowned with the tag of "Mr. Triple Double." He's just 6 ft 3 inches big but even at that size he's able to dominate both ends of the floor. Russell Westbrook's explosiveness and deep bag of skills are unreal. And, he's trying to pass some of it to the future talents. As he was recently seen coaching Desert Vista's Jerzy Robinson on the sidelines.
Jerzy Robinson is just a teenage baller but she already has been crowned with the tag of "LeBron James of Girls Basketball." The 14-year-old already has around 10 D1 offers. The programs that want to land her in the system are UCLA, USC, Alabama, Ohio State, Arizona, Texas A&M, and others. Jerzy Robinson is already getting legendary comparisons and has a great chance to rule the rankings soon. She's a part of the 2026 Class but the fans are already predicting her professional career to be one of a kind.
Jerzy Robinson is a 6 ft 1-inch big guard and she can do almost everything on the basketball court. There is always space to get better in sports and that's what she aims at. And, even Russell Westbrook is trying to help her by coaching her up on the sidelines. But unfortunately, the internet isn't liking the efforts by Brodie.
Related: "What is in their mind?" NBA superstars DeMar DeRozan and Paul George BLAST Dana White's UFC for disrespecting Russell Westbrook in recent PPV event
Twitter clowns Russell Westbrook for coaching Jerzy Robinson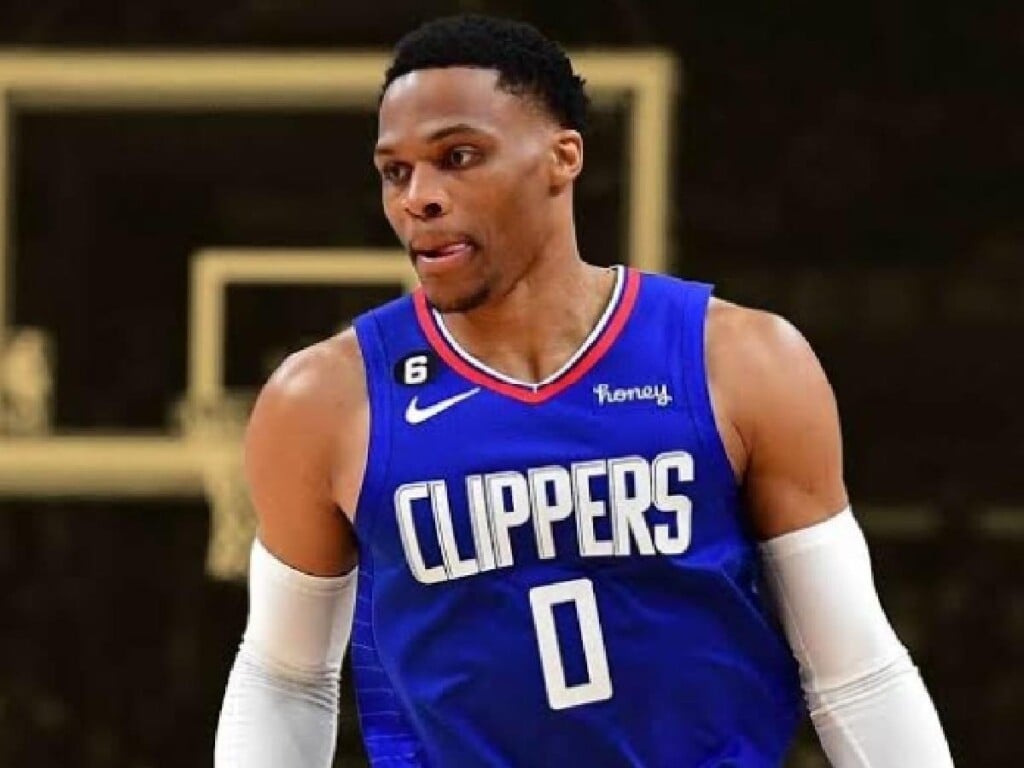 Jerzy Robinson has already developed a whole bag of skills and is way advanced while competing. But the internet keeps winning and people are finding out ways to clown her court-side coach, Russell Westbrook. Even though some are giving Brodie his flowers.
Many are trolling the life out of him while bringing aspects like shooting and teamwork into the conversation. You can find some of the many reactions posted by fans on Twitter here below:
Jerzy Robinson is on her way to achieving greatness. And, Russell Westbrook has never really cared about the outside noise. So Brodie would keep doing what he feels is right. Also, the basketball world is waiting on his decision as a Free Agent, and soon he'll be revealing his plans for his career ahead.
In Case You Missed It:
Paul Pierce TROLLS Ray Allen after 11 years of leaving the Celtics for LeBron James and Heat Big 3
Snoop Dogg DROPS LeBron James from all-time top 5 Lakers list consisting Kobe Bryant, Shaquille O'Neal – "Ain't done enough"