Fair to say, nobody does media day like Jimmy Butler does. The Miami Heat superstar turned heads last year when he unveiled a dreadlock hairstyle during media day, surprising the NBA world. This time around, he has kept the tradition alive, leaving everyone surprised with his latest "emo" haircut.
During the Miami Heat media day held on Monday, October 2nd, at the Kaseya Center, all eyes were on Butler. With a hairstyle that could make punk rock bands proud, the forward consistently manages to steal the spotlight with his ever-evolving look.
"I'm very emotional right now. This is my emo state and I like this. This is me," Butler said. "This is how I'm feeling as of late."
Butler's teammate, Bam Adebayo, was also taken by surprise when a reporter showed him a picture of Butler's new look."That is not real. … That is f***king hilarious," Adebayo said.
Wearing dreadlocks was already a bold move last year, but Butler upped the ante this time by arriving with straightened hair. To complete his look, he added pierced lips, nose, and eyebrows. Although the dreadlocks look didn't stick around for long, his media day image was used throughout the season. This time, Butler isn't sure about whether the "emo" look will be short-lived or not, keeping the door open for a longer-lasting look.
Describing why Butler does these eccentric hairdos is as challenging as explaining the Heat's journey from being an eighth seed to making it to the NBA Finals last season.
Also Read: "Antisemitic loser" – Kyrie Irving unveils confusing new move, NBA fans vehemently REJECT it
Jimmy Butler's bold new 'emo' look leaves fans stunned
Jimmy Butler's striking new look at media day didn't just catch the attention of those present; it also left fans on Twitter equally surprised. Social media erupted with a flurry of reactions, and here are a few of them: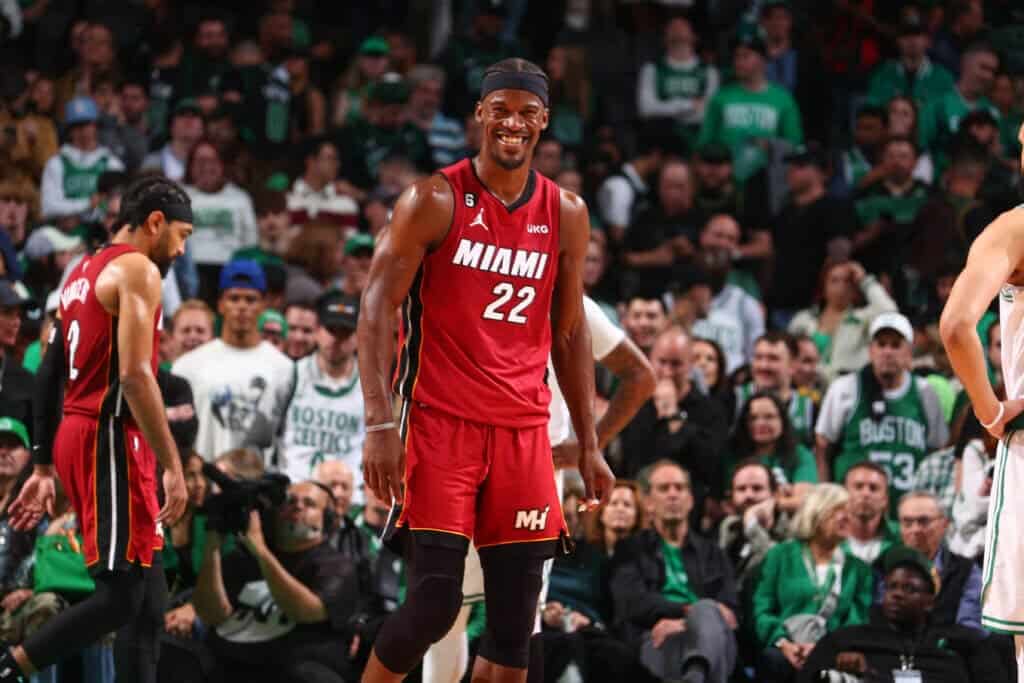 Butler is set to return for his fifth season with the Heat. Despite guiding the team to two NBA Finals appearances since 2019, the elusive fourth championship in franchise history remains the ultimate goal. It will be interesting to see what the future holds for Butler and the Heat.
In Case You Missed: