After receiving huge backlash for his alleged antisemitic sentiments which led to his suspension for at least five games, Brooklyn Nets' superstar Kyrie Irving released a statement of apology to the Jewish Community. The statement came after Irving was suspended for five games by the organization and things would have been very different if he did that earlier.
The seven-time NBA All-Star received harsh criticism last week after he shared a link on Instagram to a 2018 movie and that was widely criticized for being outrageously anti-Semitic, including from Nets owner Joe Tsai and the NBA. But when asked during a news event on Thursday whether he held any anti-Semitic beliefs, Irving refused to expressly condemn the film and its message.
When he was asked by the reporters in the Nets facility on Thursday whether he shared any antisemitic belief, Irving held back from openly criticizing the film and instead remarked "I respect all walks of life. I embrace all walks of life. That's where I sit." In his social media post, Kyrie also owned that the movie "contained some false anti-Semitic statements, narratives, and language that were untrue and offensive to the Jewish Race/Religion."
Expressing regrets over his action in his IG post he wrote, "To All Jewish families and Communities that are hurt and affected from my post, I am deeply sorry to have caused you pain, and I apologize". He further wrote, "I take full accountability and responsibly for my actions." Irving will not play the next five games for the Brooklyn Nets and it will be interesting to see how Kevin Durant responds to his suspension.
Also Read: "When we meet again we are going on a beer run" Jimmy Fallon reveals his first meeting with Kobe Bryant
Brooklyn Nets suspend Kyrie Irving for at least five games for allegedly propagating antisemitic sentiments via social media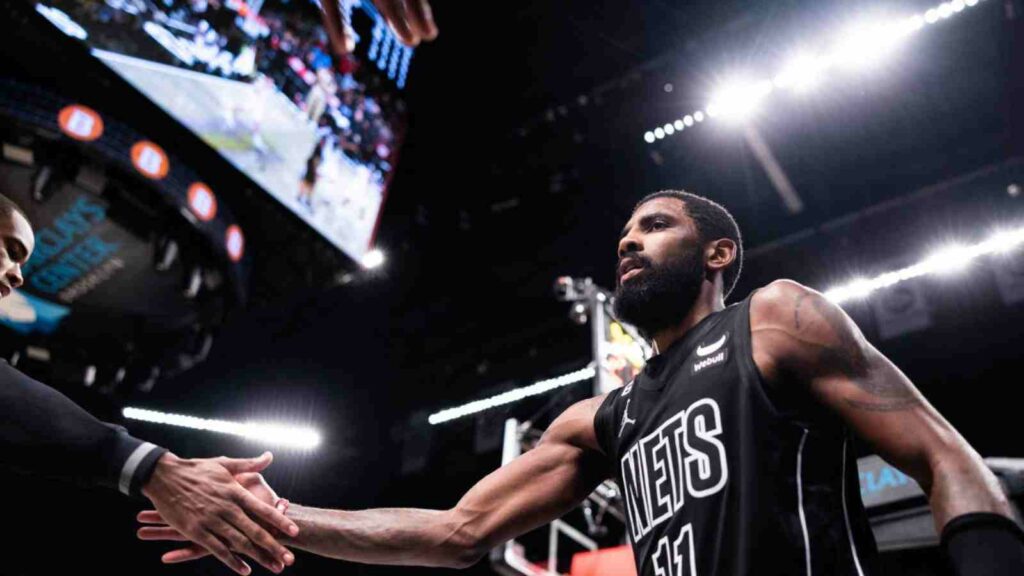 Brooklyn Nets star Kyrie Irving was suspended for at least five games by the organization over deciding to defend himself for sharing a link to a movie that is hurtful to Jewish beliefs. Previously on Wednesday, Irving, the Nets, and the Anti-Defamation League released a joint statement in which they declared their opposition to all forms of intolerance. He and the Nets pledged to provide $500,000 each to groups that fight against hatred.
The Nets suspended him before he sent his apology out, claiming that despite holding two press conferences, he had refused to denounce anti-Semitism. "We were dismayed today, when given an opportunity in a media session, that Kyrie refused to unequivocally say he has no anti-Semitic beliefs, nor acknowledge specific hateful material in the film," the organization said in its released statement while also announcing the suspension. 
The Nets' following game is against the Wizards at Washington on Friday night. Irving would be eligible to play on Nov. 13 against the Lakers in Los Angeles if he completes a five-game suspension. Irving's suspension will definitely have a long-term effect on the team's overall performance, as he is one of the most prolific scorers the game has ever seen and the Nets really need him.
Also Read: Shaquille O'Neal silences Kanye West by boasting $400 million net worth, as rapper tries to drag NBA legend into "anti-semite" controversy
Also Read: "Money Fixes Everything" Fans react as Kyrie Irving agrees to donate $500,000 for hurting Jewish community
Do follow us on Google News | Facebook | Instagram | Twitter