The Dallas Mavericks on Friday encountered arguably the worst loss of their season to the already eliminated Charlotte Hornets. Prior to the game, the Mavericks were placed 7th in the tightly contested western conference and had a record of 36-37. In no time, the Mavericks have stumbled down to the 11th seed, blowing up a golden chance to solidify their spot in the play-in/playoffs. Kyrie Irving had 18 points in the loss and the Dallas fans were visibly disappointed.
The fans expressed their disappointment via boos and Kyrie Irving is not new to being at the receiving end of such boos. Thanks to his history with the Celtics, he faced a similar scenario at the TD Garden in the 2022 playoffs. This time around, Irving was taking none of that and made it clear in the post-game interview. "So what? … You obviously want to play well, but you it's only five people on the court that can play for Dallas Mavericks. If the fans wanna change places, then hey, be my guest. Got years of work ahead to be great enough to be on this level," said Irving.
The Mavericks have 8 games remaining in their schedule with their next 2 games against the Hornets and the Pacers. It is a golden opportunity for the Mavericks to get back to winning ways as every single game can alter the Western Conference standings.
Related: Luka Doncic takes indirect shots at Kyrie Irving claiming he used to have fun on the court earlier
Mavericks are 6-8 since Luka Doncic and Kyrie Irving teamed up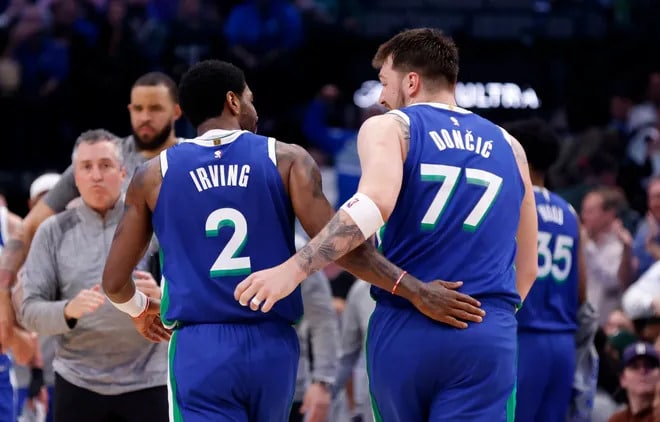 The Dallas Mavericks acquired the artistic Kyrie Irving in February 2023. What seemed like a move that could potentially connect all dots required for the Mavericks to win a championship, has not really translated into what the fans were expecting.
The Mavericks have lost 6 out of the 14 games in which the duo has shared the court. Doncic was out of action for a couple of games in mid march but their first game back together did not really go well.
Irving has suited up on 13 occasions for the Mavericks and has been averaging 28 points per game on 51 percent efficiency. The duo of Irving and Doncic has provided a fair bit of entertainment to the fans.  Luka Doncic and Kyrie Irving combined for 82 points as Dallas tied a franchise record with 25 made three-pointers on 3 March against the 76ers. They also combined for 62 points in a Win against the Utah Jazz on March 7.
In case you missed it:
Kendrick Perkins CLAIMS the Lakers will make it to the NBA Finals if LeBron James and Anthony Davis are healthy
Is Nikola Jokic playing tonight against the Milwaukee Bucks?