LeBron James broke Kareem Abdul-Jabbar's all-time scoring record against the Oklahoma City Thunder on Tuesday. The entire basketball world celebrated the shattering of the untouchable record, except for one person who sat with a dissatisfied face. It was his teammate Anthony Davis. Amidst the hyped-up celebration, some eyes and the cameras turned towards Davis, who sat amongst the cheering teammates. Later the Los Angles Lakers star addressed the questions that alleged him not happy for his teammate. 
Davis told reporters that his team was losing the game that had him consumed, while James recorded his name in history. The Crypto.com arena erupted even before the four-time MVP took the fadeaway shot to shatter the record. Later, AD clarified that it had nothing to do with James' record and that he was only upset because his team was trailing the game. "It was nothing, upset about the game," Davis said. "We lose to the Oklahoma City Thunder, a game we needed. I was pissed off that we were losing. It's that simple. It had nothing to do with [LeBron] he knows that. Everybody else outside looking in, that's their opinion but I was pissed off that we were losing the game," Davis explained. 
Davis is a winner, and it is nothing scandalous that he was consumed with the Lakers trailing in the game. His team has already been having a bad season so far, and potentially missing playoffs in back-to-back seasons is not a good feeling for a player of his caliber. Of course, Davis was bothered by the claims that called his team spirit into question and pleased for his friend and teammate.
Related: "We want to secure a spot," Anthony Davis reveals the STRUGGLING Los Angeles Lakers don't want to be in the play-in tournament
LeBron James shows love for his brother Anthony Davis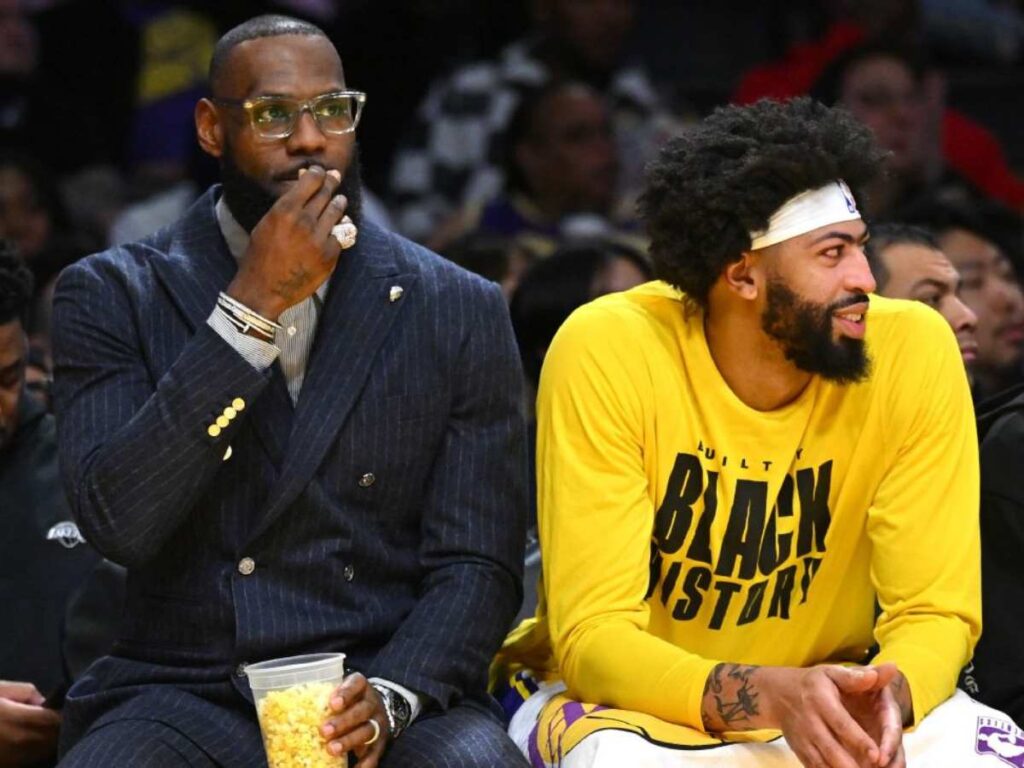 Despite the fact that Davis sat disappointed on the bench instead of celebrating his teammate's record-breaking night, LeBron James had nothing but love for his comrade. Sitting on the bench beside the big man, he made sure that Davis got all the love from him. "I love you," James said. "I just want you to know I love you, bro. That's all I want you to know," he added. Both are not just teammates but have been friends for a long time. The pair also won a championship for the Lakers in 2020, which adds to their mutual admiration.
Last season, the Lakers failed to make the playoffs. Much of it has to do with Davis being injured for the majority of last season. On an individual level, James continues to amaze; however, carrying a team at this age is too much to ask. In hopes of turning around their season, the Lakers recently traded superstar Russell Westbrook in a three-team deal that brought D'Angelo Russell, Malik Beasley, and Jarred Vanderbilt on board. They also added Mo Bamba to deepen their roster. It remains to be seen if the Lakers can make the playoffs and, if so, how far they can go.
In Case You Missed:
"Consumed with losing the game," Anthony Davis breaks silence on why he didn't celebrate LeBron James' all-time scoring record
Kareem Abdul-Jabbar blames his "nature" for his poor relationship with LeBron James, not his repeated jabs at the current NBA all-time leading scorer
Do follow us on Google News | Facebook | Instagram | Twitter