The NBA has fined Luka Doncic, the Dallas Mavericks star player, $35,000 for making an inappropriate and unprofessional gesture toward a game official during Wednesday's loss to the Golden State Warriors. Doncic gestured a "money sign" toward the referees, indicating his dissatisfaction with the officiating and questioning their integrity. While he has made this gesture on several occasions throughout the 2022-23 season, the league has finally taken notice and issued a fine.
The incident occurred with only 1.7 seconds remaining in regulation, but Doncic's behavior toward referees has been a consistent issue this season. He has 15 technical fouls to his name, just one away from receiving an automatic one-game suspension by reaching 16 on the season. This means that he will need to be more careful with the gestures he makes toward referees and his general communication with them.
Losing Doncic for even one game could be problematic for the Mavericks as they aim to qualify for a spot in the postseason or even in the play-in tournament. The team currently holds a 36-37 record and is in a four-way tie with three other teams in terms of wins and losses.
Despite his gesture toward the referees, Doncic returned to the court during Wednesday's game after recovering from a quad injury. He played 41 minutes, scoring 30 points, grabbing seven rebounds, and dishing out 17 assists. However, his performance from the field was not at his usual high standards, shooting 11-27 overall, 2-10 from 3-point range, and 6-10 from the free throw line.
In conclusion, Doncic's actions have come with a cost, as he has been fined for his gesture toward referees. He will need to be more careful with his behavior on the court, especially as the Mavericks continue their push for a postseason berth.
Related: "It's just been so frustrating for a lot of reasons," Luka Doncic takes indirect shots at Kyrie Irving claiming he used to have fun on the court earlier
Futile Flames of the Fabled Backcourt: An Examination of the Disappointing On-Court Partnership between Kyrie Irving and Luka Doncic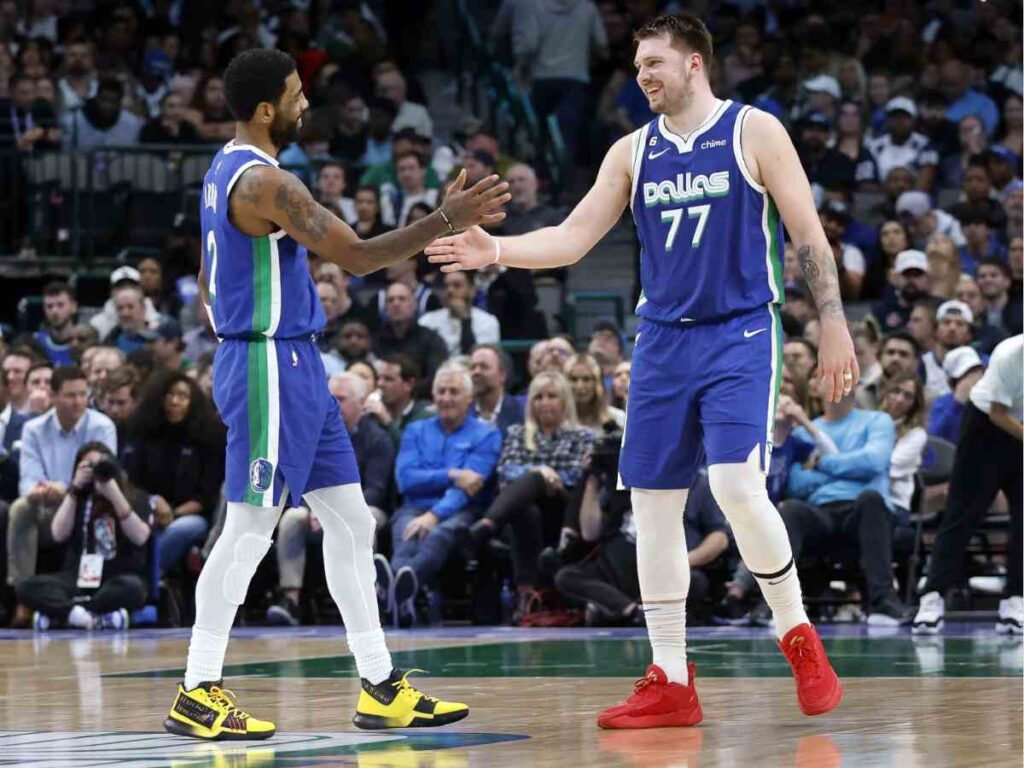 Expectations were high for the NBA's latest dynamic backcourt duo – Kyrie Irving and Luka Doncic. Fans and analysts alike were excited to see the electrifying combination of Irving's clutch scoring and Doncic's MVP-level playmaking. On paper, the duo looked unstoppable, but on the court, their partnership has not lived up to the hype.
Their underwhelming performances have had a significant impact on the Dallas Mavericks season. The team has struggled to win games with the pair on the court and has fallen out of the playoff picture. With the playoffs looming, the Mavericks' season is in danger of coming to an abrupt end.
The lack of chemistry between Irving and Doncic has been a significant issue, as they have struggled to gel on the court. Many fans and analysts are left wondering if the duo can coexist effectively and deliver on their potential. While they remain an impressive pairing on paper, their on-court struggles raise doubts about their ability to deliver when it matters most.
In Case You Missed It:
"Dog sh*t!" Mavs HC Jason Kidd has some NSFW comments on his team's performance against the Hornets
"I took that personally!" Joel Embiid ANSWERS Draymond Green with a mammoth 46-point performance against the Warriors after he claimed Nikola Jokic is the hardest person to guard