Michael Jordan was a name, a legend, and a success story that almost met the definition of perfection. Some called him a sick obsessive man with an insatiable greed for success. He was a basketball messenger that delivered the ultimate story for GOAT parameters. 2003 was Mike's last All-Star game appearance and perhaps the best all-star game of the decade. Amidst the flow of emotions from players and fans, there was something in that game that stood out for everyone. It was legendary singer Mariah Carey's Jordan Washington Wizards dress.
The night was all set to be dedicated to the legend. Mariah was a household name and at the pinnacle of her career. She is still considered the greatest solo artist of all time by many. Carey performed during the half-time performance and paid homage to Michael. Jordan's blue Wizards jersey served as the inspiration for her blue attire. Despite the fact that it was Jordan's jersey, it did get a bad rap. The dress was constructed and looked like a gown but also a sports jersey. Perhaps, it didn't appeal to people's aesthetics.
Mariah then paid tribute to Jordan with a mix of tracks, including her song "Hero." Carey, who is regarded as one of the most acclaimed musicians of all time, gave a hauntingly beautiful performance. Her performance was so amazing and full of soul, that it brought "His Airness" to tears. Amidst the weird dress of Carey, her performance was everything that was needed to help the fans finally let off of the legend they wished had remained ageless.
Related: "People get on him because they think that he can't take criticism," Stephen A. Smith reveals how Michael Jordan can handle media criticism until he isn't 'Blindsided'
Vince Carter gave his starting spot to Michael Jordan in his last All-Star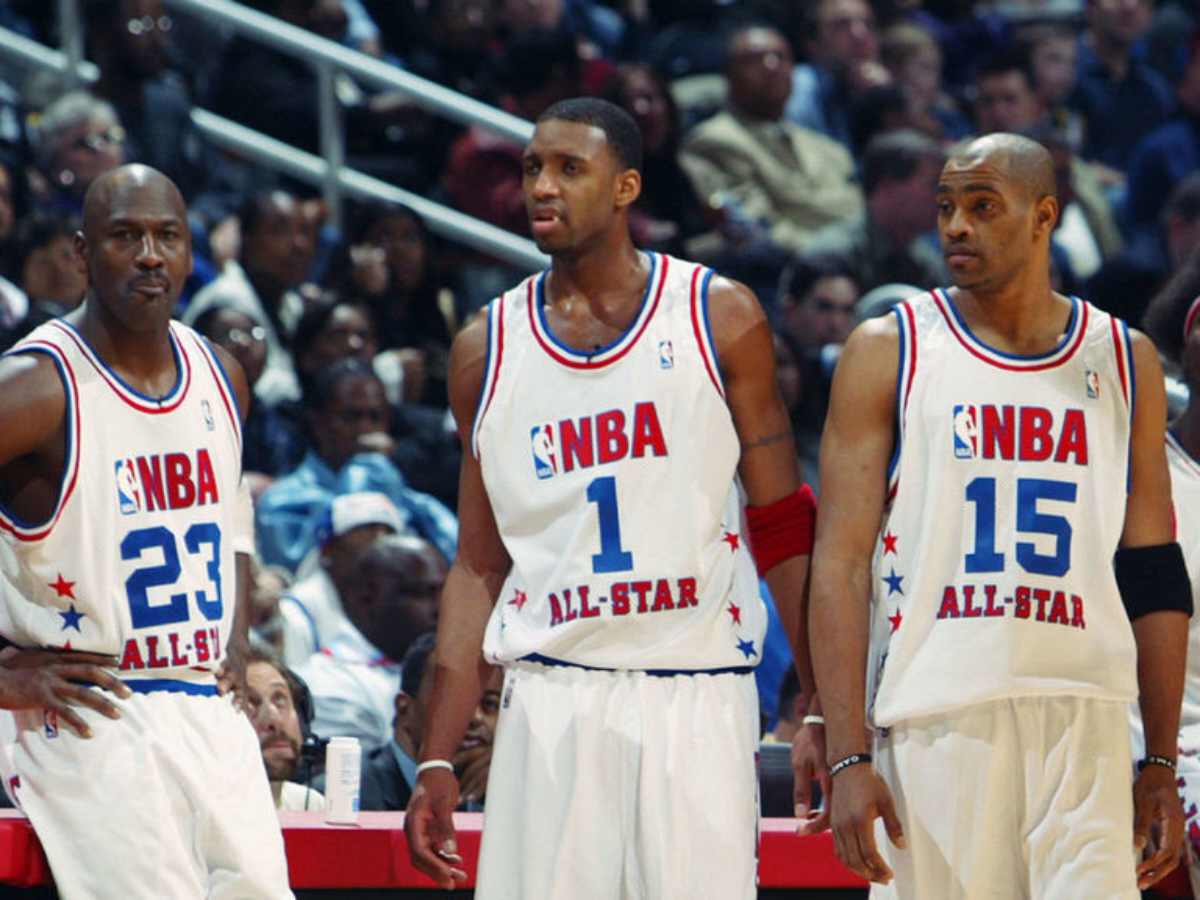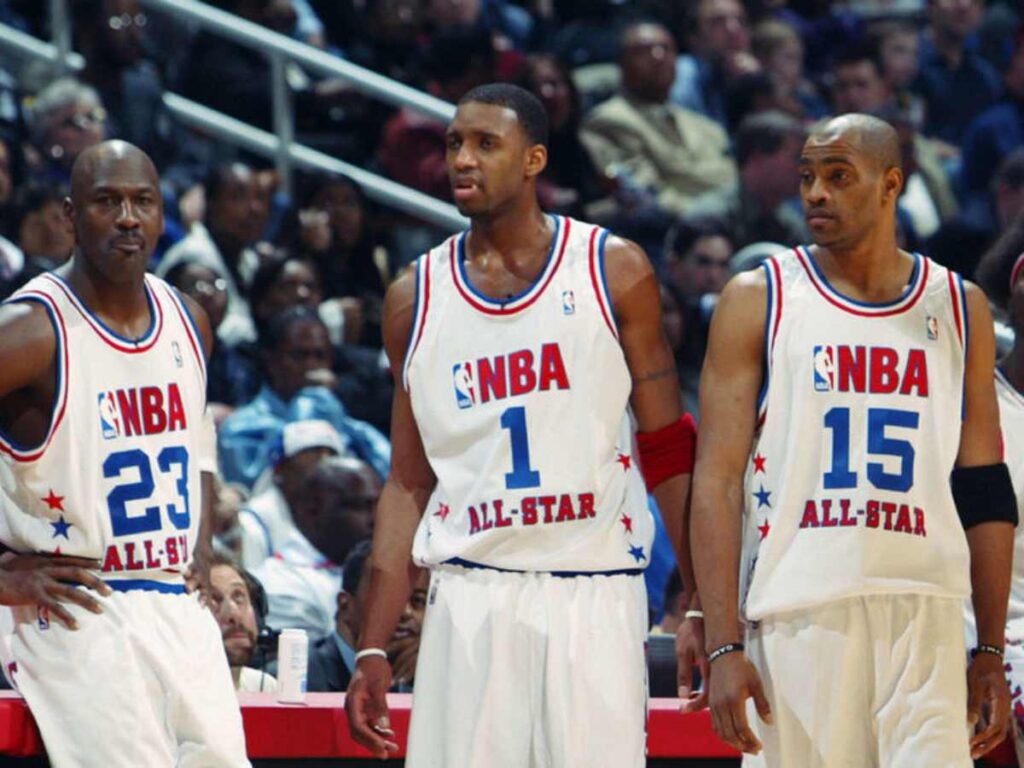 The 2003 NBA All-Star weekend was quite a celebration, as it was Michael Jordan's last, who was retiring at the end of the season. Jordan had finished third in voting among Eastern Conference guards, missing out on being a starter in his All-Star finale. Tracy McGrady and Allen Iverson were chosen to be the East's starting backcourt. The game was full of other stars like Kevin Garnett, and Kobe Bryant. 
With the 2022 All-Star Game approaching, Vince Carter gave his starting spot to Mike. When Jordan refused the gesture, Vince told he was not getting on the court if he was not starting. "Mike, look here – I'm not walking out here on this court tonight and start on this court and you sitting on the bench. I'm sitting on the bench with my uniform on, buttoned all the way up," said Carter. The respect that 6 x NBA champion had from his peers was all on display that night. Jordan played 36 minutes, scoring 20 points and grabbing five rebounds in an overtime thriller.
In Case You Missed:
"Doesn't stay away from Black People," Druski reveals CONTROVERSIAL reason behind him preferring LeBron James over Michael Jordan
Scottie Pippen DETHRONED ex-best friend Michael Jordan as the greatest of all time
Do follow us on Google News | Facebook | Instagram | Twitter