The Los Angeles Clippers suffered a double blow on Tuesday night as they lost 101-100 to the Oklahoma City Thunder and saw their star guard Paul George leave the game late in the fourth quarter with an apparent right leg injury.
George fell awkwardly after rebounding the ball and getting tangled up with Luguentz Dort. The Clippers star laid on the floor in pain as trainers rushed to check on him. He had to be helped off the court by his teammates and left the arena on a cart.
The extent of George's injury is not yet known, but it could have serious implications for the Clippers' playoff hopes. George has been playing at an All-NBA level this season, averaging 23.9 points, 6.1 rebounds, and 5.1 assists per game. The Clippers are currently fourth in the Western Conference with a 42-25 record, but they could slip down the standings without their leading scorer.
NBA fans reacted with shock and sympathy for George, who has already suffered a devastating leg injury in 2014 while playing for Team USA. Some also expressed pessimism about the Clippers' chances of breaking their curse of never reaching the conference finals.
Also Read: Kendall Jenner's rumored new boyfriend Bad Bunny seemingly disses her ex-boyfriend Devin Booker on new song
NBA fans express shock and sympathy for Paul George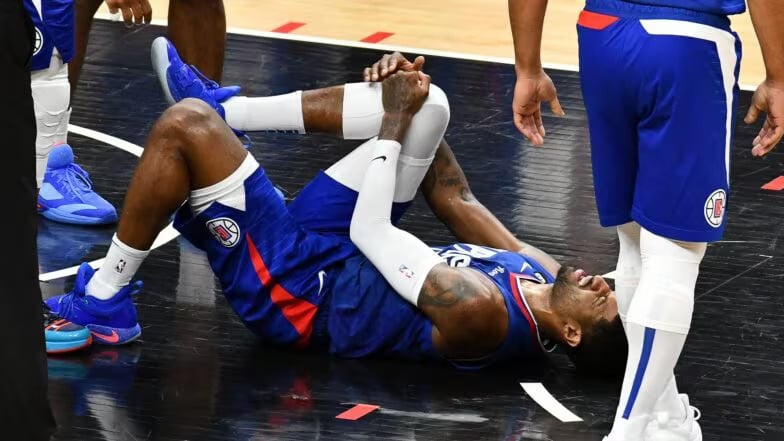 Fans were shocked to see Paul George struggling in discomfort as he lay injured on the floor. Several people have claimed that the Clippers are cursed and that this is another another setback to their title hopes.
The Clippers will have to regroup and hope for good news on George's condition. They have nine games left in the regular season before they enter the postseason, where they will face tough competition from teams like Utah, Phoenix, Denver, and LA Lakers.
The Thunder, meanwhile, snapped a 14-game losing streak with their win over the Clippers. Shai Gilgeous-Alexander led them with 31 points, while Lou Dort made a clutch defensive play on Kawhi Leonard in the final seconds. The Thunder are still last in the West with a 17-50 record, but they showed some fight and pride against their former star's team.
In Case You Missed:
"Finally they got something right!" Fans Jovial as WWE released the official logo of SummerSlam
76ers HC Doc Rivers ASSERTS Joel Embiid is the 'clear' MVP this season after claiming he was robbed of the title last year