The Brooklyn Nets have been stumped by Kyrie Irving's sudden trade request. Kyrie decided to drop a bomb on the NBA just a week before the trade deadline. After having a 13-game-winning run before KD's injury, the Nets were up to the 2nd seed in the East. Once Kevin Durant got hurt, the Nets' form was inconsistent. Although Kyrie was not, he went down with a tear. Over the last 8 games, he has been averaging 33 points, 6 rebounds, and 7 assists.
Kyrie, KD, and Harden were all at the Nets at one point and were offered a contract extension as well. Only KD accepted it, Harden went to Philadelphia and now Kyrie wants to leave. However, the real reason Kyrie wants to leave is all about the contract offer itself. @ChrisBHaynes tweeted on the situation saying "he wouldn't even stay if offered a full max contract".
Kyrie Irving had a championship clause in his contract. This clause essentially stated his last year was dependent on whether he wins a championship in that time. Kyrie is said to be insulted by the offer. He feels that a player of his caliber should not have a non-guaranteed contract.
Also Read: Tristan Thompson drops a major hint of Kyrie Irving reuniting with LeBron James at the Lakers
Kyrie Irving wants to leave, but Kevin Durant might also feel a similar way after what he has been through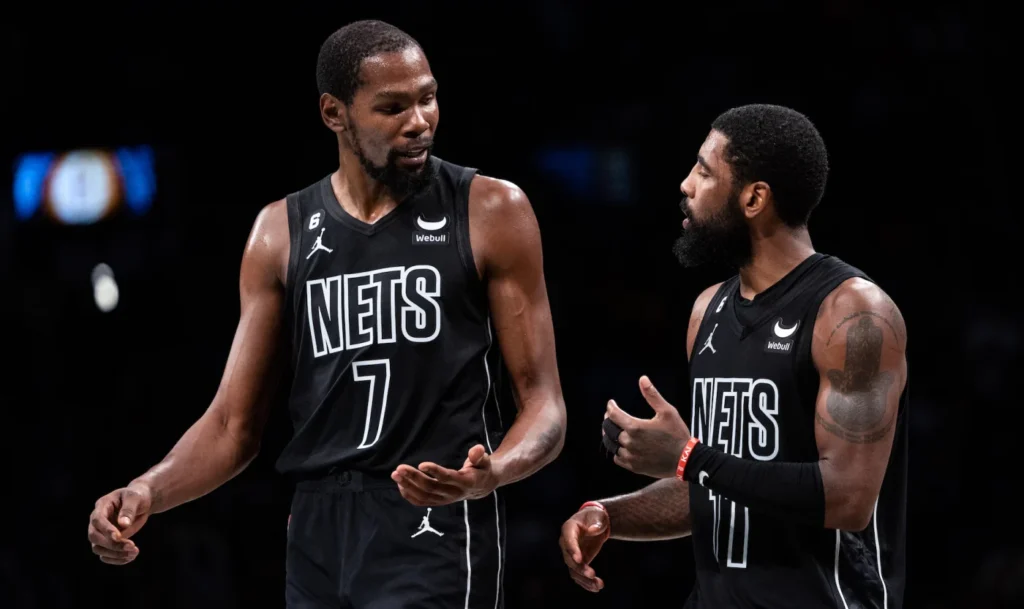 Kyrie Irving has reportedly had interest from the Lakers, the Suns, and the Mavericks. A Kyrie – LeBron reunion might still be possible after all. The pair won a championship in Cleveland together before he left for Boston. Although this is only possible if the Nets are willing to blow this up. The Nets might have to if Kevin Durant decides to leave because of him.
KD is hugely impacted by this because now he would feel like he can't trust the board. Renewing contracts is a very important part of running an organization. KD himself handed out a trade request last summer. Therefore, KD can understand where he is coming from.
Joe Tsai and the Nets front office need to try and figure something out before it's too late. However, as of now, all the reports state that it is highly unlikely Kyrie will be a Net after Feb 9th. Kyrie Irving really got the entire NBA world on their toes right now with this news.
In case you missed it:
"Not so sure," Renowned NBA analyst analyzes the Lakers' chances of acquiring Kyrie Irving post his mega call to ditch the Nets
"Mid representing mid," LeBron James gets fans CHIRPING over his Nike x Liverpool FC shoe collaboration
Do follow us on Google News | Facebook | Instagram | Twitter