Golden State Warriors veteran Draymond Green started laughing mid-way through the game against the Minnesota Timberwolves. It was later revealed that he was making fun of Minnesota's Rudy Gobert who fell down. The Warriors defeated the Minnesota Timberwolves 137-114.
There were few minutes left for the final buzzer to go off. The possession of the ball was with the Wolves' Karl-Anthony Towns and he was guarded by one of the Warriors' defenders. Karl lost control of the ball but somehow passed it to his teammate, Rudy Gobert. Rudy then tried to score off Kevon Looney. In the process of spinning and shooting, Rudy fell on the ground turning the ball over to the opponents.
Warriors' Draymond Green, standing there, started laughing at Rudy while he was trying to get back on his feet. By then, Klay Thompson had already sprinted with the ball and shot a classic 3-pointer. Everyone seeing the replay, burst out laughing and started to make fun of Rudy falling on the ground. As soon as the video clip of this went viral, fans gave out hilarious reactions, which can be seen below:
Also read "He loves Poole I guess" Canon Curry goes viral after trying to sucker punch Draymond Green, fans react
Draymond Green's Golden State Warriors slide aside the Minnesota Timberwolves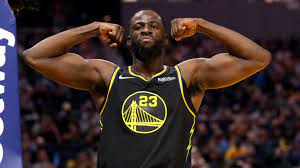 GSW superstar Stephen Curry scored 25 points, 11 rebounds, and eight assists to help his team thump the Timberwolves. Jordan Poole chipped in with 24 points coming off the bench, while Andrew Wiggins added 17 and Draymond Green pocketed his first double-double of the season with 19 points and 11 assists. Klay Thompson scored 21 points, making it 5 out of 8 from the deep. He tied Joe Johnson (1,978) for 15th place on the NBA's 3-pointers career list.
The Warriors went 20 for 47 from a 3-point range in the game. Anthony Edwards scored 26 points for the Wolves, Karl-Anthony Towns added 21 points and Jaylen Nowell had 16 points coming off the bench. The Wolves lost their second consecutive game after recording a five-game winning streak. The defending champions registered their fifth win out of the last six games.
The Warriors made a strong comeback after their campaign was derailed in the middle. This win will only add to their confidence, as a long season is lined-up ahead. The Wolves will try assessing their problem areas and work up their ranks in the coming games. The Warriors will clash against the Dallas Maverick, while the Wolves will take on the Washington Wizards next.
Also read Kevin Durant proves just why he is the most underrated GOAT contender after matching LeBron James' legendary feat
Also read Watch: Joel Embiid gets sent to the FT line despite throwing an elbow on Rudy Gobert
Do follow us on Google News | Facebook | Instagram | Twitter